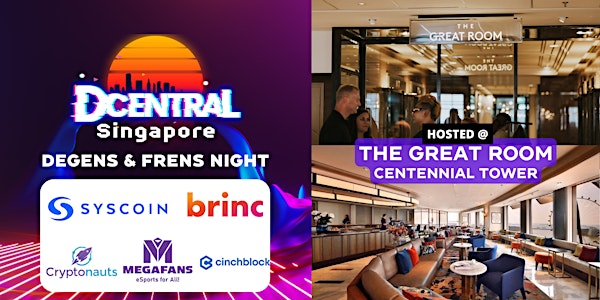 DCENTRAL SINGAPORE -Degen n Frens! Web3 Token2049
Join DCENTRAL for an evening kickoff event for during Asia Crypto Week & Token2049 with top builders, creators and influencers in the space.
When and where
Location
The Great Room Centennial Tower | Coworking Space & Hot Desking Singapore 3 Temasek Avenue #Level 18, 17 Singapore, 039190 Singapore
About this event
DEGENS & FRENS NIGHT
Join us for a crazy night of networking and connections with Web3 builders!
Food & Drinks will be provided. RSVP as space will be limited.
Agenda:
6:00 pm - Doors Open
6:20 pm - Intro & Welcome!
6:30 pm - Future of ZK rollup technology with SysCoin
7:00 pm - GameFi & Play-2-Earn Panel with MegaFans
7:20 pm - BRINC: Empowering Game Changers
7:50 pm - Building Web3 Community Panel (Cinchblock & DCENTRAL)
8:10 pm - Networking, Food & Drinks
9:30 pm - Last call for drinks
10:00 pm - Ends
The Venue: THE GREAT ROOM, CENTENNIAL TOWER
Temasek Avenue, Singapore, 3 Temasek Avenue, Level 18 and 17, Singapore 039190
With our frens:
Syscoin - The best of Bitcoin, Ethereum, and ZK-Rollups, brought together in a plug-and-play network for an ultra-fast, scalable, low gas platform that is secure.
MegaFans is building the world's first mobile eSports community using blockchain, crypto, NFTs in a play-to- earn environment for gamers, collectors and developers.
BRINC is a different breed of venture capital and accelerator firm. Core to our business is our belief that some of the world's biggest challenges can be solved by entrepreneurs, who we like to call GAME CHANGERS. More game changers will make a positive impact on the world if they are given the right backing. And that's what we're here for. To support and mentor founders and their teams from across the world and provide investment to help them grow.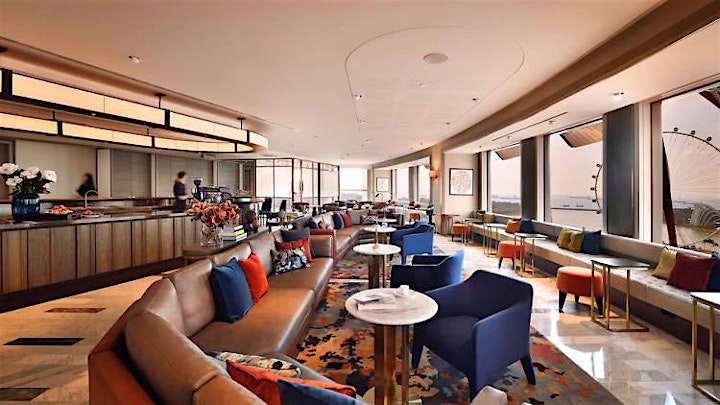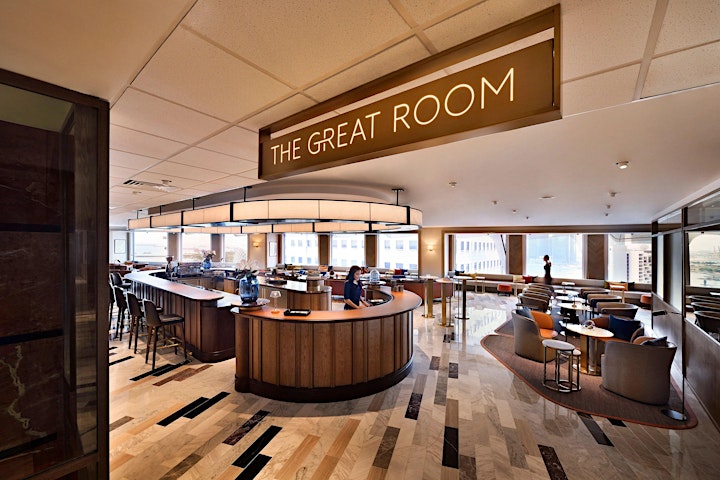 "DCENTRAL MIAMI IS THE BIGGEST DEFI & NFT CONFERENCE" - VICE NEWS
Last year we organized the largest Web3 conference during Miami Art Week with over 5,000 attendees. This year we return to downtown Miami to bring all of Web3 together during the largest Art Festival in the US.
So what is DCENTRAL? We organize and produce virtual & in-person conferences that focus on education and community for Web3, covering DeFi, NFTs, GameFi, DAOs and metaverses.
Combined Web3: We bring DeFi, NFT and all of Web3 together in one place to learn and connect with each other.
30+ Layer 1 & 2: We work closely with more than 30+ protocols. DCENTRAL events are multi-chain and non-maxi. We strongly believe in a multi-chain, cross-chain future.
Curated Speakers & Tracks: We carefully curate the top speakers across Web3 to cover DeFis, DAOs, Metaverses, Gaming, NFTs and more.
We're visiting Singapore for Asia Crypto Week and bringing our frens with us!
Check out DCENTRAL Miami