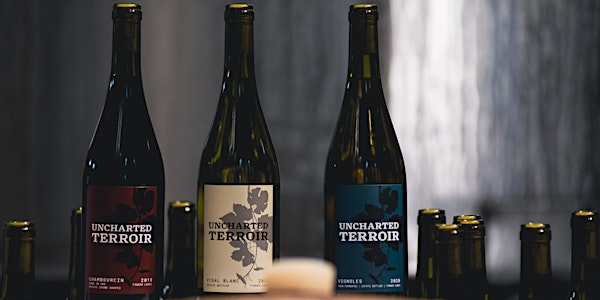 DCEFF and Hunt Country Vineyards: Wine Tasting and Discussion
Join the Environmental Film Festival in the Nation's Capital for a sustainable wine tasting fundraiser with Hunt Country Vineyards.
Refund Policy
Contact the organizer to request a refund.
Eventbrite's fee is nonrefundable.
About this event
The Environmental Film Festival in the Nation's Capital (DCEFF) is excited to partner with Hunt Country Vineyards for a virtual conversation about the effects of climate change on wine and how sustainable practices and diversity in grapes can help ensure the future of fine wine. With each ticket purchase, participants will receive a trio of wines from Hunt Country Vineyards' UNCHARTED TERROIR line of wines.
Last date to order for shipping: Sunday, January 23
Shipping and delivery restrictions apply. More information on shipping can be found below and on the Hunt Country Vineyards website.
About the Wines:
Terroir is the characteristic taste, flavor, and essence of a particular place imparted to a wine by the environment in which it is produced. It is the result of the unique soils and microclimate in a vineyard - including the temperatures, sunlight, airflow, rainfall, and the slope of the vineyards. It can also include the human aspects, such as the different farming and winemaking practices.
Terroir is the history and flavor of a place, captured in each bottle.
The UNCHARTED TERROIR line of wines reflects the quality of the land and pushes the envelope in fine winemaking using resilient, regionally-adapted grape varieties. These wines embody the Hunt family's tradition of land stewardship and celebrates the creativity and innovation that winemaking will require in an uncertain climate future.
We are pleased to share with you the below trio of wines from the UNCHARTERED TERROIR line:
2019 Uncharted Terroir Chambourcin: Made from a teinturier variety of hybrid grape known for its high acid. Being aged for 9 months in neutral oak softened the edges of this wine and brought out a bright cherry and red fruit finish. Alcohol 12.3% | Residual Sugar 0.6% | Total Acidity 6.4 g/L | pH 3.35
2020 Uncharted Terroir Vidal Blanc: Vidal Blanc is one of our favorite regionally-adapted grape varieties. We make our Ice Wine with this grape. But whereas Ice Wine is sweet, this Uncharted Terroir Vidal Blanc is nearly bone dry. You'll taste grapefruit and hints of pineapple with strong acid. Alcohol 12.5% | Residual Sugar 0.5% | Total Acidity 7.2 g/L | pH 3.42
2020 Uncharted Terroir Vignoles: White wines are rarely fermented on the skins. But the Uncharted Terroir Vignoles spent 9 days on its skins, in stainless steel. The result is a gorgeous wine that's complex in aromatics and texture. Alcohol 13.9% | Residual Sugar 2.5% | Total Acidity 8.9 g/L | pH 3.65
About the Vineyard:
After seven generations, Hunt Country Vineyards continues to be a family-run farm focused on managing their vineyards and business as part of a complete and healthy ecosystem. Hunt Country Vineyards produces the majority of their electricity with 348 solar panels, heats and cools their buildings with a geothermal system, provides free EV charging stations to customers, focuses on soil carbon sequestration and sustainable vineyard practices, and has certified some sections of the farm and vineyards organic.
In 2020, Hunt Country Vineyards was the first winery to receive the Sustainability Award from the NY Wine & Grape Foundation. Hunt Country Vineyards is also a member of the International Wineries Climate Action group, taking collective action to decarbonize the global wine industry, and in 2021 was recognized in Wine Business Monthly as one of the top leaders in the US wine industry, specifically for their sustainability efforts.
Enhancing resilience through diversity in the grapes they grow and the wines they love is just one of the many ways that Hunt Country Vineyards is addressing climate change. We hope you enjoy these creative, innovative and delicious UNCHARTED TERROIR wines.
Take a look at this short video from Hunt Country Vineyards for a sneak peak of their story of sustainability and stewardship.
Shipping and Delivery Information:
Last date to order for shipping: Sunday, January 23
Wine can be shipped to all states in the Continental US, plus DC, except for Alabama, Arizona, Arkansas, Connecticut, Delaware, Kansas, Kentucky, Louisiana, Mississippi, Nebraska, New Mexico, Oklahoma, Rhode Island, South Carolina, South Dakota, and Utah.
NOTE: ALL SHIPMENTS CONTAINING ALCOHOL REQUIRE AN ADULT (21 YEARS OR OLDER) SIGNATURE UPON DELIVERY!
Please plan accordingly by entering a shipping address that will allow someone 21 years or older to be available in person to sign for the package, and by keeping a valid form of ID on hand.
Carriers will not leave packages containing alcohol unattended, even if you have a signature on file. If you are not able to be at home to receive your wine during normal business hours, we recommend having it shipped to your place of work, or to an adult friend or neighbor, either at their home or business.
More information on shipping can be found on the Hunt Country Vineyards website.