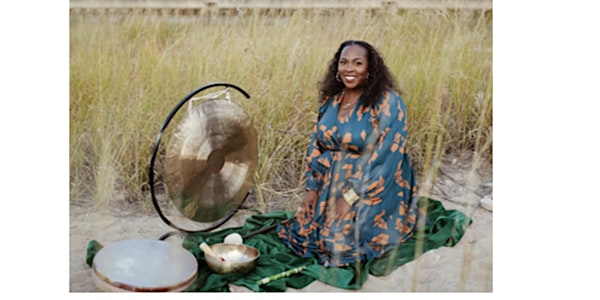 DCASE Presents - Resilience Series
Join us, 2nd Monday monthly, to build resilience with artist-led sessions. Open to anyone interested in exploring art as a healing practice.
When and where
Location
Chicago Cultural Center 78 E Washington St Chicago, IL 60602
About this event
In the City's Year of Healing, we highlight the role of arts and healing arts practitioners and continue our work honoring the purpose of the Chicago Cultural Center's G.A.R. rooms with this series.
All Resilience Series events are Open Captioned.
Monday, December 12, 6-7pm
Elevated Sound Meditation: Mediate to Increase Resilience with Mecca Perry (open captioned)
Website: www.meccaelevated.com
The sounds and vibrations created with this Elevated Sound Meditation invites gentle yet powerful therapeutic and restorative balance to mind and body. This is an invitation to release stress and tension from the body and to go into a deeper state of consciousness to unplug from the external world and to increase understanding with your inner world. Sound meditation has the capacity to lessen psychological stress, relieve brain fog, and access your inner guidance by deepening your connection to your intuition. Relax and meditate with the sounds curated by Mecca of Elevated Meditation Studio.
Participants are encouraged to bring: water, mats, bolster, blankets, or any tools needed to feel comfortable laying down or sitting for about an hour. Chairs will also be available. Please note: the meditation begins 10 mins after 6pm, if you arrive after we have begun, please be mindful of your neighbor and join us quietly.
Find us: https://www.chicago.gov/city/en/depts/dca/supp_info/resilience_series.html
Chicago Cultural Center
78 E. Washington St.
Chicago, IL 60602
Take CTA to Chicago Cultural Center
From the elevated lines: exit at Washington/Wabash and walk east.
From the subway: exit at Lake (Red Line) or Washington (Blue Line) and walk east.
Served by Michigan Avenue buses 3, 4, 19, 20, 26, 60, 66, 124, 143, 147, 151, 157 and Washington St. buses 4, J14, 20, 56, 66, 147
RSVP is requested, but not required for this free event. Space may be limited, and your RSVP does not guarantee entry – so please arrive early. Space opens at 5:30pm.