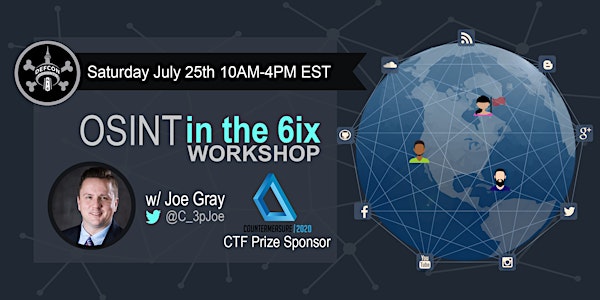 DC416 Presents: OSINT in the 6ix Workshop
Join us for a special OSINT workshop with Joe Gray of The OSINTion with an OSINT CTF at the end where you can test out your new skills!
About this event
About this Workshop
In this 6-hour Open Source Intelligence (OSINT) workshop, taught by Joe Gray, a passionate social engineer and DerbyCon Black Badge recipient for the Social Engineering Capture the Flag with a proven OSINT track record, we will begin with a fundamental understanding of OSINT. We will also discuss the legal and ethical considerations of collection and destruction of OSINT data. From here, we will discuss the offensive and defensive applications of OSINT information. In the next modules, we will discuss "People OSINT" and "Business OSINT" as they relate to offensive attacks. We will wrap up with a discussion about defending against OSINT collection via data minimization, disinformation, and deceptive techniques.After the 4 hour workshop portion is complete, attendees will be given the opportunity to test their new skills in an OSINT CTF with real business and people challenges.The OSINT CTF portion will only accept solo teams. Top 3 placed individuals will each receive a free virtual conference pass to Countermeasure, Canada's premier Government IT Security conference!
Individuals of all skill levels are encouraged to attend.
This workshop will be delivered via GoToTraining. All registered participants will be e-mailed info on how to join directly.
CTF Prizes sponsored by the Countermeasure conference!
Workshop Preparation
• Unfiltered internet access
• Set up a Linux virtual machine and install WhatsMyName and WikiLeaker installed
• Recommended to download and install Kali or use the Trace Labs custom OSINT Kali VM that is preconfigured with OSINT tools (Can download as an OVA and get it up and running within minutes)
Workshop Schedule
10AM-11AM
• What is OSINT?
• Where can OSINT be collected?
• Adjacent *INTs (HUMINT and SOCMINT)
• Application of OSINT
o Social Engineering
o Penetration Testing
o Threat Intelligence
o Law Enforcement
o Investigations
• Legal and Ethical considerations
• Applicability with laws (i.e. GDPR)
11AM-12PM
• Business OSINT
o Publicly traded versus Privately held
o SEC Filings (US Companies)
o Geospatial and Mapping
o Company Profiles
o Careers Pages
o Resumes
o Vendors
o Social Media
12PM-1230PM - (Lunch Break)
1230PM-1:30PM
• People OSINT
o Employment Information
o Email Addresses
o Phone Numbers
o Connections, relatives, adjacent vectors
o Data breaches
o Tax information
o Voting Databases
o Social Media
1:30PM-2:30PM
• OPSEC
o Social Media
o VPNs
o Encryption
o Disinformation
o Deception
230PM-245PM (15 min break)
2:45PM-4:45PM
• OSINT Capture the Flag with real business and people OSINT challenges
• Solo teams only
• Top 3 placed solo teams win a free pass to the 2020 Virtual Countermeasure conference
Bio of Workshop Facilitator
Joe Gray is currently a Senior OSINT Specialist at Qomplx, Inc. and previously maintained his own blog and podcast called Advanced Persistent Security. Joe is currently finishing a social engineering and OSINT book with NoStarch press, due for publication in October 2020. Joe is the inaugural winner of the DerbyCon Social Engineering Capture the Flag (SECTF) and was awarded a DerbyCon Black Badge. As a member of the Password Inspection Agency, Joe has placed 2nd in the HackFest Quebec Missing Persons CTF and 5th in the Global Missing Persons CTF IV, both powered by TraceLabs, 2nd in the BSides Atlanta OSINT CTF, and 3rd Place in the 2018 & 2019 NOLACon OSINT CTFs. Joe has independently placed 2nd in the HackFest Quebec SECTF, 4th Place in the DerbyCon OSINT CTF, and 2nd Place in Hacker Jeopardy at Hack in Paris. Joe has contributed material for the likes of TripWire, AlienVault, ITSP Magazine, CSO Online, Forbes, and Dark Reading as well as his own platforms. Joe has spoken at conferences such as RSA, AtlSecCon, HackFest, SecTor, Insomni'hack, Hack in Paris, and HackerHalted (as a keynote speaker twice.) Joe is the author of a few OSINT tools, such as WikiLeaker and the forthcoming tools DECEPTICON and INTERCEPTICON.
Social Media for Joe Gray
Twitter: https://twitter.com/C_3PJoe
LinkedIn: https://www.linkedin.com/in/joegrayinfosec/
Facebook: https://www.facebook.com/joegrayinfosec
Blogs/Websites
http://advancedpersistentsecurity.net/