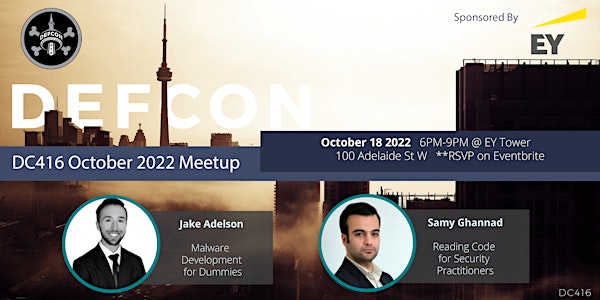 DC416 October 2022 Meetup
Join us to learn about malware development and reading code for security practitioners!
When and where
Location
EY Tower 100 Adelaide St W 31st Floor Toronto, ON M5H 0E2 Canada
Refund Policy
Contact the organizer to request a refund.
Eventbrite's fee is nonrefundable.
About this event
Hey hackers! Who is excited for the return of DC416 in person events? Come join other like minded hackers, cyber security professionals, and enthusiasts at our October 18th event where we will have two talks!
This month's meetup is sponsored and hosted by EY!
Talk #1: Malware Development For Dummies
Speaker: Jake Adelson
Abstract: This talk will provide insight into the process of developing malware for use in red team engagements. By the end, attendees will understand the different types of malware commonly used by red team operators and real threat actors, how to avoid common pitfalls encountered by new malware developers, as well as how a C2 framework operates behind the scenes. Attendees will also have the groundwork set for building their own modular C2 framework, which can be easily configured to utilize 3rd party applications like Slack and Telegram as communication methods. Code samples will be presented in Python, C++, Go, and more, so attendees may build upon concepts using their language of choice.
Bio: Jake Adelson is a Senior Operator of Offensive Security at EY Canada. For over 5 years, he has worked with a focus on red and purple teaming to help clients identify and remediate vulnerabilities, as well as highlighting gaps in their security controls and endpoint protection solutions.
He holds the OSCP, OSCE and OSWP certifications and continues to develop his skills through competing in CTFs and building offensive tooling. He leads development for internal projects including creating a C2 framework designed to enable covert operations within heavily monitored environments.
He has won and placed top 3 in CTFs including the TraceLabs Missing Person CTF and the OWASP Web Application CTF, reached top 10 in the Canadian HackTheBox leaderboards, and has discovered a 0-Day vulnerability in a widely used IOT security camera.
Talk #2: Reading Code for Security Practitioners
Speaker: Samy Ghannad
Abstract: Many books and course out there teaches us how to WRITE code, but not many talk about how to READ code. What happens when you are thrown into a big project with thousands of lines of code and many different components? Or given an exploit or piece of malware to analyze with the source code available? Where do you start? What would you do? We're about to find out. In this talk we will give security practitioners tips and tricks for reading code more effectively that can be applied to the areas of application security, vulnerability research, security engineering, and incident response.
Bio: Samy Ghannad is a Staff Security Engineer working for Okta, one of the world's largest identity providers. Samy has been working in Cyber Security for more than a decade, holding positions in Application Security, Detection Engineering, and Security Research. If you don't find Samy reading a book, you can find him tinkering with some code, researching new vulnerabilities, or popping shells. Samy also holds the OSCP, OSWE, and CISSP certifications.