Description
We walk 4 ReCovery !
To bring awareness, education, hope and solutions to the over 8.9 million persons who have co-occurring disorders of addiction and mental health; and only 7.4% of individuals receive treatment for both conditions while 55.8% receive no treatment at all.
We walk 4 ReCovery !
For Youth, Young Adults, Seniors Citizens, LGBTQ, Veterans, the Homeless, Returning Citizens, those with disabilities, and/or domestic violence.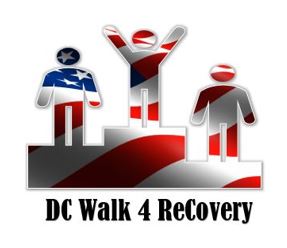 We walk 4 ReCovery !
To encourage our families, friends and others, who struggle and suffer in silence, who are bullied and feel alone, from depression and despair...Don't Give Up!
We walk 4 ReCovery !
With a universal message... There is hope, help and treatment. Never Give Up! You are not alone.
Come join Us—The DC Walk 4 ReCovery Committee, and others, to walk, to volunteer, and become educated from our vendors, or to see the beautiful museums and sites during this family-kid friendly event. ALL ARE WELCOMED!

Learn more about the DC Walk 4 Recovery Call-Out-Team-Challenge, University-Challenge, Firemen vs Police Challenge, Sorority vs Fraternity Walk Participation, Volunteering and how to reserve your FREE Vendor Space here.
Spread the word with the hashtag #DCWalk4ReCovery
Registration Begins April 3, 2018 and ends April 28, 2018
PLEASE NOTE: Vendor Registration process comes through direct contact via email to DCwalk4recovery@gmail.com
VOLUNTEERS, VOLUNTEERS, VOLUNTEERS
CONTACT=DCwalk4recovery@gmail.com