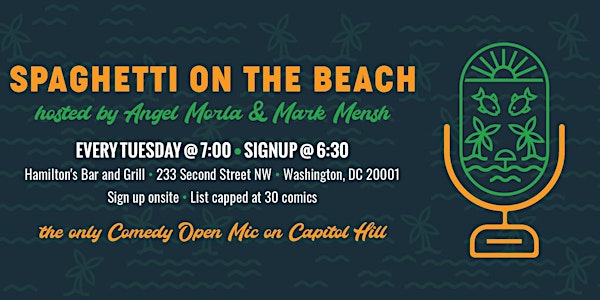 DC Spaghetti On The Beach LIVE!
Weekly open mic comedy near The Capitol at Hamilton's Bar and Grill.
When and where
Location
Hamilton's Bar & Grill 233 2nd Street Northwest Washington, DC 20001
About this event
Every week on Tuesday at 7:00, comics Angel Morla(DC Improv) and Mark Mensh (Kennedy Center) host an open mic on the Hill a short walk from the Capitol, The National Mall and Union Station.
You'll not only see talented local comics you'll also enjoy nationally touring stand up talent trying out new material. . Because of our proximity to the Capital, you might also see a congressional aide in a fake moustache telling strangers funny things she can't say to a Senator. Or maybe a Nieman Marcus clad lobbyist looking to let off steam in lieu of subverting the will of the people. It's DC, folks. You just never know.
You'll love this venue. The burgers and booze at Hamilton's are good enough for Kamala and Doug and plenty good for you. You might get lucky and see one of those comics you've only seen on TV up close and for free .(They tend to drop in unannounced at Open Mics)
Maybe you've got 5 mins of jokes you've been dying to tell? If so, you won't find a more supportive place to do it than at Spaghetti on the Beach. But bring your friends if you do and make it a party.
Sign up starts at 6:30 and the show begins at 7:00. There's a one item minimum to support the venue. See you there!
Questions?
Reach us at:
spaghettionthebeach@gmail.com
https://www.facebook.com/groups/1954394528027897
https://www.hamiltonsdc.com