Description
************** WORKSHOPS ENROLLING NOW ************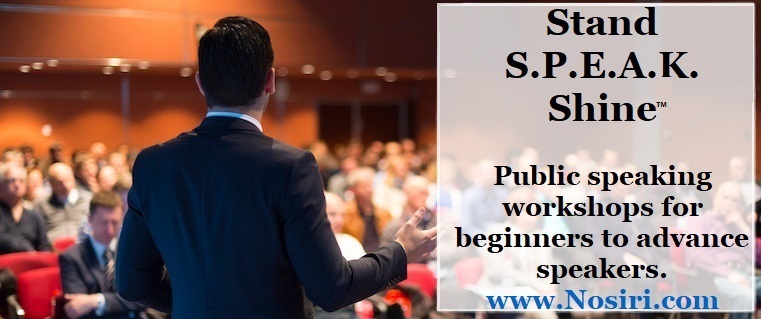 Visit Us at www.Nosiri.com for Upcoming Workshop Schedule
• Public Speaking Classes • Presentation Skills Training • Oration Courses • Speech Performance Lessons

www.Nosiri.com
Speak with Confidence Workshops I Overcome Anxiety I Speak with Confidence I Command an Audience
CALL US: (240) 271-6098 to check space availability & register today.

NOSIRI Public Speaking & Confidence Intensive Workshop
Whether you are looking to break out of the box of silence, speak up, gain confidence in speaking, speak as the leader you are, hone your public speaking skills or heighten your leadership skills through public speaking, finally a workshop program has been created to propel your success!

The NOSIRI Public Speaking Workshop are 4 Weeks and 6 Weeks group designed programs to prepare adults ages 20 and up to become great speakers and presenters. This is a 2Hours, weekly program and workshop style training. NOSIRI is the only public speaking intensive workshop program in the world offering a truly 100% self-esteem and confidence boost to cultivate public speaking skills to promote positive communication strategies for a lifetime of success.

- Only 4-5 individuals per class focusing on individuals' speaking concerns.
- Present to a public speaking expert & get professional feedback.
- Individuals gain confidence while building public speaking skills.
- Build self-esteem & assertiveness while respecting others through learning listening strategies.
- Propel speaking knowledge & gain speaking skills through EA.
- Obtain speaking techniques and improve communication style.
- Train & present with peer group in workshop style training.

CALL US via phone at (240) 271-6098 to check availability as enrollment gets filled quickly.

Space is Limited. Workshops fill quickly.

Visit Us: http://www.Nosiri.com or http://www.publicspeakingdcmd.blogspot.com
http://www.publicspeakingdcmd.blogspot.com/p/public-speaking-workshop-dc-class.html
www.dccommunicationcoach.blogspot.com
Adult Public Speaking Workshop Program | Public Speaking Training Classes in DC and Maryland | Confidence Training DC Workshop | Public Speaking Program in DC & Maryland