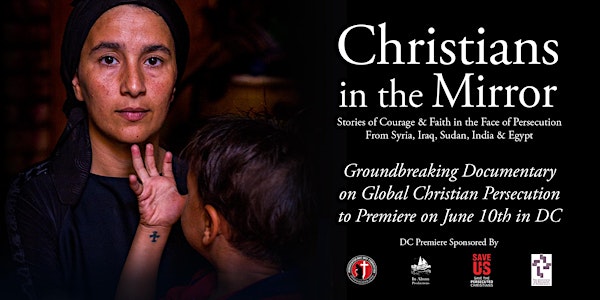 DC Premiere of Christians in the Mirror: Stories of Faith Amid Persecution
When and where
Location
The Miracle Theatre 535 8th Street, SE Washington, DC 20003
Refund Policy
Refunds up to 1 day before event
Description
Christians in the Mirror: Stories of Courage and Faith in the Face of Persecution From Syria, Iraq, Sudan, India and Egypt
---


Christians in the Mirror is a documentary that reveals the intense suffering of persecuted Christians in the Middle East, Africa, Asia and beyond. Their faith and fortitude in the midst of torture and tragedy all the more underscore their inspiring witness of love. Many of us Christians in the West are focused on prosperity and convenience, often unaware or indifferent to our brothers' and sisters' plight in the universal church. This documentary is a provocation for Christians to look into their "Christian mirror" as a disciple of Christ and to see whom is reflected back.
All religious minorities, especially Christians, in the Middle East and Africa are targets of violent Islamic radicals, whose ideology seeks to annihilate. Political and religious sectarian violence threaten Christians, suffering for their faith through marginalization, persecution, loss of homeland and churches and families, or even their own martyrdom. Persecuted Christians seek greater solidarity and support from Western churches, who are a source of hope for them.
"If one part suffers, every part suffers with it." (1 Cor 12:26) Christians in the Mirror deepens the existential reality that when members of the body of Christ are left to wither, the whole body suffers fragmentation. The Christian faith persecuted in one region affects the universal church; every Christian by extension is suffering it, realized or not.