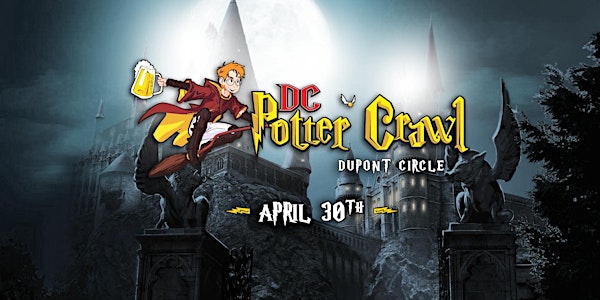 DC Potter Crawl 2022 (Washington, DC)
DUPONT CIRCLE'S BEST BARS, DJs, ALL-DAY SPECIALS, AND MORE!
When and where
Location
DUPONT CIRCLE'S BEST BARS Connecticut Ave NW Washington, DC, DC 20036
About this event
We solemnly swear that we are up to no good! Calling all Muggles, Wizards, Squibs and Elves! Grab your cloaks, brooms, owls and wands, and get ready for the Wizarding bar event of the year! We're casting a spell on the best bars in Dupont Circle, so come celebrate the wonderful world of magic and wizardry on Saturday, April 30th!
DUPONT CIRCLE'S BEST BARS, DJs, ALL-DAY drink specials, and more! Tickets will be limited!
When: 2PM – 10PM, Saturday, April 30th, 2022
What You Get: A refillable magical Potter mug, party favors, access to some of Dupont Circle's best bars, raffle entry for great prizes and free pictures of the event!
Enjoy:
$3 Bud Lights
$3 Rail Drinks
$4 "Butterbeer" Shots
Free raffles and event pictures
Dress Code: Costumes encouraged, there will be magical prizes for the best dressed Wizards, Elves, and magical creatures!
You must be 21 years or older to participate. Please drink responsibly.
Check-in bar: CAFE CITRON between 2pm and 4:30pm.
I understand and agree that all ticket purchases are final and non-refundable.
Ticket Registration will be held between 2pm and 5pm at the check-in location(s). If you can not make it by 5pm, we recommend having a friend pick up your wristband for you. They will need your electronic or printed ticket to check you in.