Description
DC Metro Business Experience - Business Training for Purpose-Led Entrepreneurs
Great businesses provide a useful solution to common problems. They are built not just for profits but to make life better for their customers and the people they influence (that is purpose-led).
When a purpose-led business profits, they are able to give to others and reinvest into their business to improve their products and services; which makes life even better for their customers and stakeholders.
Join us on Friday, January 26th for the kick off of the DC Metro Business Experience where we'll unpack how purpose-led businesses should be built so that it can be profitable, sustainable, and positively impact the people and community around them for transformation.
Session Objectives:
• Understand what a purpose-led business model looks like
• Uncover the true value of your existing business
• Develop effective pricing strategies for your business
• Discover the keys to profitable growth hidden within your business
Session Schedule (Saturday, January 27th)
8:30am : Check In/Networking/Welcome
9:00am : Joseph business model review
9:30am : Purpose/Brand – The key to building a profitable business that makes a positive impact in the community starts by understanding its God given purpose and how He has uniquely positioned you to build it.
Innovation – God intends for your business to be multi-generational. In order do that, it is imperative that you constantly innovate the products and services you deliver. This section will tap into the creative side that each person has but may not realize it.
10:30am : Break
10:45am : Value based pricing – Many businesses do not realize it but they are not charging what they're worth. The result is that they don't profit enough to consistently reinvest into the business, give needed raises, pay themselves a regular salary, pay down debt, etc. This section will expose common pricing errors and how to correct them.
12:15pm : Lunch
1:15pm : Marketing – Social media, print ads, flyers, billboards, what to do as a business owner. What makes the biggest impact for your marketing dollar? Marketing always seems to be the one area that can be confusing with all the options and what other people are saying you should do. This section will help simplify what marketing is and how to choose the best approach for your business.
2:45pm : Break
3:00pm : Purpose for profit – Making a profit for your business is essential for it to stay afloat. But profit without a purpose can be unfulfilling. So we'll wrap up the day by exploring how to smartly reinvest into the business and how to give back and make an impact in your community.
4:30pm : Close
Limited seating! Register TODAY!
Meet the Presenter: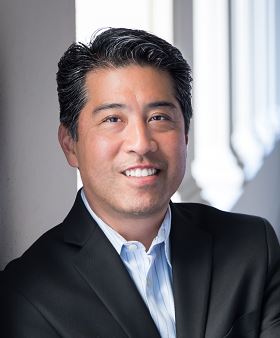 Robert Fukui holds a Bachelor's degree in Marketing from San Jose State University and an accomplished 24-year career in marketing/sales with companies such as Coca-Cola, Novartis Pharmaceutical and Bristol-Myers Squibb.
Over the course of his professional career, he has been privileged to be instrumental in the launch of six major brands, personally responsible for over $150 million in revenue and a recipient of national sales and leadership development awards. His successful experience in sales/marketing through ever-changing economic conditions has positioned him to be able to assist other businesses to achieve similar success in any economic environment.
Robert's most recent corporate experience has been with Bristol-Myers Squibb, one of the largest biopharmaceutical company's worldwide and among the industry leaders in HIV, Immunoscience and Oncology. Robert had been with the company for 17 years in sales and marketing winning multiple regional and national sales awards
In April 2016, he founded i61 which is a business development network that consults and trains purpose led businesses to be profitable and make a transformative impact in the communities, cities and nations they serve. Optimal price and branding strategies are one of the key areas of business development that the company specializes in. They also support the implementation of the business strategies through print, graphic design, website development, SEO, and other internet marketing services.
Memberships and Positions:
American Marketing Association, 2011 - present
Sales Leadership Society, Bristol-Myers Squibb, 2010 - 2012
Alhambra Chamber of Commerce, 2011 - present
Executive board member, Alhambra Chamber of Commerce, 2014 - present
Past-President, Alhambra Chamber of Commerce, 2015-2016
Board member, Nehemiah Project, 2013 - present
Director, Wagner Leadership Institute - Marketplace, 2012-2016
Deacon, HROCK Church, 2009 - present
Robert has been married for over 11 years to Kay Lee Fukui and resides in Pasadena, California.