Description
"I have discovered the wine of Château Lafite to be a delicious, generous cordial, comparable to the ambrosia of the Gods of Olympus" Maréchal de Richelieu (1755)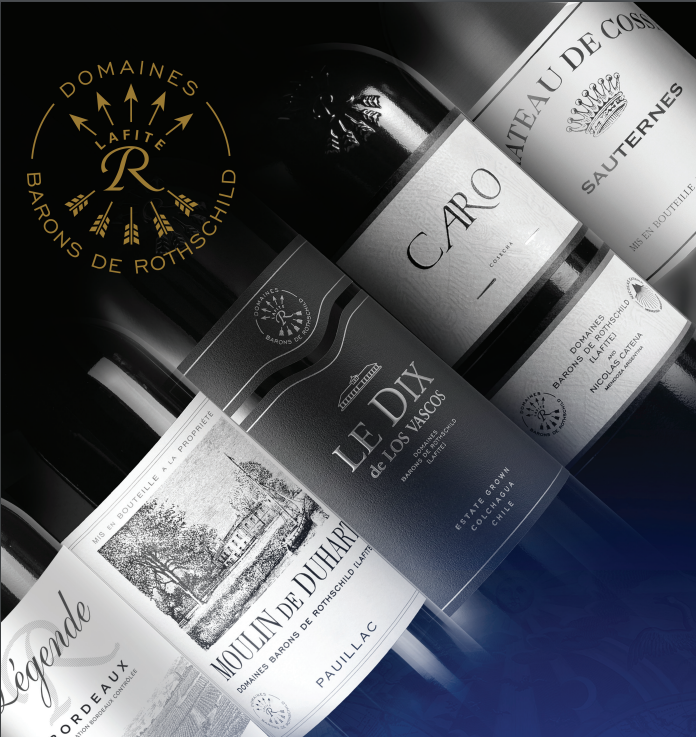 The Rothschild family name is celebrated throughout the world as leaders both in financial banking and owners of some of the most storied wine estates in the world, including Château Mouton Rothschild and Château Lafite Rothschild in Bordeaux, France. In 2005, three of the family branches joined forces for the first time with a united mission to create an eponymous Champagne of uncompromising dedication to quality with fruit sourced from the best terroirs in the appellation.
Champagne Barons de Rothschild Brut
The Chardonnay of this champagne takes us into the world of Barons de Rothschild champagnes, an unforgettable style. Strong, assertive opening that leads into a well-rounded wine-powerful yet restrained; the sign of long ageing in traditional cellars. This cuvée exudes aromas of pear and nuts (almonds, fresh hazelnuts) marrying with hints of white flowers and faint toasty notes. The wine's brilliance and clarity show pale golden highlights, combined with very fine bubbles that carry an abundant, persistent perlage.
Champagne Barons de Rothschild Brut Rosé
The high proportion of Chardonnay makes this exceptional rosé, fine and vivacious, while Pinot Noir makes it delicately, harmoniously complex; a delight to the senses. The first taste is fresh and precise, melting into the palate like silk, with slight raspberry undertones. It features fine, subtle aromas, reminiscent of spring, alongside the fragrance of rose petal, wild strawberry, and a hint of citrus zest. The fine thread of bubbles ends in a thin, enduring foam, and its light color offers the slight shimmer of salmon pink. This wine is long, balanced and full of delicious body. The harmony of the fruit and the lightness of this champagne bear a complexity that distinctively embodies the Rothschild family's winemaking values: perfection, consistency, and a spirit of excellence and refinement, all given the utmost of care.
Domaine d'Aussières Chardonnay
"A place of wild, natural beauty, that emanates tremendous power, and whose terroir has exceptional potential" Baron Eric de Rothschild
Beautiful bright yellow with pale green highlights. Light notes of pink grapefruit and almond blossom. Ageing on the lees gives the wine richness and body, that are accompanied by freshness and finesse through to the particularly long finish.
Domaine d'Aussières Red Blend
Beautiful dark ruby color. On the nose, notes of red fruits and cinnamon with a hint of vanilla. On the palate, fine tannins, fullbodied with a structured attack brought by the Syrah, a subtle fruit (Grenache) and a long finish (Mourvèdre). Pleasant persistence with fresh fruits, mingled with toasted notes with a great finesse.
Légende Pauillac
"It all started in the nineties. We wanted to offer our consumers a discovery of the different terroirs and tastes of Bordeaux. A name had to be found. A name that could live up to the expectations. A hint to the Rothschild family and the rich history of Château Lafite. A légende was born."
Intense ruby color. Sublte and elegant notes of dried fruit (figs), black pepper and cocoa powder. A powerful, structured wine, with wellintegrated tannins and a long aromatic black pepper, licorice finish.
Légende St Emilion
Medium intensity ruby. Refined and aromatic, the nose combines aromas of leather and sweet spices with woody notes (vanilla). Rounded, full-bodied attack; this is a supple wine with plump, soft tannins, and a pleasantly fresh finish.
Bodegas CARO
"An association between two cultures, two families and two noble grapes" Baron Eric de Rothschild
Intense ruby color. On the nose, aromas of red and black fruits, mingled with hints of mocha and spices. Evolves slowly, revealing layer after layer of elegant fragrances. On the palate, the acidity is refreshing and persistent. Well-balanced tannins contribute to the harmony and smoothness of the palate.
Viña Los Vascos Le DIX
"Being pioneers in Chile was an exciting challenge, and we have chosen a superb location." Baron Eric de Rothschild
Beautiful, intense red color with garnet shades. The nose is underscored by ripe cherry aromas laced with delicate hints of blackberry, followed by licorice, saffron, paprika, nutmeg, white and black pepper aromas overlaid with notes of cocoa, tobacco, and cedar. Generous, all-embracing mouthfeel, pleasantly dominant, balanced tannins offer the perfect complement to notes of black olives and a delicate nuance of bitter chocolate. A wine of outstanding elegance and depth.
Speaker: US Portfolio Manager at Domaines Barons de Rothschild Cedric Villars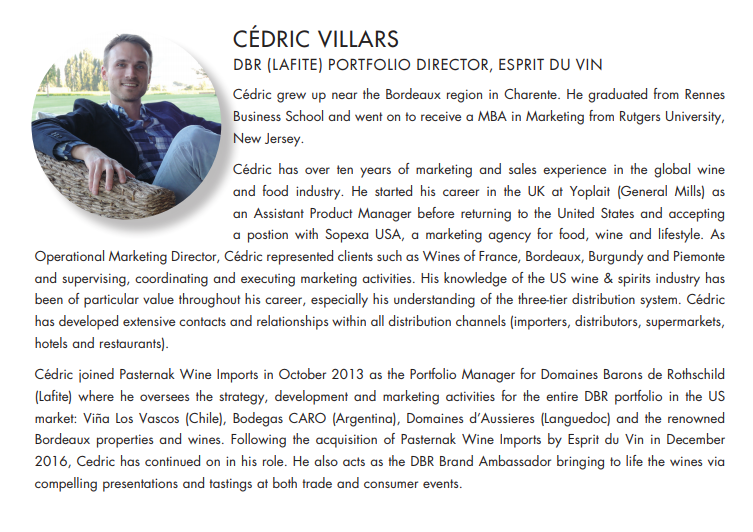 About the Class:
What you'll learn:
- Basic understanding of the various types of wines tasted;
- What to look for in wines from this region and with this style;
- Better understanding of the importance of terroir for wines of this character;
- The history of the Rhone and unique character of the wines from this appellation;
- and, hopefully, all the answers to your wine-related questions!
What to expect:
- A tasting-pour of each wine;
- Seated room only;
- Casual tasting format paced at the speed of the speaker;
- Guests encouraged to arrive at the advertised start time.
Suggested attire:
- Casual or post-work
Duration:
- Approximately 90 minutes.
Note: Tickets not offered at the door to walk-ins.
Age Policy: Due to strict US liquor laws, no one under the age of 21 is allowed at Cork & Fork events. ID check at entry.
Sampling Policy: No excessive product sampling will be allowed.
Cancellation Policy: All registration payments are non-refundable.