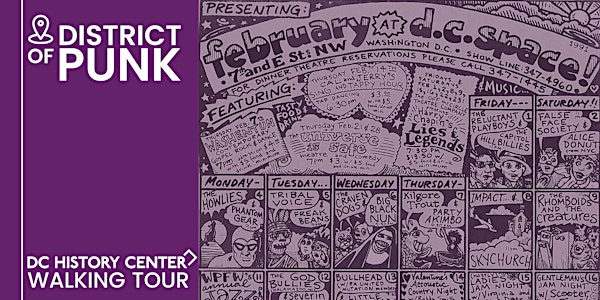 DC History Center Walks: District of Punk
Join us and Off the Mall Tours to learn about the history of punk in DC. This paid tour ends at the Library for their free rooftop show!
When and where
Location
Gallery Place Metro Station exit at F and 7th Streets 601 F St NW Washington, DC 20003
About this event
District of Punk
The DC punk scene of the 1980s rose up in reaction to what punks saw in Reagan-era Washington: a city where hippies were turning into yuppies and where an increasingly conformist, soulless government and society was taking over. But as JR Rhine writes in the Fall 2021 Washington History article "The Free Space: Ian MacKaye and DC's hardcore, Straight Edge Scene," DC was primed to be a hotspot for punk:
"DC proved to be the ideal place to incubate a punk scene. 'You can have very powerful, creative forces in this town. It's a petri dish for great ideas. They may not be sustainable, but you can always grow something here because—nobody's looking.'" *
On this DC History Center/Off the Mall Walking Tours collaboration, explore Downtown, where the original 9:30 Club and other venues hosted bands Minor Threat and Bad Brains. Discover the major contributors to the DC punk scene, what made it distinct, and its lasting impact on local music today.
The tour begins at the Gallery Place Metro Station exit at F and 7th Streets and ends at Martin Luther King Jr. Memorial Library, just in time for the DC Punk Archive's FREE rooftop show at the library at 6:30 pm. Check out the DC Punk Archive on the DC Public Library website.
RESERVATIONS: Required and limited to twenty-five (25) participants.
LOCATION: Gallery Place Metro Station exit at F and 7th Streets, ending at Martin Luther King Jr. Memorial Library
DURATION: Approximately one hour covering 0.5 miles in downtown DC.
REFUNDS: If you are no longer able to attend this tour, refunds are available on a case-by-case basis via email to programs@dchistory.org. You will be responsible for the Eventbrite fees.

TOUR GUIDE
KATIE KIRKPATRICK is the founder of Off the Mall Tours. She is proud to call herself a DC resident since 2002. She moved to the capital after college for graduate school, and then worked in government for many years. However, history was always her first love. She started her touring career by giving historical ghost tour pub crawls and discovered a passion for sharing the varied and layered history of the capital area. So, she started her own company, drawing upon her interests in unique stories, a flair for costuming, and her love of DC.

PARTNERS
THE DC HISTORY CENTER is a 501(c)3 non-profit educational organization that deepens understanding of our city's past to connect, empower, and inspire. As the only community-based nonprofit focused on the District's history, our vision is to reach into all eight wards to preserve and elevate the stories of Washington's diverse people, neighborhoods, and institutions. Visit us at www.dchistory.org and follow us on Facebook, Twitter, and Instagram @dchistory.
OFF THE MALL TOURS is a unique walking tour company that brings a fresh perspective to the history of the nation's capital. Its mission is to introduce locals and tourists alike to the DC that awaits "Off the Mall" and into the neighborhoods of this fascinating, energetic city. After one of our tours, our guests are delighted with their newfound understanding of its multi-layered and multi-cultural heritage.
-----------------------------------------
The DC History Center gratefully recognizes the support of the DC Historic Preservation Office and Office of Planning; the DC Commission on the Arts and Humanities; and Humanities DC, as part of the "SHARP Grant Program," an initiative funded by the National Endowment of the Humanities.