DC Community Heritage Project Showcase

Tuesday, December 9, 2014 from 6:00 PM to 9:00 PM (EST)
Event Details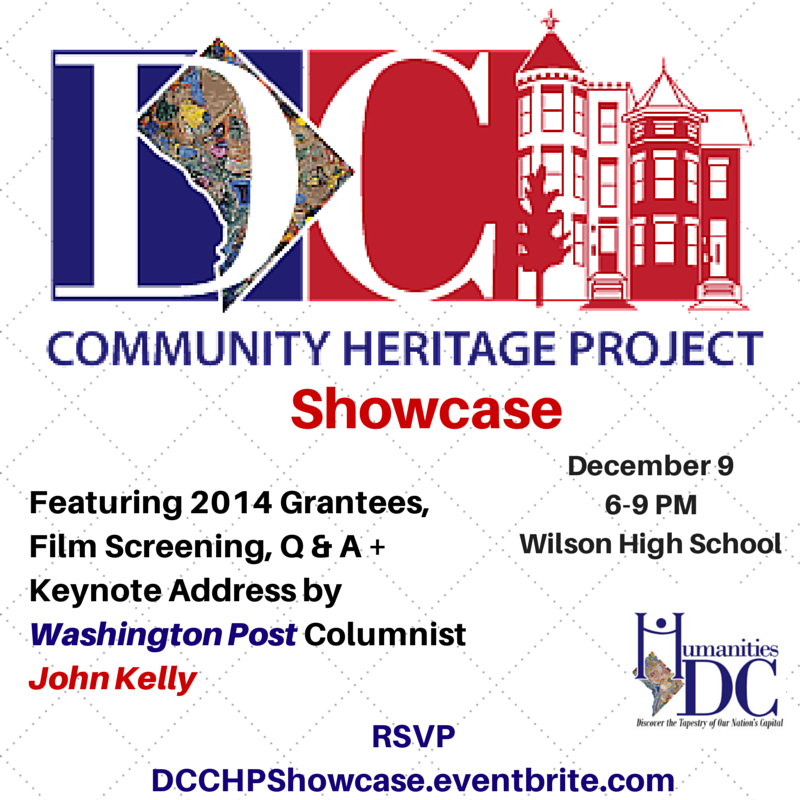 The annual DC Community Heritage Project (DCCHP) Showcase will feature the work of 16 DCCHP grantees who have worked for the past year to preserve the history, stories and culture of their neighborhoods and communities. The DC Community Heritage Project is a partnership between Humanities DC and the DC Historic Preservation Office that puts the power of the past in the hands of the local historians and residents who preserve, protect and live it everyday. 
The showcase will feature a keynote address by Washington Post Columnist John Kelly.  We hope you'll join us for this free event, in celebration of DC neighborhoods, stories and communities. We'll also share details about upcoming grant and enrichment opportunities through the DC Community Heritage Project. Complimentary refreshments will be served. 
Agenda
6:00 – 7:00 Showcase for Grantees
7:00 – 7:15 Greeting from the Board and HPO
7:15 – 7:30 Keynote speaker John Kelly from the Washington Post 
7:30 – 8:15 Film screening
8:15 – 9:00 Q and A from the audience
2014 DC Community Heritage Project Grantees 
Anacostia Outreach Center: The Langston Terrace Dwelling Oral/Video "Hilltop Schools Campus History Project"

Black Student Fund: "Upper Georgia Avenue in the Current" 

DC African American Legacy Foundation: "The Pride and Promise of Petworth" 

DC Preservation League: "Wardman's Washington Website" 

Ecohermanas: "DC Women EcoLeaders"

Empower DC: "Greenleaf Gardens History Project"

Jewish Historical Society of Greater Washington: "From Synagogue to Church to Condo - "DC's Urban Evolution"

KhushDC: "Documenting 20 Years of KhushDC"

Local Initiatives Support Corporation (LISC DC): "Washington, DC Community Development Oral Histories"

Parklands Community Center: "Ward 8 Community Activists and Legends 1950 - 1990 Recognition Brunch"

Rehoboth Baptist Church Historical Committee: "Publishing The History of Rehoboth Baptist Church"

Sanctuary Theatre, Inc: "Komorebi"

The Potter's House: "Around Our Tables: The Story of The Potter's House"

United Planning Organization: "Barry Farms -Our Community through Our Eyes"

Urban Rangers Youth Group/Centronia: "Story Map"

Wilson HS PTSO: "Wilson High School Community Archives Development Project"
About the DC Community Heritage Project: 
Humanities DC and the DC Historic Preservation Office (DCHPO) created the DC Community Heritage Project (DCCHP) in 2005 as a way to support residents at a grassroots level working to preserve their own communities.This unique partnership between a government agency and a non-profit organization continues to strengthen historic preservation and has helped form a network of local preservationists who proudly document the history and culture of the city. Before DCCHP, accelerating demographic changes and new building projects meant that neighborhood history often got lost in the shuffle of a transient culture. Learn more about DCCHP and upcoming grant deadlines here.
About Humanities DC: 
Humanities DC (Humanities Council of Washington, DC) transforms lives through the power of the Humanities. As a far-reaching community catalyst, we build bridges between multiple and diverse neighborhoods to affirm and enliven the human spirit, promote cross-cultural understanding, enrich the quality of life, and foster intellectual stimulation. Funded by the National Endowment for the Humanities (NEH) and public and private partners, we support local humanities projects and Council initiated programs. Learn more at wdchumanities.org.
Media Contact
Natasha Brown
Communications Consultant
nbrown@wdchumanities.org
When & Where

Wilson High School
3950 Chesapeake St NW
Washington, DC 20016


Tuesday, December 9, 2014 from 6:00 PM to 9:00 PM (EST)
Add to my calendar
Organizer
The Humanities Council of Washington, DC (HCWDC) is a non-profit organization that provides grant support for community projects that enrich the lives of DC residents through the humanities disciplines. Additionally, HCWDC produces humanities programs, such as Soul of the City andLive to Read, with support from area non-profits, the NEH, and the DC government. The organization was founded in1980 as a private affiliate of the National Endowment for the Humanities (NEH), and is one of 56 similar institutionslocated in each U.S. state and territory.
HCWDC is governed by a 25 person board of directors, 5 of whom are appointed by the mayor. Working in conjunction with the Council's small staff, these community leaders are dedicated to creating an environment, in all DC wards and neighborhoods, where residents can participate in open conversations about the humanities and how they reflect contemporary issues and challenges.
Though the HCWDC receives funding from the NEH, it relies heavily on generous support from donorspassionate about promoting the instructive and enriching influence of the humanities in the District of Columbia.