DC Blogger Closet Sale! Fall is officially here and it is time to make room for some new clothes!
About this event
Doors open at 10am and event ends at 2pm!
Come get the first look at all women's designer clothing, shoes, jewelry, accessories!
This event is free to attend; however, a ticket is required at the door for attendees to allow you free entry into Selfie WRLD at Tysons Corner located next to Coastal Flats on the ground floor.
Attendees will also have an opportunity to enjoy Selfie WRLD photo booths if they desire during their visit!
Attendees are not required to be a DC Blogger Member and the event is open to the public to shop our blogger closet sale. Share with your family, friends, neighbors, church groups, you name it, etc!
We recommend bringing a recyclable bag to carry your purchases in. No checks and no trying on. Exact cash or venmo requested.
The DC Blogger Union and Selfie WRLD are not responsible for lost or stolen items.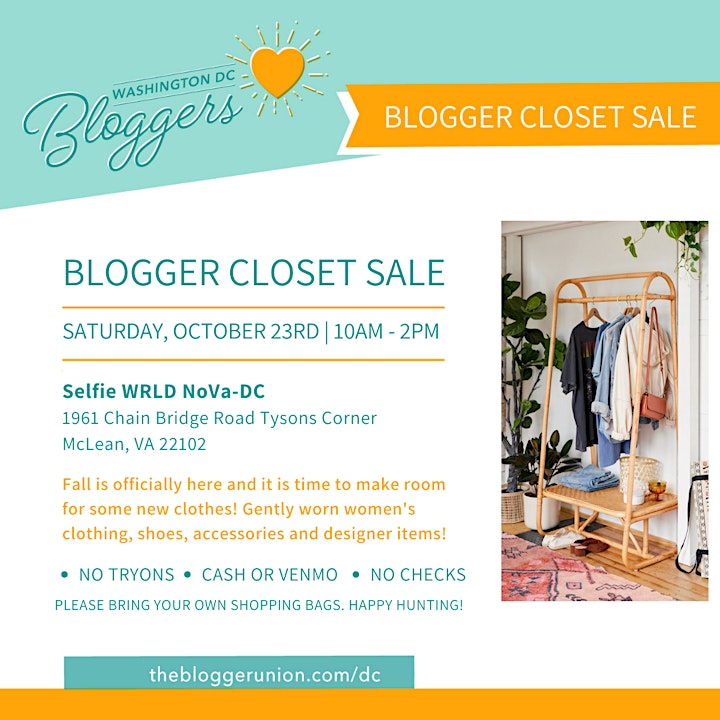 SOCIAL MEDIA HANDLES
Please use the following hashtags when covering the event on social media:
@thedcbloggers
@selfiewrldnovadc
@shoptysons
PARKING
FREE garage parking. Happy Hunting!!
REFUND POLICY
This event is rain or shine. Please note, we do not issue refunds.
PHOTO DISCLAIMER
When you enter a DC Blogger Union event, you enter an area where photography, audio, and video recording may occur. By purchasing this ticket you grant permission and consent to The DC Blogger Union for the use of the meetup photography for promotional purposes, advertising and social media. By entering the event premises, you waive all rights you may have to any claims for payment or royalties in connection with any use.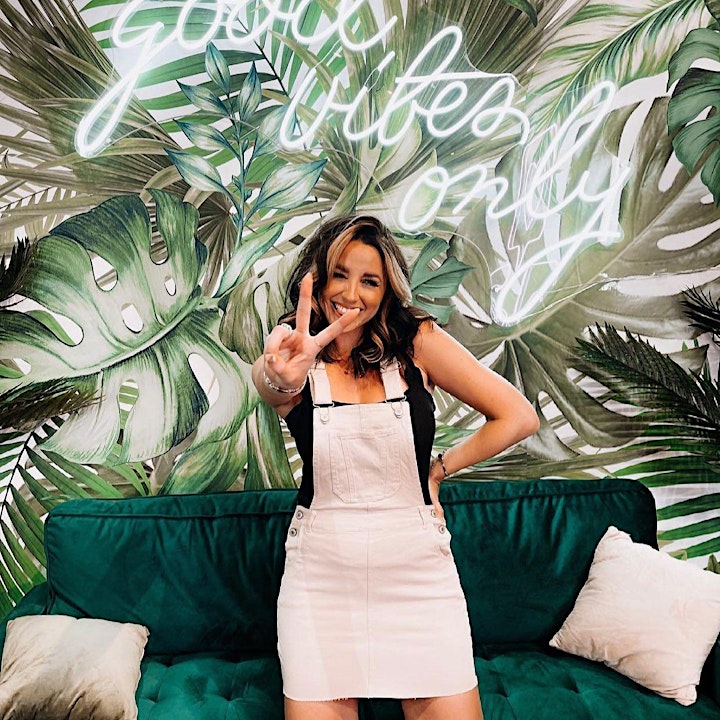 ABOUT SELFIE WRLD NOVA DC
A new trending selfie museum just popped up in Tysons Corner Center. It is the first location in this area and arguably one of the most instagrammable places in the Southeast, here you can immerse yourself into our fun, eye-catching, interactive art installations.Experience many unique themes knowing we had your best selfie in mind. Bring your friends, family, a date, or just yourself and your phone, and unleash your inner child!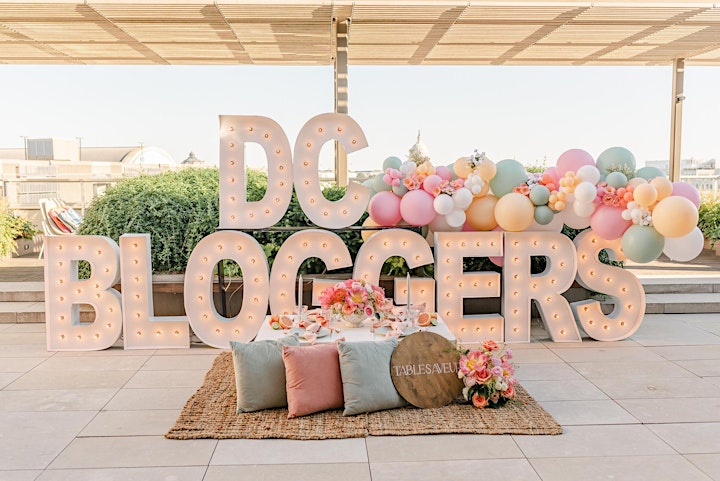 ABOUT THE DC CHAPTER OF THE BLOGGER UNION
In order to become a member of the DC Chapter of The Blogger Union, be sure to log onto our website, select 'Become a Member' then select the drop down for the Washington, DC chapter. https://thebloggerunion.com/register/
Looking to go to other blogger events, looking to collaborate with other members or hosting a blogger event of your own? Add us on our private members only Facebook page where you can share events with our local blogger community:https://www.facebook.com/groups/thedcbloggers/
Lastly, don't forget to tag us on Instagram for a chance to be featured on our IG page!@thedcbloggers, #DCBlogger #KindCollaboration #CommunityoverCompetition
Organizer of DC Bloggers Closet Sale
We are a network of blogger communities, dedicated to growing our members' brands and incomes via in-person meetups, online workshops, and brand collaborations. Join us: thebloggerunion.com