DC Area Writing Project presents 'Celebration of Writers'
Description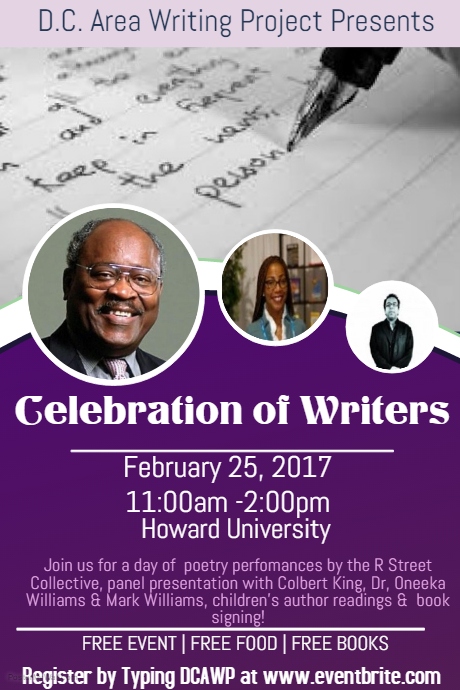 ---
The District of Columbia Area Writing Project is proud to host a "Celebration of Writers". This event, as the name suggests, calls for a fun and exciting celebration of writers from varied fields and genres, as well as the celebration of our most recent graduates from the Teacher's Summer Institute. Join us for an enjoyable day of interactive performances, including songs, dance, storytelling, and poetry. Our guests of honor include prestigious personalities such as Colbert I. King from the Washington Post; Dr. Oneeka Williams, a renowned children's book author and an urological surgeon; and Mark A. Williams, a teacher at Duke Ellington School of Arts and organizer of R Street Collective. Register today for a grand writer's event. We look forward to seeing you there!
---
We are pleased to announce Book Authors who would be joining us for the event. Below is a list of Authors and their books that will be displayed and available for purchase at the event;
1. Karen Branan
The Family Tree: A Lynching in Georgia. A Legacy of Secrets. and My Search for the Truth.
Hardcover and Paperback copies available
2. Lacey Thornton
Meherrin and the Murder Mystery of Jason Blackwell
Written by Lacey T
Illustrated by Danielle Boodoo-Fortuné
3. Jessica Childress
The Briefcase of Juris P. Prudence
The Juris Prudence & Associates Coloring Book
4. Beverley East
Finding Mr. Write- A New Slant on Selecting the Perfect Mate
'Reaper of Souls', a Novel based on the 1957 Kendal Crash
Bat Mitzvah Girl - Memories of a Jamaican Child
5. Maurice Butler
"Demons in the Closet"
"Out From the Shadow: The Story of Charles L. Gittens Who Broke the Color Barrier in the United States Secret Service.
6. Dionne Peart
"Somerset Grove"
"Butterfly"
7. Ann McClellan
Bonsai and Penjing Ambassadors of Peace & Beauty, published by Tuttle Publishing
Cherry Blossoms, published by National Geographic
The Cherry Blossom Festival, Sakura Celebration, published by Bunker Hill Publishing
8. Carolivia Herron
Always An Olivia
Nappy Hair
Peacesong DC
Asenath and the Origin of Nappy Hair
Thereafter Johnnie
We look forward to seeing you at the event!