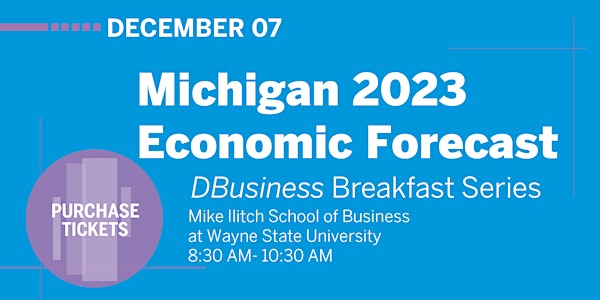 DBusiness Breakfast Series - 2023 Michigan Economic Forecast
Join DBusiness magazine as we discuss 2023 Michigan Economic Forecast
When and where
Location
Mike Ilitch School of Business at Wayne State University 2771 Woodward Ave Detroit, MI 48201
About this event
Please join DBusiness for the 2023 Economic Forecast, where we will examine what's in store for the new year as it relates to the local and state economy, as well as national and world markets. We will discuss high inflation, labor shortages, supply chain delays, the recession outlook, and the political environment post-Election Day.
Keynote Speaker
Dr. Timothy G. Nash
Vice President, Emeritus
Director of The McNair Center for the Advancement of Free Enterprise and Entrepreneurship
McNair Endowed Chair in Free Market Economics at Northwood University
About Dr. Nash...
Dr. Nash is credited with researching and publishing the Northwood University Annual Economic Forecast, Monthly Economic Outlook and the model for the university's monthly Business and Economic Confidence Indexes. Nash has periodically led a team of economists from across the country to produce the highly regarded Michigan Economic Competitiveness Report, comparing Michigan to 49 other states on economic competitiveness.
Dr. Nash received a B.B.A. from the university, an M.A. in economics from Central Michigan University and a doctorate from Wayne State University.
Dr. Nash leads economic research at Northwood University. His travels and research have taken him to more than 30 countries, from China and Mexico to Poland and Switzerland. Nash has addressed national and international forums related to the economy and automobile industry in China, Mexico, Canada, across Europe and throughout the United States.
Dr. Nash has been an adjunct scholar with the Mackinac Center for Public Policy in Midland, is an adjunct scholar with the American Legislative Exchange Council in Washington, D.C., and is the former state director of economic education for the clergy for the State of Michigan. He serves on the boards of the Free Enterprise Institute in Houston, Texas; Junior Achievement of Central Michigan; Gerace Construction Incorporated; and MyMichigan Health.
He is co-author of four books including "When We Are Free" (with foreword by Dr. Milton Friedman) and "In Defense of Capitalism" (co-authored with Dr. Richard M. Ebeling, and Dr. Kent D. MacDonald). Nash and his colleagues have conducted research and consulting for numerous Fortune 500 companies and their industry associations.
Nash is a frequent guest on Michigan-based ABC, NBC, FOX and CBS television stations, and WWJ, WJR, WSGW and WTCM radio stations. His writing and interviews have appeared in The Detroit News; USA Today; Wall Street Journal/MarketWatch; International Review of Economics; Harvard University's Better, Faster, Cheaper; Automotive News; and several other diverse publications.
Schedule
8:30 AM - Networking & strolling breakfast
9:30 AM - Seated program
Parking
There is secured parking at Temple West Garage
Located at 123 Temple St., Detroit MI 48201
Right behind the school.
Safety
Wayne State University requires a Covid screening form to be filled out the morning of the event.
MAJOR SPONSORS
GOLD SPONSOR
SILVER SPOSOR