Event Information
Location
Ahrre's House of Blues!
Evergreen Avenue
Plainfield, NJ 07060
Refund policy
Refunds up to 7 days before event
Description
Ahrre's House of Blues
Kicks off the 2017/2018 Season on October 22nd!!
I will proudly present the one and only

Dayna Kurtz
This will be Pot Luck Affair!

Pot Luck 'Hors d'oeuvres and Desserts'
Please arrive at 3:00 PM to share in food and conversation followed by the concert, which starts at 4:00 PM. Coffee will be on hand, but please participate in the potluck by bring something awesome to share with the group, like Food, Wine, Beer, dessert, etc.
Get your tickets now. We can only seat 50 of you!
Important! The actual street address will be shared by email a few days before the concert.
About Dayna Kurtz

Over the past decade, the New Jersey born, now New Orleans (and seasonal Vermont) resident vocalist/writer/musician/producer has been bestowed with many awards and praises, including being named the Female Songwriter of the Year by the National Academy of Songwriters. Norah Jones and Bonnie Raitt have raved about her in interviews, and she's performed on such high-profile radio shows as World Cafe, Mountain Stage and NPR's Morning Edition and Tell Me More. She's toured and opened for the likes of Elvis Costello, Richard Thompson, Mavis Staples, Rufus Wainwright, B.B. King, Dr. John, Richie Havens, Keren Ann, Chris Whitley, and the Blind Boys of Alabama.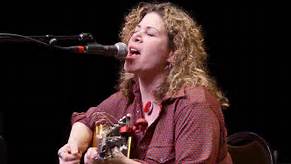 Dayna's new disc (Here, Vol. 1 due March 2017), is a live record with career spanning tracks, culled from her 2016 Dutch theater tour with guitarist Robert Mache. It manages to capture the heart-stopping edge-of-your-seat mesmerized silence that Dayna Kurtz seems to magic from her audiences. "I began my career as background music in crowded beach bars," explains Kurtz, "and I used to make a game of seeing what it would take to shut people up. I got good at it. Although there's some tricks to it, it was really more a kind of witchcraft than anything - I learned to draw whatever power and attention there was in the room being sent my way and sent it back out again. Other people got caught in the loop and started paying attention too. And as long as the crowd wasn't shitfaced or distracted by a TV I could usually get them. It was good training, even now that my audiences are more inclined to listening already anyway. I write music that requires some attention."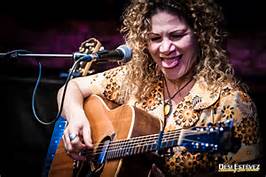 On her work and friendship with Robert Mache (Continental Drifters, Steve Wynn) Kurtz says, "I've loved Robert's playing for such a long time, and we've been friends longer than we've been touring partners – he was one of the first musicians to befriend me in New Orleans. That we had such undeniable chemistry has been one of the greater recent gifts of my life, and I just wanted to document it somehow, and quite a few people in my life including my label have suggested a live record. I'd been hesitant, only because there's only a few live records I listen to with the devotion I'd give a beloved studio record. It's notoriously really difficult to capture the feeling of being there in the dark experiencing it. Then the challenge of it intrigued me."

"Outrageous Fun"
- John Platt, wfuv
http://tinyurl.com/yd46muhj
Date and time
Location
Ahrre's House of Blues!
Evergreen Avenue
Plainfield, NJ 07060
Refund policy
Refunds up to 7 days before event
Organizer of Dayna Kurtz at Ahrre's House of Blues!
Ahrre Maros is the owner of Ahrre's Coffee Roastery in Downtown Westfield and Summit (New Jersey), a business he founded in February of 1990. He is also the former Artistic Director and Host of the Coffee With Conscience Concert Series in Westfield, New Jersey, which ran for 15 years until its current Hiatus.
Unable to kick his music addiction, he now presents concerts in his living room and has his guests bring all the food, move his furniture around and pay for the priveledge! He calls this Evergreen House Concerts.

Regardless of what food shows up, the music and coffee are always EXCEPTIONAL!