Event Information
Location
MONANIKO ART GALLERY
668B The Shops At Mission Viejo
Mission Viejo, CA 92691
Refund policy
Contact the organizer to request a refund.
Eventbrite's fee is nonrefundable.
International Women's Day is Celebrated at the Monaniko Art Gallery Featuring the Designer Collections of Tatiana Shabelnik and Muma Tribe
About this event
International Women's Day is Celebrated at the Monaniko Art Gallery Featuring the Designer Collections of Tatiana Shabelnik and Muma Tribe Collections of Jamielle Rankine-Kirlew on March 8, 2022.
19 Fashion Designers in Orange County, the luxury market of California, kick off OC Fashion Week® March 6-8, 2022
For Immediate Release:
Contact: info@ocfashionweek.com
949-287-2002
"Imagine a gender equal world. A world free of bias, stereotypes and discrimination. A world that's diverse, equitable, and inclusive. A world where difference is valued and celebrated. Together we can forge women's equality. Collectively we can all #BreakTheBias. Celebrate women's achievement. Raise awareness against bias. Take action for equality."
Monaniko Art Gallery debuts its first-opening since its remodel in Mission Viejo, owner Monaniko says "I'm thrilled to be hosting Day 3 of OC Fashion Week® an incredible night featuring cocktails by Ketel One Vodka and an evening of art and fashion on International Women's Day" Designer Tatiana Shabelnik and Muma Tribe headline the night hosted by Dr. Tricia Wallace of Pelvic Health and Wellness.
"If Vogue ranked fashion capitals by spend, Orange County would be in the Top 5" says Kathryn Marino, the owner and operator of OC Fashion Week® was compelled to learn Vogue had used an seo company, the Global Language Monitor to determine past Fashion Capital rankings. "And well when you're Vogue, with a multitude of magazines at your helm, the drivers of these rank reports are advertisers SEO but what's driving Orange County's retail economy is its residing consumers and fashion in-bound fashion tourists.
DHL Global International Commerce Vice President agreed and even validated numbers in identifying Orange County leading luxury buyers in online shoppers superceding the LA market in luxury goods, beauty and apparel over streetwear.
Aston Martin Newport Beach was named the Official Car of the Catwalk for the 2021-2022 season the dealership also won the accolades as becoming the #1 dealer in the World in 2022. Ketel One Vodka featuring the Curly Bartender serves fabulous OC Fashion Week® cocktails throughout the night with sumptuous hors d'oeuvres by Ariya Catering. Glamorous Runway Hair and Make-up by TNT Academy.
International Designers at OC Fashion Week® are looking to be discovered in the luxury market of California by some of the most coveted retail buyers who not only attend Fashion Weeks globally but also live in Orange County. "Some of the most viable fashion destinations are here driving tourism as South Coast Plaza, Fashion Island and Lido Marketplace are here for luxury shoppers and tourism is justified by shopping alone."
"I am excited to be at OC Fashion Week® says Fashion Designer Tatiana Shabelnik, "because it is one of the very few fashion platforms that truly cares about giving an opportunity to emerging designers and models to show their creativity and talent. It focuses on discovering new brands from all over the world as well as discovering new models. I love classy style of OC Fashion Week® and beautiful locations where all the shows take place." Tatiana Shabelnik's 2022 Showcase Collections premiere with Jeweler Kathleen Largent at The Monaniko Art Gallery in Mission Viejo Tuesday Night, March 8th 6pm-8pm also featuring Designer Jamielle-Rankine Kirlew of Muma Tribe on International Women's Day. Jamielle was recently given the title of Chief Diversity Officer of OC Fashion Week® the second to hold the title and the first African-American Woman in the luxury market of California.
"We can't wait for the lineup of fashion designers @ocfashionweek to launch and prevail we may not be St. Tropez but with our bustling yacht-loving communities and fierce love of fashion shopping we recognize a true fashion capital when we see it by spend. " - says Marino and we can't wait to see it on the Catwalk this March 6-8th.
Models Sarah Ishag, Noah Steinbuch
Photography: Manuel Morales
Lineup of Designers include ...
Day 3: Designers
@mumatribe
@TatianaShabelnik
###
GENERAL ADMISSION FOR (1) DAY = $75.00 TICKET
DAILY FAST PASS (ALL) DAYS = $150.00 TICKET
Below: Photo of MUMA TRIBE Collections Model: Selina
2022 Sponsors and Designers
FrontRow Attire: Spectacular Fierce Fashion
We would like to thank all of our 2022 and 2021 Sponsors without their incredible support our Runways would not be possible. Please follow, like, tag them your FrontRow stories and posts. Thank you in Advance, we'll see you on the Runway! Reserve seating will only be on hold for 20 minutes before show-time as Front Row must be filled for start of show to begin. If seating is not filled after hold time seating will be filled. We ask that all guest attendees remain seated throughout the entire duration of the catwalk to avoid photography and film disruption. Thank you in advance below are CDC details for any covid status inquiries.
2022
Featured Sponsors include
* @dawsoncolefineart Official Venue
* @astonmartinewportbeach Official Car of the Catwalk
@foskariswellness Official Red Light Therapy
* @hmahydrationsuite Official Hydration Suite
* @johnvartaniandds Official Smile Sponsor
* @PelvicHealthandWellness Official
* @monaniko_ Official Venue
* @ketelonevodka Official Cocktail
* @ketelonevodkausa
@curlybartender
* @freedomtobe Official Charity Freedom to Be: The George Irwin Foundation
* @classicgentleman Official Entertainment Sponsor
* @soul7 Official Entertainment Sponsor
* @ggspartyboutique Official Sponsor
* @hauteoc Official Travel Sponsor
* @kineticnewport Official Model Casting Host
* @cushwake Official Model Casting Host
* @fodadaclothing Official T-shirt Sponsor
@lacasahotellb Official Designer Stays
* @comedorlaguna
* @rooftoplounge 
Lineup of Designers include ...
DAY 1:: Designers @DawsonColeFineArt, Laguna Beach Ca
@steffydemylo
@MaxJenny
@ushisato
@beatriz_accesories
@saullizacri
@highstatus_co
@fashionbyRohini
@ugochiuaba
DAY 2:: Designers @BalboaBayResort, Newport Beach
@sheilasimonecalifornia
@gambarimilano
@mybruthascloset
@CreateBugCo
@nuestrareinaunlimited
@ExtremeCollectionsUSA
@aliciadakteris
@bellaparadiseresort
Day 3:: Designers @Monaniko_ , Mission Viejo
@mumatribe
@TatianaShabelnik
@fodadaclothing
CDC
Face Coverings Are Optional Starting March 1
March 3, 2022
The Centers for Disease Control and Prevention (CDC) has released updated guidance on when face coverings are required. This announcement is an exciting step in our path to normal operations.
Face coverings are optional starting March 1, regardless of vaccination status, unless otherwise required by federal, state or local law.
The safety of our guests, models, designers , sponsors , press and staff remains our top priority and we will continue to monitor conditions closely. Even though face coverings are no longer required, anyone who wishes to wear a face covering is welcome to do so. Those who are not fully vaccinated are strongly recommended to continue wearing a face covering.
Free, high-quality KN95 face coverings will continue to be available at all of our facilities, and accommodations for individuals with vulnerabilities will be made available to ensure everyone are safe and feel supported.
Vaccinations are widely available and the benefit is clear: being fully vaccinated and getting a booster is the best way to protect yourself. Visit vaccines.gov to find information about vaccine availability in your area.
Have questions? Contact us at info@ocfashionweek.com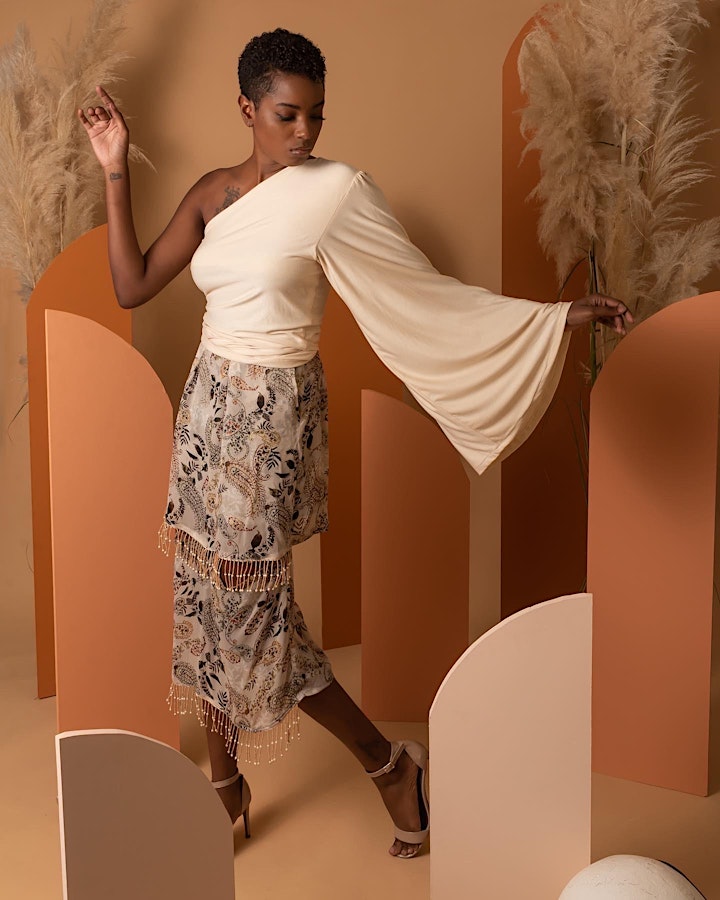 Date and time
Location
MONANIKO ART GALLERY
668B The Shops At Mission Viejo
Mission Viejo, CA 92691
Refund policy
Contact the organizer to request a refund.
Eventbrite's fee is nonrefundable.