Day of the Dead 5K Run & Taco, Tequila & Beer Fest 2018!!
Description

South Florida's biggest and most exciting inaugural Day of the Dead 5k RUN & TACO, TEQUILA & BEER FESTIVAL will be hosted at Gulfstream Park! One exciting day, 2 major festivities!!
5K Run...Tacos...Tequila...Beer & Live Entertainment!
**5K RUN: 10:00AM - 12:30PM:
10-10:30AM (LINE UP)
1ST WAVE - Timed Runners
2nd WAVE Untimed Runners
3rd WAVE - Youth
T-Shirt & Packet Pick Up at GulfStream Park - Thursday 11/1 and Friday 11/2.
**TACO, TEQUILA & BEER FEST: 12:30PM - 7:00PM
Come dressed up and ready to celebrate Day of the Dead, a special and cultural tradition of celebrating your loved ones a La' Fitness and Foodie style...not to mention delicious tequila and beer options for those 21+.
Day of The Dead 5k Taco & Tequila & Beer Fest will be a day of fun for the whole family! Festivities will include, 5k Run leading into the Taco, Tequila & Beer Festival, that will feature live music, Tour of the Altars and Catrina/Catrin Costume Contest among other things! There will be a 5k Official Runner's Altar for Participants to decorate with special messages for their loved ones for those participating in the 5K Run.
www.dayofthedeadfest.com
****Please note that Day of the Dead is NOT A HALLOWEEN EVENT - This is a very special cultural event dedicated to celebrating the life of our loved ones who have passed in a traditional and festive manner. Event Participants are encouraged to be respectful of the cultural traditions and refrain from vulgar or inconsistent expressions or costuming that is not aligned with the concept of the event.******
---
DAY OF THE DEAD 5K RUN: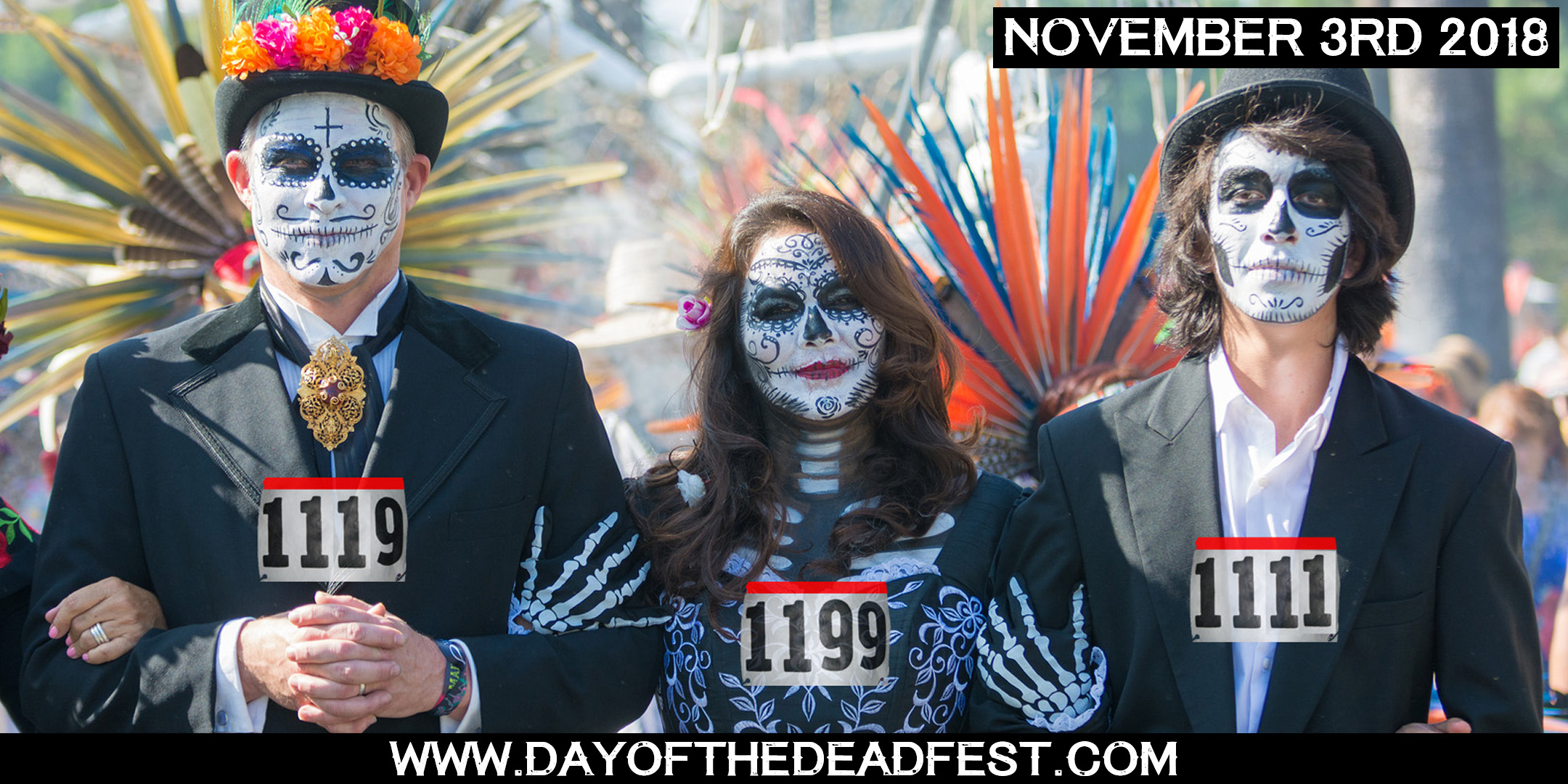 ADULT 5K RUN - (ALL FITNESS LEVELS) TIMED / UNTIMED 18+

UNTIMED YOUTH 5K RUN - (ALL FITNESS LEVELS) 7-17 years of age (**Children 7 and under WILL NOT be allowed on course)
---
TACO, TEQUILA & BEER FESTIVAL: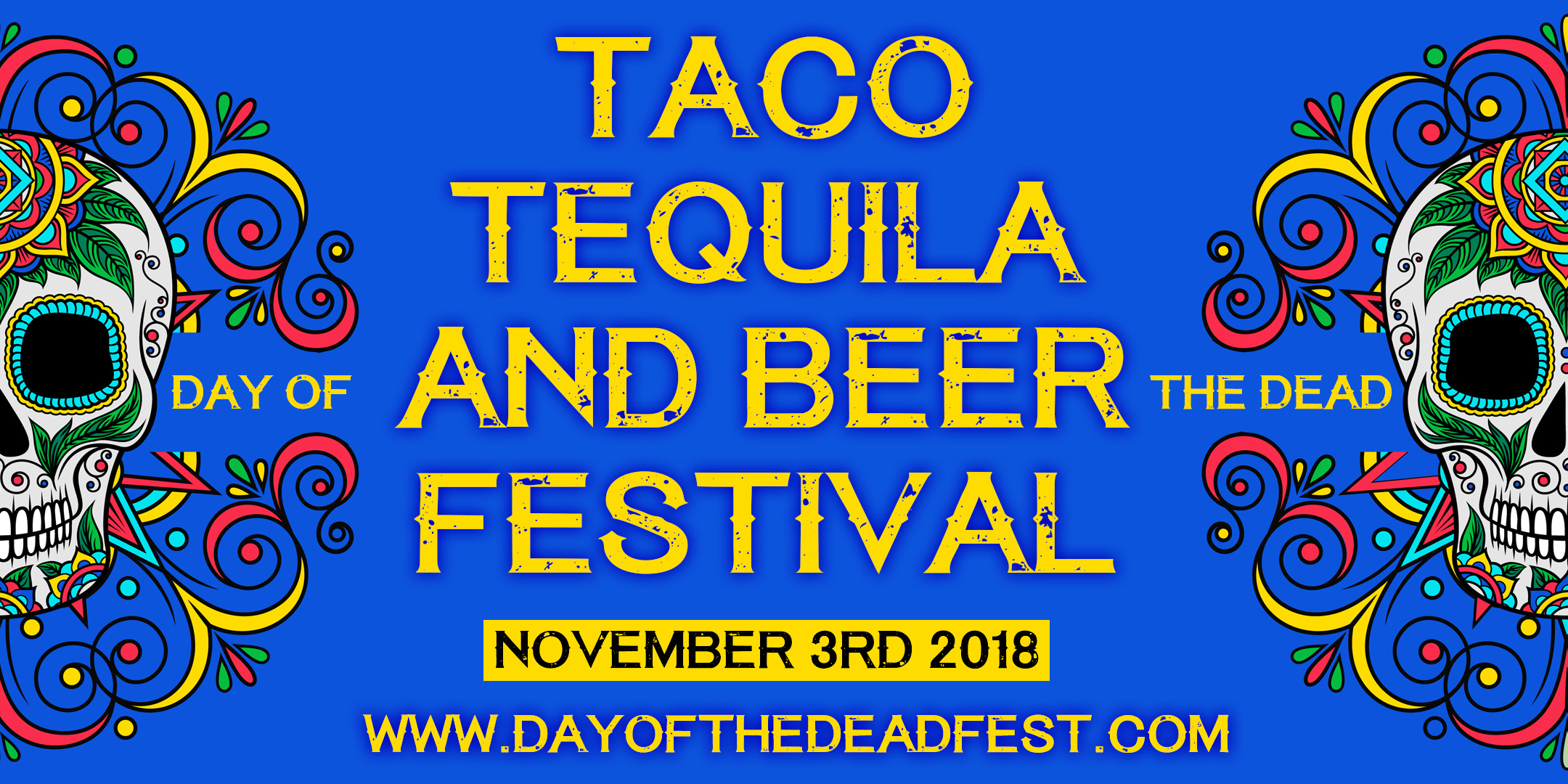 DAY OF THE DEAD TACO, TEQUILA & BEER FESTIVAL (SEPARATE EVENT - PAID GENERAL ADMISSION) 5K RUN PARTICIPANTS FREE ACCESS.
VIP ACCESS AREA (21+)

LIVE MUSIC & ENTERTAINMENT (DJ & Live Bands - Throughout Venue)

VENDORS (Misc. Vendor Types)

ARTS & CRAFTS (Kids Area)

CATRINA COSTUME CONTEST (Entry Required - Group / Individual)

TOUR OF THE ALTARS (Official Runner's Altar / Sponsored Altars - Throughout Venue)
Sign up for our mailing list at www.dayofthedeadfest.com and stay in the loop for pre-sale (Kids, Individual & Group) race and event tickets along with other perks.
---
FAQ:
Is there an General Admission Fee for Taco, Tequila & Beer Fest?
Yes, there will be a general admission fee $10. (Pre-Sale Tickets $7 / $10 At The Door)
Kids 10 and under FREE
5K Race Participants - FREE
Is the 5K Race a separate event?
Yes, 2 separate events (Race participants will have access to Taco, Tequila & Beer Fest as part of their 5K entry fee). Race spectators - Open Access, No Fee. Spectators will have to pay General Admission Fee to enter Taco, Tequila & Beer Fest.
Where will the race be held?
Throughout Gulfstream Park Village and Race Track
What is the total distance in a 5k?
(3.1 miles) - Untimed Runners are eligible to walk the event. Timed runners are encouraged to run or walk at a fast pace.
Can I get a timing chip?
Timing Chips will only be given to "Timed Participants" - Must be bought in advance.
Start Times - Race will start at 10:00am - 10-15 Minute interval waves will take place as follows:
10:00am - TIMED ADULT RUNNERS ; 10:10am - UNTIMED ADULT RUNNERS ; 10:25am - TIMED YOUTH; 10:35am UNTIMED YOUTH
Are children under the age of 7 allowed on the course?
Due to the terrain along the course, children under the age of 7 are not allowed on the course - NO EXCEPTIONS. Spectators will be able to see the race along the course.
Can I register the day of the run?
Yes, however fees will be much higher and there may no longer be slots. Event will be capped once full capacity is reached. (Preferred Method of Payment on Event Day will be Credit Cards and Cash)
Is there parking onsite?
There is onsite parking (Free) or Preferred Parking ($5 Fee)
Where can I pick up my packet?
Packet pickup will take place 2 consecutive days before the event. ID will be required for packet pick-up.
Do I have to wear my bib number?
Yes, all bibs are mandatory - Access to the course will not be granted unless bib is worn.
Will water be available?
Yes, a water station will be available along the route, and there will be water and other drinks / goodies available at the finish.
Can I bring my pet to the event?
PETS ARE NOT ALLOWED ON COURSE or TACO, TEQUILA & BEER FESTIVAL SITE (Only service animals are allowed to participate in the event).
Can I run with a stroller, wheelchair, roller blades, bicycle, etc.?
Due to the terrain of the course (sand, asphalt, gravel, grass, uneven surfaces), wheeled mechanisms are NOT ALLOWED on the 5K COURSE. Wheelchairs ARE ALLOWED on Taco, Tequila & Beer Fest Site and throughout Gulfstream Village.
If I have a backpack, what do I do with it?
Please leave all personal items and valuables at home or locked in your vehicle. All items should be stored securely at the owner's risk. There will be no "holding sites" for your property.
Can I get a refund? Can I transfer my registration?
Unfortunately, ALL REGISTRATIONS ARE FINAL and we do not allow refunds.
---
Policy:
Absolutely NO REFUNDS after the refund deadline (7 days prior). In accordance to standard industry policy, Live Work Play SoFLo, will not issue any refunds for any reason. However, transfers to future races will be considered if the request is received in writing before 10/31/2018. Please contact to us dayofthedeadfest@gmail.com to submit a cancellation / transfer request. Shirt-size changes cannot be accepted after online registration is complete and cannot be accommodated during bib pick-up. 21+ ID Bracelets will be issued to participants for alcoholic beverages. Ages will be validated during bib pick-up and any found to have an inaccurate year of birth will not be issued a bib with no refund.
Live Work Play SoFLo and Gulfstream Park, reserve the right to postponse, reschedule, or cancel the race for unforseen reasons beyond our control. These reasons might include severe weather forecast, emergency construction and/ or facility repairs, or other unforseen circumstances which the organizing entities deems unsafe. If the race is rescheduled, there are no refunds issued. Only credit toward the re-scheduled date or alternate event.
All participants will be required to sign a waiver during registration or at event pick-up.
For questions, please contact dayofthedeadfest@gmail.com.
www.dayofthedeadfest.com