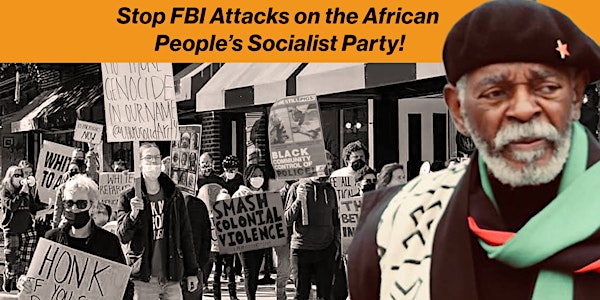 Day of Reparations to African People - Portland
Annual speaking tour winning white people to stand in solidarity with African liberation and the Black Power Blueprint.
When and where
Location
Alberta House 5131 NE 23rd Ave Portland, OR 97211
About this event
Day of Reparations to African People: Hands off the Uhuru Movement! Stop the FBI Attacks on the African People's Socialist Party!
Days of Reparations to African People is an annual speaking tour of the Uhuru Solidarity Movement that brings the issue of reparations and African liberation to the white community. It takes the discussion of reparations out of the courtrooms and classrooms and makes it a reality through a people's movement lead by the black working class.
On July 29 the FBI raided 7 offices and homes of the African People's Socialist Party and Uhuru Movement, including the home of Chairman Omali Yeshitela. This is an attempt by the U.S. government to attack, discredit and isolate the African Revolution at a time when it is growing in strength and winning on so many fronts. One of the aims of this attack is to cut off the resources, and that is why reparations is more important than ever.
White people have a responsibility to prevent the state from moving to attack the African People's Socialist Party in the same way that they have attacked African leaders in the past such as Malcolm X, Patrice Lumumba, Marcus Garvey and others when they have won power.
Attend the Day of Reparations to African People on Sept 15!
Donations raised through this speaking tour benefit the Uhuru Wa Kulea Health Center.
The Uhuru Wa Kulea African Women's Health Center is specifically designed to alleviate the trauma women and children face in our community due to lack of healthcare and inability to control our healthcare choices. Traditionally, the Black community values collective prosperity, a value we trace back to Africa. The African Women's Health Program addresses the mental and physical health of Black girls and women by providing prenatal, birthing, and post-natal care, trauma-informed yoga, an annual African Girl's Day event, a medicinal herb treatment program and more!
Black Power Blueprint is a black-led self-determination project of the Uhuru Movement building economic institutions for the black community of St. Louis to feed, clothe, and house themselves. To learn more go to blackpowerblueprint.org
Uhuru Solidarity Movement is an organization created by the African People's Socialist Party USA as a strategy to win white solidarity with black power and white reparations to African people.
Solidarity with Black Power is the only way to fight colonialism. Now is the time to unite under the leadership of the African Working Class. Become a revolutionary and register today!
Featured Speakers:
Demetria Hester, Portland Representative: African People's Socialist Party
Jesse Nevel, Chairperson: Uhuru Solidarity Movement
Event details:
What: Reparations: Building a new world under the leadership of the African Working Class
When: Thursday, Sept 15th 2022, 6:30pm-8:00pm
Where: Alberta House 5131 NE 23rd Ave Portland, OR 97211
Why: Raise $300k to fund the Uhuru Wa Kulea Women's Health Center
Contact:
Email: portland@uhurusolidarity.org