Description
Inkarri US and the Pneuma Institute invite you to join us in Light, Sacred Breath, Devotional Music & Dance, and Joyful Celebration at the Day of Inner Peace in Los Angeles, 2017.

Day of Inner Peace is a charitable event that celebrates the cultivation of inner peace within our hearts and the potential for global peace that begins with each individual.


"Global peace is possible. What is important for us to understand is that the seed of this peace is within our hearts. When we achieve inner peace, then peace on the planet is possible."
~ Juan Ruiz Naupari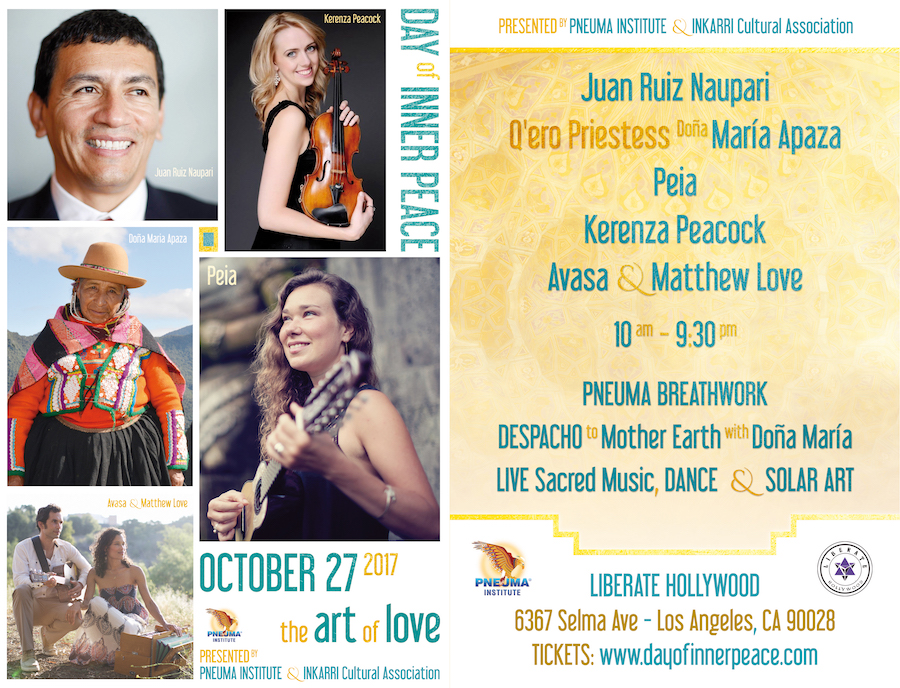 DAY of INNER PEACE 2017 ~ The Art of Love
- Despacho for Mother Earth with Alto Misayoc Priestess Doña María Apaza, last High Andean Priestess of the Q'ero Nation of Peru
- Conference with Juan Ruiz Naupari, Founder and Director of Inkarri Cultural Association & Pneuma Institute
- Evening Performance with world renowned musician Peia
- Children's Program featuring Blessing with Doña María Apaza
- Pneuma Breathwork
- Prayer Circle of Love
- Live Devotional Music & Dance featuring virtuosa violinist Kerenza Peacock, Avasa & Matthew Love, the Choir of Happiness, and more!
- Organic food and drink available for purchase including Open Source Organics, and more!
Proceeds benefit the Tibetan children monks of Gaden Shartse Monastery, the children of the Q'ero Community of Peru, and Inkarri Cultural Association, a 501c3 nonprofit organization.
Advanced Purchase Ticket Prices
$50 Full Day, 10am-9:30pm
$35 Half Day, 3pm-9:30pm
$25 Evening Performance, 6:30pm-9:30pm
Children Under 12 Free