The Anti-Racism Coalition (ARC) is hosting an on-campus commemorative event to mark the 1-year anniversary of George Floyd's murder.
About this event
This occasion will offer an opportunity for the Metropolitan State University community:
To honor the lives of George Floyd, Daunte Wright, Philando Castile and many Black lives as well as the loss of lives in other communities of color, including Asian and Asian American women in the Atlanta killing spree.
To broaden our understanding about the history and experience of Black, Indigenous, LatinX and Asian-Americans.
To act collectively to end structural and systemic racism in our community and society.
To find ways for everyone to honor, teach and engage.
All event activities will be held entirely outdoors at Metropolitan State University's surface parking lot located on the corner of Maria Avenue and East Sixth Street.
This event is free and open to the public, however, registration is required.
COVID-19 guidelines
Masks will be required at all times, and all event attendees must adhere to social distancing.
If you are sick, or have tested positive for COVID-19, stay home.
NOTE: State and university guidelines are continually changing. Please check back here for any updates.
Keynote speaker
Rep. John Thompson (DFL) is a member of the Minnesota House of Representatives, representing District 67A which includes all or portions of Saint Paul's Greater East Side, Payne-Phalen, Hayden Heights, Frost Lake, Hillcrest and Phalen Village neighborhoods. He assumed office on January 5, 2021. Committees he sits on include:
Agriculture Finance and Policy
Behavioral Health Policy Division
Education Finance
Higher Education Finance and Policy
Schedule
8:00am Registration/Check In
9:00am Welcome from the Anti-Racism Coalition: Jill Beaulieu-Wilkie and Victor Cole, Co-Chairs; George Floyd Memorial Scholarship Fund: Kristine Hansen, Director of Alumni Relations; Blessing and Honor Song: Jerry Dearly; Land and Enslavement Acknowledgement: Dr. Raj Sethuraju ; President's Remarks: Designee, Dr. Josefina Landrieu, Vice President of Equity and Inclusion; Student and Alumni Remarks: Benjamin Barnes, Black Student Union and Natasha Jones '20
9:30am Keynote Speaker: Minnesota State Rep. John Thompson
10:00am Learning Circles
10:50am Sharing from Learning Circles
11:10am Collective Action Plan Breakouts
12:15pm Plenary Session Sharing from Collective Action Groups
12:45pm Concluding Remarks: Dr. Nantawan Lewis
1:00pm Closing Songs by TheOneAndOnlyBlack, Rodriquez Williams (What a Feelin' and Blessed Be The Day)
Food
A light breakfast will be provided at no charge AND multiple food trucks will be on site which will be accepting vouchers given to all event participants!
Parking
Parking in the Saint Paul Parking Ramp is available for attendees at $5.00 per vehicle. Free parking in the ramp is only available to Metropolitan State University students enrolled in Summer 2021 classes and university employees who pre-pay via payroll deduction. The Saint Paul Parking Ramp is located at 400 Maria Avenue, St. Paul, MN 55106.
Please, out of respect for our Dayton's Bluff neighbors, use the Parking Ramp instead of taking up the limited street parking in the residential area.
Accessibility
If you need disability-related accommodations, including parking, to make this event accessible, please contact the Center for Accessibility Resources, 651-793-1549 or accessibility.resources@metrostate.edu at least one week prior to the event.
Livestreaming
Portions of the event including the welcome, guest remarks, keynote address, and closing will be livestreamed on Zoom. If you are unable to attend the event in person, or if the event reaches capacity, we encourage you to participate via Zoom.
Social Media
Follow Metropolitan State University's Anti-Racism Coalition on Facebook.
Questions?
Please contact Cassie Macedo (she/her) at cassandra.macedo@my.metrostate.edu.
Event organizers
This event is jointly presented by the Anti-Racism Coalition, Office of the President of Metropolitan State University, Office of Equity and Inclusion, Faculty of Color Caucus, Faculty of Color Mentorship Program, Institute for Community Engagement and Scholarship, College of Individualized Studies, Department of Ethnic and Religious Studies, School of Urban Education, Metropolitan State University Student Association (MSUSA), Alumni Association, with full support from MAPE, MMA, ASF, AFSCME and Metropolitan State IFO.
Donations
Donations will be accepted through the Metropolitan State University Foundation. Under the "Designation" menu, select "Restricted Program Fund" and add "ARC" in the comment box. To make an in-kind contribution or a direct purchase of event supplies (which eliminate processing fees), contact jill.wilkie@metrostate.edu.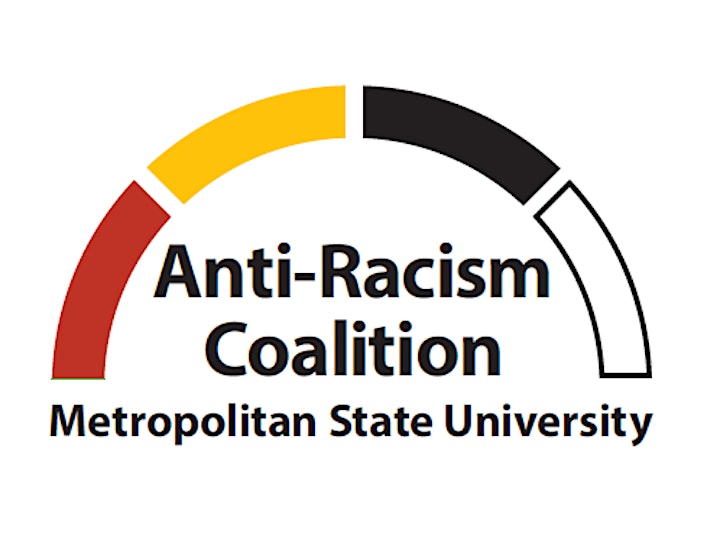 Organizer of Day of Honoring, Learning and Action
Metropolitan State University is a comprehensive urban university committed to meeting the higher education needs of the Twin Cities and greater metropolitan population.  The university provides accessible, high-quality liberal arts, professional, and graduate education to the citizens and communities of the metropolitan area, with continued emphasis on underserved groups, including adults, and communities of color.  Metropolitan State is committed to academic excellence and community partnerships through curriculum, teaching, scholarship, and services designed to support an urban mission.