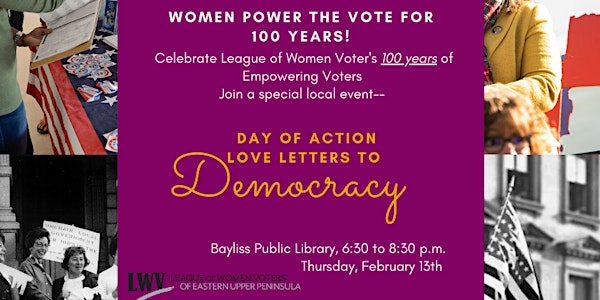 Day of Action: 100 years of Women Power the Vote
Celebrate 100 years of Women Powering the Vote! League of Women Voters celebrates 100 years this week.
When and where
Location
Bayliss Public Library 541 Library Drive Sault Ste. Marie, MI 49783
About this event
Our democracy's strength is in our people power! Come celebrate 100 years of the League of Women Voters empowering voters and defending democracy. Over 750 Leagues across the country are participating in a Day of Action to honor the sacrafice of so many voting rights champions and to celebrate the many wins this organization has tirelessly worked on in the past century.
Join us to for an impactful evening of lettering writing--love letters to democracy! Just the way our foremothers would want us to celebrate them! We'll have postcards, valentines cards, and paper and pens. Bring laptops if you prefer to type. We'll write to the newspaper, to organizations' newletters, to social media, and to elected leaders. Learn how to write an op-ed and then write your own!
Our democracy is unique with it's many pathways for people to voice their issues with government. Engage, participate, and feel empowered to make your voice heard!
Join us Thursday night, February 13th at Bayliss Public Library at 6:30 p.m. to 8 p.m.
Questions about the event or about the Leagu, reach out --- lwveup@gmail.com