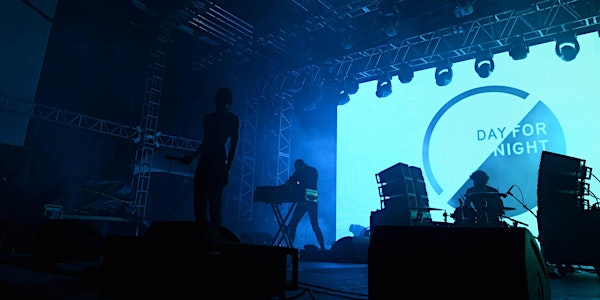 Day for Night: APHEX TWIN, ODESZA, TRAVIS SCOTT, KASKADE, BJÖRK
Date and time
December 16, 2016 · 7pm - December 19, 2016 · 2am CST
Location
Barbara Jordan Post Office 401 Franklin St. Houston, Texas 77201
Description
DAY FOR NIGHT is an experiential arts festival featuring digital installations and world-renowned performers, taking place on December 17 and 18 in Houston, Texas. "Day for Night piqued our interest and delivered in spades," hailed Consequence of Sound, and Department of Dance deemed the inaugural event "the festival of the future."
TO SEE THE SCHEDULE, VISIT WWW.DAYFORNIGHT.IO
SOUND:
APHEX TWIN, ODESZA, TRAVIS SCOTT, KASKADE, BJÖRK (DIGITAL SETS), RUN THE JEWELS, NICK MURPHY (CHET FAKER), BANKS, BUTTHOLE SURFERS, BLOOD ORANGE, LITTLE DRAGON, THE JESUS AND MARY CHAIN, SQUAREPUSHER, BLONDE REDHEAD, THUNDERCAT, KAMASI WASHINGTON, RZA FEAT. STONE MECCA, UNKNOWN MORTAL ORCHESTRA, JOHN CARPENTER, ARIEL PINK, LIGHTNING BOLT, ARCA, DJ WINDOWS 98, ONEOHTRIX POINT NEVER, LIARS, LOWER DENS, S U R V I V E, MATMOS, CLAMS CASINO, MYKKI BLANCO, MARCEL KHALIFE, CHELSEA WOLFE, UNCLE ACID & THE DEADBEATS, WELCOME TO HOUSTON, SG LEWIS, SOPHIE, TOBACCO, NOTHING, SOULECTION, MARY LATTIMORE AND JEFF ZEIGLER, FAT TONY, JOCK CLUB, WILD MOCCASINS, BUOYANT SPIRIT, VACATION EYES, LIMB, HEVIN, -US., JERK, MNYNMS, MARAMURESH, PFAFF, SPLENDID EMBLEM, KULT DIZNEY, DIVISION, NIGHT DRIVE, JOSH DUPONT, FROM BEYOND and FUTURELIX

LIGHT:
UNITED VISUAL ARTISTS (UVA), BJÖRK DIGITAL, GOLAN LEVIN, NONOTAK, SHOPLIFTER, TUNDRA, ROBERT SEIDEL, DAMIEN ECHOLS, AV&C + HOUZÉ, MICHAEL FULLMAN OF VT PRO DESIGN, EZRA MILLER, JESSE KANDA, ALEX CZETWERTYNSKI and HERMAN KOLGEN
FAQs
Box Office/Will Call Hours:
Location: 601 Franklin St.
Thursday (12/15) 12pm - 8pm
Friday (12/16) 12pm - 12am
Saturday (12/17) 12pm - 12am
Sunday (12/18) 12pm - 12am
International orders will be held at the box office for pickup.
Single day wristbands and weekend wristbands purchased after 11/28 will not ship in advance, but will be available for pickup at the festival box office.
Digital/downloadable tickets will be available in your Eventbrite account 48 hours prior to the event. Please bring a copy of this ticket (on your mobile device is fine!) for quickest service at the box office. If you forget your ticket, a photo ID will be fine. For a comprhensive list of FAQs, please visit www.dayfornight.io/faq
*Tickets are non-refundable. Event is rain or shine unless otherwise posted by the festival.