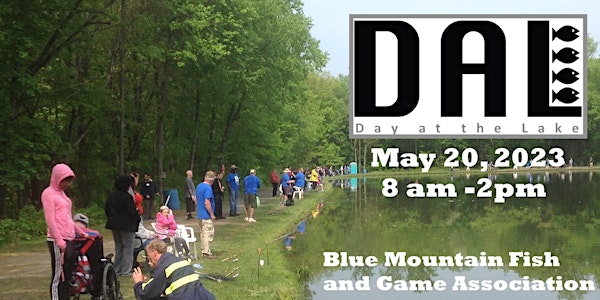 Day at the Lake
DAL is full of opportunities to fish, eat, and make new friends. It is an honor to serve every participant on this very special day.
By FBC Allentown/Blue Mountain Fish and Game Assoc.
Date and time
Saturday, May 20 · 8am - 2pm EDT
Location
Blue Mountain Fish & Game Association 4190 Wood Dr Walnutport, PA 18088
About this event
Our goal for Day at the Lake is to provide an opportunity for people of all ages with disabilities [and their families and those who assist them] to have a day to get away at the lake and fish while having a great time together eating and enjoying other fun activities.
Agenda
8:00 AM
Registration Begins
---
Stop by the registration table and we will get you ready for the day. The opening ceremonies start at 9 and then we will connect you with your host for the day. Need to arrive later? We can accommoda...

9:00 AM
Opening Ceremony
---
Let this get this party started! come enjoy the opening ceremony as we prepare ourselves for the day. In these moments there will be some more announcements and an overview of the day.
9:30 AM
Fishing Begins
---
Time to throw your line in. Everyone will have a host to help you throughout your day!
11:00 AM
Lunch begins!
---
Who's hungry? Lunchtime is full of great food, new friends, and great conversations! Oh, and one more thing! It's on us!
12:15 PM
Awards Ceremony/Desserts
---
The Awards ceremony GIves us an opportunity to celebrate a great day together. Each participant will receive a certificate to hang on their wall to remember the day!
9:30 AM - 12:30 PM
Silent Auction Hours
---
Support the event by taking part in the Silent Auction! You will find some great deals on several types of items.
Frequently asked questions
What is the Purpose of the Event?
What Happens During the Event?
How close is the parking to where the lake and all the other activities?
When does registration end? [Can I Come Later in the Morning?]
Are there food available for those who have dietary restrictions?
About the organizer
FBCAllentown is located at 1808 N. 9th Street in Allentown, PA. It is a church where there are "No Perfect People Allowed" that is committed to Loving God, and Loving People. You can learn more about FBCAtown at fbcatown.com
 The Blue Mountain Fish & Game Association was started in May of 1946 by a handful of local men who had an interest in sportsmanship, and in the years to come, grew into a Sportsman Association.
 In 1961 they built a 3 acre lake at the site of the present Club.

You can learn more about the Blue Mountain Fish & Game Association
at bluemtfishgame.webs.com/