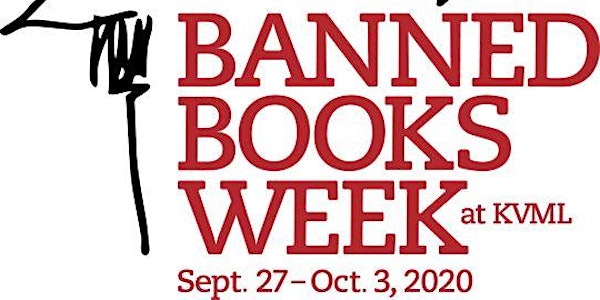 Day 7 Banned Books Week - Journal Release and Youth Writing Workshops
Event Information
Location
Kurt Vonnegut Museum * Library
543 Indiana Avenue
Indianapolis, IN 46202
Refund policy
Contact the organizer to request a refund.
Eventbrite's fee is nonrefundable.
So It Goes Literary Journal Release and Youth Writing Program Workshops led by Ryan North, Dr. Lasana Kazembe and John David Anderson
About this event
From 11 a.m. to 12:30 p.m. , we will be celebrating the release of So It Goes, our annual literary journal, featuring readings and displays from the contributing writers and artists. After that, join us for the launch of our Youth Writing Program featuring writing workshops! At 1:00pm, author Ryan North will lead Writing for Graphic Novels, at 2:00 pm, author and professor Dr. Lasana Kazembe with lead Writing for Change, and author John David Anderson will lead Writing for Fun at 3:00 pm. This is a virtual event and you will receive access information shortly before the event. For the complete schedule of Banned Books Week Events, please visit vonnegutlibrary.org.
"Tell stories. Write a poem to a friend, even a lousy poem. Do it as well as you possibly can. You will get an enormous reward. You will have created something." - Kurt Vonnegut , Jr.
So It Goes is a unique literary journal — designed to bring together work from veterans and civilians, established authors and virtual unknowns, high school students and nonagenarians. It's a journal that has been, in a way, unstuck in time.
The mission of our Youth Writing Center is to offer a space where we can engage with Indianapolis youth through the written word so that they can be inspired, empowered, and heard. We will help young people tell their story as well as they possibly can. We will help them write lousy poems as well as they possibly can. We will help them write essays as well as they possibly can. We will do this as well as we possibly can through the support of generous donors and with the help of volunteer writing mentors who will be led by on-staff, community, and national experts. Our writing center is affiliated with the International Alliance of Youth Writing Centers, which comes with the guidance of renowned author Dave Eggers. We have partnered with Butler Writers and Shortridge High School for the 2020-2021 school year and are looking to create more partnerships with public schools and community organizations. Free services we plan to offer include: Writing workshops, summer and after-school tutoring, SAT and college essay prep classes and class field trips to the museum for unique writing projects.
Ryan North is the writer responsible for Dinosaur Comics, the Eisner and Harvey award-winning Adventure Time comics, the #1 bestselling anthology series Machine of Death and the New York Times bestselling and Eisner-award winning Unbeatable Squirrel Girl series for Marvel. He's turned Shakespeare into NYT-bestselling choose-your-own-path books, and his book HOW TO INVENT EVERYTHING is nothing less than a complete cheat sheet for civilization. He recently adapted Kurt Vonnegut's SLAUGHTERHOUSE-FIVE into a graphic novel. He lives in Toronto, where he once messed up walking his dog so badly it made the news. To pre-order your copy of the Slaughterhouse-Five graphic novel, visit our online gift shop: https://kvml.square.site/product/slaughterhouse-five-graphic-novel-illustrated-by-albert-monteys-and-written-by-ryan-north/337?cs=true.
Lasana D. Kazembe is an Assistant Professor in IUPUI's School of Education (Dept. of Urban Teacher Education) and in the Africana Studies Program. He is a scholar of Urban Education, Global Black Arts Movements, and the Black Intellectual Tradition. His research interests intersect Culturally Sustaining Pedagogy, the Arts and Arts-based Learning, and Social & Racial Justice in education. He has published numerous scholarly articles on education, race, culture, and history. A Poet and Spoken Word artist, Dr. Kazembe has performed at colleges and universities throughout the U.S., and venues in Canada, and Africa. As teaching artist, he has developed and facilitated creative writing programs within youth detention centers, prisons, community centers, K12 schools, and other learning spaces. Dr. Kazembe's latest (edited) book, entitled Keeping Peace: Reflections on Life, Legacy, Commitment, and Struggle (2018), was published by Third World Press Foundation.
John David Anderson is a Hoosier writer of middle-grade fiction. His works include Ms. Bixby's Last Day, Insert Coin to Continue, The Dungeoneers, Sidekicked, Minion, Granted, and Posted. He attended Indiana University, where he received an undergraduate degree in English literature and attended the University of Illinois, where he received a Master's degree in the same. He was born and raised in Indianapolis, Indiana, where he currently resides with his wife Alithea Anderson and his twin children Isabella and Nikhil.
Date and time
Location
Kurt Vonnegut Museum * Library
543 Indiana Avenue
Indianapolis, IN 46202
Refund policy
Contact the organizer to request a refund.
Eventbrite's fee is nonrefundable.