Description
Join us at The Kentucky Castle Renaissance Faire, where Splendor and Magic abound! Merriment for all ages.
Tickets - Includess access to all outdoor activities for the day
In Advance: $15 adult. $5 children
At the Door: $20 adult. $10 children.
Schedule
10a-5p
Parking
Free parking is available at The Kentucky Castle
Activities
Amazing Performers to enchant and entertain include The Royal Court with the King & Queen accompanied by their Royal Huntsman. Enjoy the antics of the Welsh Corgi Show. Be Knighted at the Knighting Ceremony. The Sword Swallower will test your courage, the Story Teller will amaze you with Legends and Lore, The Wizard will beguile and astound you. Our Minstrels will delight your eyes and ears and the Face Painter will render you even more pleasing to the eye. Thrill to the excitement of the Jousting Demonstrations. Test your own mettle at Archery and Swordplay.
Delicious Foods and Beverages are served by the Culinary Conjurers of The Castle. Fantastic Wares available at the various Merchant's Tents. Find your own History at the Heraldry Tent, perhaps you will find you are descended from Kings, Queens or brave Knights. Try your luck with Games such as Unicorn Ring Toss and Chess. Stay out of trouble or you might find yourself in the Stocks!

* Concessions and Beverages available 10a-5p in the Greenhouse.
* Separate tickets available for a Luncheon each day in the Grand Ballroom... or a Royal Feast and Masquerade Ball each evening.
* Reserve a room and stay at the Castle overnight! More information available (859) 256-0322.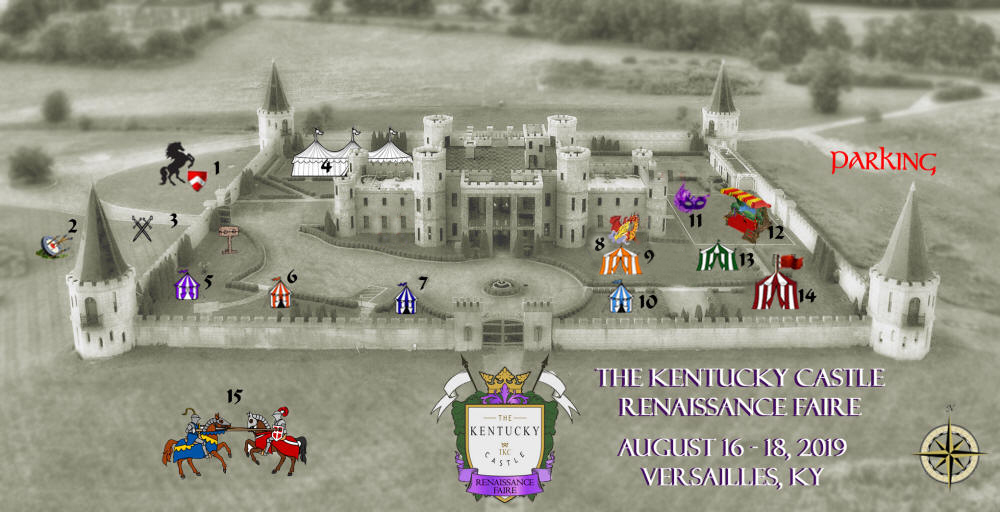 1. Combatant's Keep Encampment
2. Archery Range
3. Fight A Knight
4. The Greenhouse - Food and Beverages
5. Flabbergast the Wizard
6. Minotaur's Labyrinth
7. Madam Marcella's Story Telling & Ballads
8. Dragon's Lair
9. Fairy Fancy Facepainting
10. Thunder and Spice
11. Masquerade Ball
12. Royal Stage
13. Of the Round Table
14. Royal Pavilion
15. The Jousting Tiltyard
Details
Renaissance period & modern weapons not permitted
No outside alcohol, coolers or pets permitted
Children 2 and under are free
Questions? Please call (859) 256-0322 or email mary@thekentuckycastle.com