(Live Webinar) Day 3, 2022 CJEB Annual Tokyo Conference - Japan in the Uncertain World
About this event
Day 3
Friday, May 27, 2022 | 8:00 – 9:30 AM (Japan Time)
Thursday, May 26, 2022 | 7:00 – 8:30 PM (EDT)
Language(s): Simultaneous interpretation will be provided in English and Japanese.
Keynote Speech: Japan's Economic Security Policy
Takayuki Kobayashi
Economic Security Minister; Science and Technology Policy Minister; and Space Policy Minister, Government of Japan
Moderator: Takatoshi Ito, Professor, School of International and Public Affairs, Columbia University
Panel: Economic Security
Panelists:
Takayuki Kobayashi
Economic Security Minister; Science and Technology Policy Minister; and Space Policy Minister, Government of Japan (TBC)
Naoshi Hirose
Vice-Minister for International Affairs, Ministry of Economy, Trade and Industry
Daniel M. Price
Managing Director, Rock Creek Global Advisors
Candida Wolff
Executive Vice President and Head, Global Government Affairs, Citigroup
Moderator:
Takatoshi Ito
Admission and Contact:
This is a free event. You must register for the webinar to receive the login details. This is Day 3 of our 4-Day Tokyo Conference. Please note you must register for each date separately to get the link to access that day of the conference. Registration links for the other 3 days are Day 1, Day 2, and Day 4.
If you have questions about the event, please contact us at cjeb@gsb.columbia.edu.
For more information about other CJEB events, visit our website or contact cjeb@gsb.columbia.edu.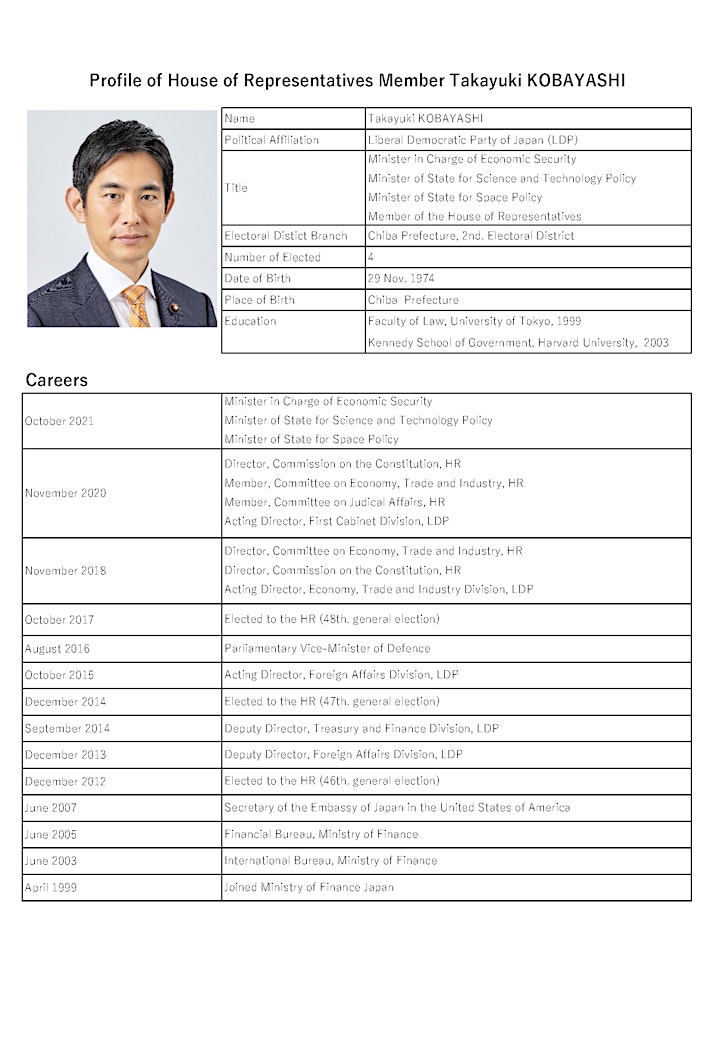 Biographies of other speakers:
Naoshi Hirose has served in the Ministry of Economy, Trade and Industry (METI) for more than 35 years, with extensive experience in the field of trade policy. He was appointed as Vice-Minister for International Affairs in July 2021. He leads all of METI's international policy operations and represents the ministry in cross-border economic dialogues and negotiations, and travels alongside the Prime Minister on overseas missions to advise on economic, trade, industrial and energy policy.
Prior to his current position, Mr. Hirose has served as Director-General, Trade Policy Bureau since July 2019, responsible for all of METI's trade policy matters, including bilateral, plurilateral, regional and multilateral issues, such as Japan-US Trade Agreement, Regional Comprehensive Economic Partnership (RCEP), and WTO reform.
From 2014 to 2015, Mr. Hirose served as Director-General of the Multilateral Trade System Department, where he participated in the Trans-Pacific Partnership (TPP) negotiation as METI's lead negotiator, and played a central role in successfully reaching the agreement in Atlanta.
From 2002 to 2005, Mr. Hirose served as Counsellor at the Japanese Mission in Geneva, where he was responsible for the Rules negotiation in the Doha Round, and served as Chairman of the WTO Subsidies Committee and Member of the Panel in the EC-Sugar case. In 2005, he returned to Tokyo and served as Director of the Multilateral Trade System Department until 2008, where he continued his work in the Doha Round, along with trade negotiations in the field of intellectual property.
From 1994 to 1997, Mr. Hirose served as First Secretary at the Japanese Embassy in Washington D.C., where he dealt with various issues in the Japan-U.S. bilateral trade relationship, including automobiles.
Mr. Hirose's career also covers a wide range of other fields in economic and industrial policy. These include Deputy Director-General of the Economic Revitalization Bureau at the Cabinet Secretariat, where he was the lead government-wide coordinator of the "Abenomics" growth strategy, promoting investment, R&D and start-up businesses, corporate governance, and deregulation. His prior experience at METI also includes environmental policy, and industrial policy for the aerospace industry.
Mr. Hirose received his BA in Law from University of Tokyo in 1986 and his Master in Public Affairs(MPA) from the Woodrow Wilson School at Princeton University in 1992.
Mr. Hirose was born on March 28, 1963 in Tokyo. He lives with his wife and his son in Tokyo.
Daniel M. Price is Managing Director of Rock Creek Global Advisors, an international economic policy advisory firm, where he focuses on international regulatory and policy matters. Mr. Price is currently advising multinational companies and financial institutions on trade policy, financial regulatory issues, geopolitical risk, and matters arising in global forums (G7, G20, and APEC).
Mr. Price co-founded Rock Creek Global Advisors in July 2011.
Previously, Mr. Price served in the Administration of George W. Bush as the senior White House official responsible for international trade and investment, development assistance, and the international aspects of financial reform, energy security, and climate change.
Mr. Price was the President's personal representative to the G8, the G20 Financial Summit, and the Asia-Pacific Economic Cooperation Forum. He was US chair of cabinet-level economic dialogues with Brazil, India, and the European Union.
Before and after his White House service, Mr. Price was a partner with Sidley Austin LLP, having founded and chaired the firm's 60-member International Trade & Dispute Resolution group. Mr. Price counseled multinational companies on trade, investment, national security, and sanctions issues, and represented companies and governments in WTO, investment treaty, and NAFTA disputes. Earlier, Mr. Price served as Principal Deputy General Counsel in the Office of the US Trade Representative and as Deputy Agent to the Iran-US Claims Tribunal in The Hague.
Mr. Price has appeared on BBC, CNBC, PBS, and Bloomberg TV. His articles have been published in the New York Times, Financial Times, Washington Post, and the Wall Street Journal.
Mr. Price was educated at Haverford College, Cambridge University, and Harvard Law School, where he was an Articles Editor of the Harvard Law Review.
Candida "Candi" P. Wolff is Managing Director and Citi's Head of Global Government Affairs. She is responsible for the company's government affairs globally, including U.S. Federal, U.S. State, and international government relations.
Ms. Wolff is responsible for identifying priority policy issues that may impact Citi's structure, operations, clients and employees. She is charged with defining Citi's position and developing advocacy and execution strategies on these issues. Prior to joining Citi in May 2011, Ms. Wolff was a partner in the Legislative and Policy Practice at the law firm of Hogan Lovells where she represented clients in legislative matters before the Congress and the Administration. Her private-sector experience also includes time as a partner at Washington Council Ernst & Young, a Washington, D.C.-based consulting firm, and as an Associate in the Public Policy and Law section of Akin, Gump, Strauss, Hauer & Feld, a Washington, D.C.-based law firm.
Additionally, Ms. Wolff has more than 20 years of government relations experience in key public and private sector positions. Most notably, from January 2005 to December 2007, she served in the White House as the Assistant to the President for Legislative Affairs – the first female to have ever held this position.
As President George W. Bush's principal liaison to Congress, Ms. Wolff had the primary responsibility for formulating and advocating the President's agenda in Congress. The position included advising the President and his cabinet on legislative strategy regarding economic, domestic, international and national security issues.
Ms. Wolff also served as head of legislative affairs for Vice President Cheney and worked for eight years in the U.S. Senate in senior staff positions in the Republican Leadership and as tax counsel to former Senator Malcolm Wallop of Wyoming.
Ms. Wolff has been recognized multiple times by American Banker Magazine as one of the leading women in the banking industry and by National Journal and Washington Life Magazine as one of the most influential women in Washington, D.C.
Ms. Wolff is a member of the Board of Easter Seals, the Washington Tennis & Education Foundation, and the advocacy network of the Bipartisan Policy Center.
Ms. Wolff earned her B.A. in mathematics and political science from Mount Holyoke College and her J.D. from the George Washington University School of Law. She is a member of the District of Columbia Bar Association.
Moderator:
Takatoshi Ito is the director of the Program on Public Pension and Sovereign Funds and associate director of research at the Center on Japanese Economy and Business of Columbia Business School. He is also a professor at the School of International and Public Affairs at Columbia University. He has taught extensively both in the United States and Japan since finishing his PhD in economics at Harvard University in 1979. Read full bio.