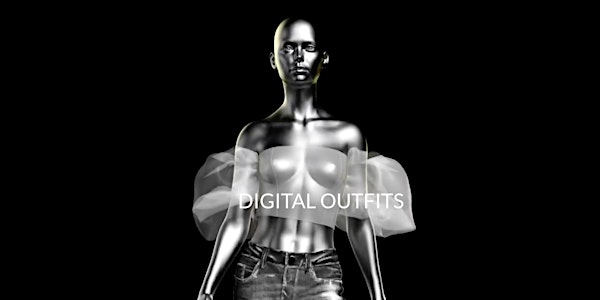 DAY 3 :: OC FASHION WEEK® HAUTECH: THE WORLD FASHION TECHNOLOGY
DAY 3: HAUTECH the World of Fashion Technology - Digital Fashion Designers NFT's & Block Chain Wear presented by Terminus Escape Rooms
When and where
Location
2951 W Ball Rd unit 200 2951 West Ball Road #unit 200 Anaheim, CA 92804
Refund Policy
Contact the organizer to request a refund.
Eventbrite's fee is nonrefundable.
About this event
For Immediate Release:
Contact: 949-287-2002
Chloe@ocfashionweek.com
Charlotte@ocfashionweek.com
HAUTECH: THE WORLD OF FASHION TECHNOLOGY presented by @TerminusEscapeRooms
New to OC Fashion Week® we are excited to share our international partnerships with DIGITAL FASHION LAB Monaco and joining us on the West Coast is tech purveyor and NFT expert Katie Chonacas' and her league of Legendary NFT Fashion on Wednesday, September 7th, 6pm-8pm. This partnership earmarks our international endeavors for a one-world symposium as the luxury market of California held @TerminusEscapeRoom the newest VR Arcade in Southern California based in Anaheim by Terminus Entertainment at 2951 W Ball Rd. Unit #200 Anaheim, CA 92804. Explore the process of creating, wearing and selling digital fashion through a cyber night of curated experiences of three-dimensional fashion from leading digital designers.
"Terminus Escapes is thrilled to be helping host OC Fashion Week. It is truly humbling to be able to work with such a forward thinking group of people and we are excited to be able to help such an incredible event come to fruition. All of us here at Terminus Escapes are grateful for this opportunity and wish the best of success for all the designers and models this week and beyond."
DIGITAL FASHION LAB encourages brands, designers, and manufacturers to create digital collections that eliminate the use of fabrics, water, and chemicals. Our mission - is to help them to move away from the traditional sampling process and start entirely digital prototyping
Our modern style of digital fashion presentations impresses with innovative motion design. We can understand your brand's design philosophy and digitally express it in new ways. For us, this process is a joint creation of your designers and our creative team.
DIGITAL FASHION LAB will presents International collections of Fashionistas of Monte Carlo. Join us for an incredible cyber night of innovation, fashion design and the future. Follow @digitalfashionforum to preview coming attractions @ocfashionweek #montecarloclub
Katie Chonacas presents Legendary NFT Fashion at OC Fashion Week® : The fashion industry is one that has traditionally been averse to change. The industry is typically slow to adopt new technologies and methods, but the blockchain and web 3.0 have changed that.
One of the biggest challenges facing fashion brands today is how to stay current with the latest trends in order to stay relevant in an ever-evolving industry. One way they might think about doing this is by using blockchain technology. In the past few years, digital fashion has been introduced.
Katie "Kyriaki" Chonacas, TV, Film & Voice actor, and motivational speaker, presents a legendary event with education in Web3 and NFT Fashion in collaboration with OC Fashion Week®. The event will take place at the new Terminusescape.com in Anaheim on Thursday, September 8.
Orange County Fashion Week® is a global organization dedicated to international fashion trade and commerce that will be bringing together the best Web2 local designers and brands this year with the fiery twist of NFT Fashion and Web3 Education that will be curated by Kyriaki.
Kyriaki started out as a fashion model and endorser when she was a teenager and attended the annual New York Fashion Week sitting in the front rows and eventually ventured to Paris Fashion Week. She became notable for her natural, unmistakable beauty and landed campaigns for big brands like Chanel, PacSun, Hurley, BCBG, Nordstrom, Tod's, Roger Vivier, and K-Swiss, to name a few.
She pivoted to NFTs in 2018 and since then has been trailblazing her fellow women in the blockchain ecosystem, which eventually led her to be a speaker on Women's Empowerment Panels at several major Web3 Events.
Kyriaki aims to highlight NFT Fashion by showcasing NFT fashion brands, artists, and designers that are overlooked in the blockchain community. To kick things off, there will be a fashion show that will feature a wide array of designs, from classic to contemporary, from high-end designers to indie brands, and NFT Merch.
The event will be sponsored by well-known fashion companies, and it will feature a stellar lineup of Web3 speakers like Karen Fishof, a contemporary artist with her famous photograms and the founder of Goof Balls NFT Collection; an NFT Fashion Brand, BLK Burdgenes; Manny Jackson, a conceptualist, designer, and founder of Thread Haus Co. a movement that creates sustainable, multipurpose, multi-functional apparel and accessories that are gender neutral. Bailey Twins, and Bee, founder of VirtualFashion.io, an NFT Marketplace for luxury fashion, to name a few. Furthermore, these influential speakers will exhibit their NFT fashion designs while establishing Web3 Education. Adding to the roster of speakers and sponsors is an expert in the field of transactional legal services for NFTs and the Web3. ICOLaw's founder, Emanuel Orlando, will be discussing legal matters pertaining to Web3.
Moreover, Axel Arzola, a creative producer at Impact Theory Studios, a leading media company in the NFT space led by Tom Bilyeu and founder of Red Axe Media known for the film Literary Ink will also be a featured speaker discussing the emerging Film3 community. Axel's films have screened at festivals in the US, Canada, France, Greece, Chile, Mexico, and Cuba. Legendary musician and artist Scott Page of Pink Floyd will also be performing an intimate set as part of the historic event.
Web 2.0, on the other hand, is very much alive and well. With the development of NFTs and the inclusion of a commercial use provision in their corresponding smart contracts, on-demand NFT merchandise has become a reality. OC Fashion Week and Kyriaki will be giving a spotlight to fast fashion NFT merch by Saint Kyriaki, namely Cartoon Katie by Sabet Tokyo Punks, NFT Artwork collaboration with Jimena Buena Vida, the Dreamland 1111, and She's All Over the Place Podcast. The NFT fast fashion lineup also includes BLK Burdenes NFT Fashion and Goofballs NFT Fashion Line.
Blockchain and web3 are changing the way we think about fashion.
"We're going to see a lot more experimentation with how new technologies can be used to advance an existing industry," said Kyriaki. "This will happen in different ways, but I think it's safe to say that there will be a lot of people trying to figure out how best to use NFTs and blockchain technology as they relate to fashion."
Chonacas predicted that fashion would be one of the first industries to take advantage of blockchain technology. She believes that it's only a matter of time before we see designers using blockchain-based digital collectibles like NFTs to create new designs, or even entire collections that are only available on the blockchain.
Fashion is not just about what we wear on our bodies—it's also about how we feel about ourselves in society. Because of this, an industry devoted to making people happy has undergone a radical transformation thanks to these breakthrough technologies. This is no hoax, but rather the start of a promising new era.
###
OC FASHION WEEK® is made possible by it's supporting sponsors
@astonmartinnewportbeach Official Car of the Catwalk
@dawsoncolefineart Official Sculpture Museum
@celebritycruises Official Cruise Sponsor
@LaCasadelCamino @comedor @RooftopLounge Official Model Casting Location
@lucidityusa Official CBD Sponsor
@foskariswellness Official Red Light Therapy Sponsor
@ddsjohnvartanian Official Smile Sponsor
@doctortrishmd Official Em Sculpt Fit4theFly Sponsor
@noletspiritsusa Official Ketel One Vodka Sponsor
@terminusescaperooms Official Hautech Sponsor
@digital_fashion_forum Official Hautech Sponsor
@chonacas Official Hautech Sponsor
@wildbeautybar Official Runway Lashes
@shoedazzle Official Shoes of the Runway
@YourIconicLife Magazine Official Orange County Features Magazine
@Exq_la_Mag @ManilaUpMagazine @StyleLA_Magazine Official International Features Magazine
@fodadaclothing Official Tees Behind the Seams
@aylaevents Official Hospitality Contributor
@drinkbev Official Wine Contributor
###
===========================================================
Event Refund Policy: Due to the nature of seasonal events any and all event tickets are non-refundable but may be credited towards a future event. We thank you in advance for your support.
===========================================================