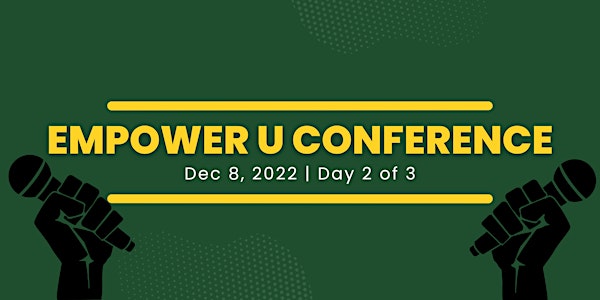 Day 2 of 3 December 8, 2022 Empower U Conference
The Empower U Conference has a multitude of empowering seminars that focus on creating a holistic transformation within attendees!
About this event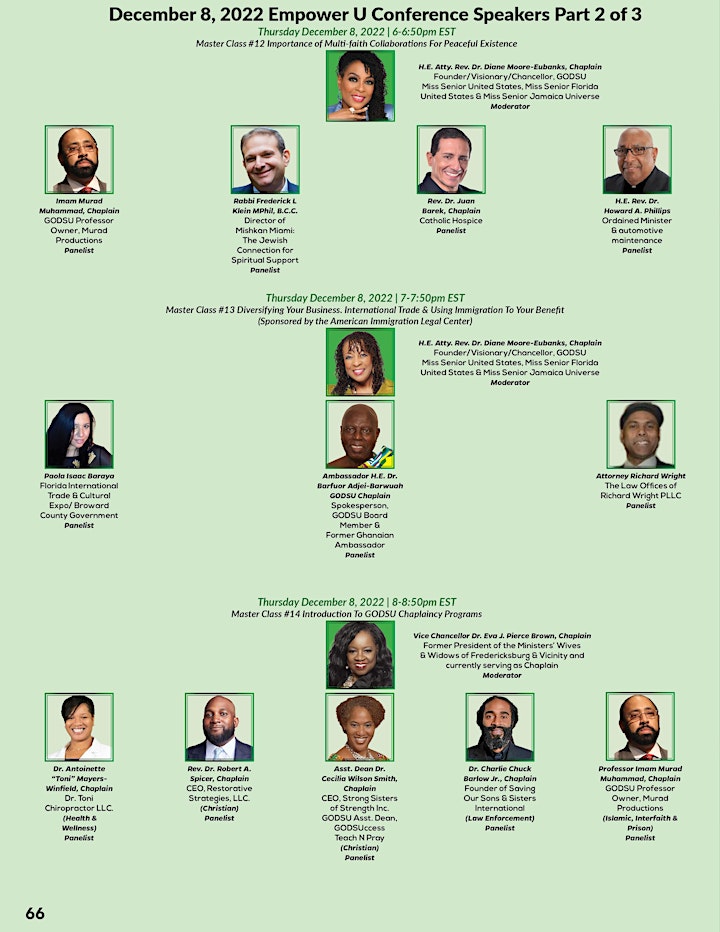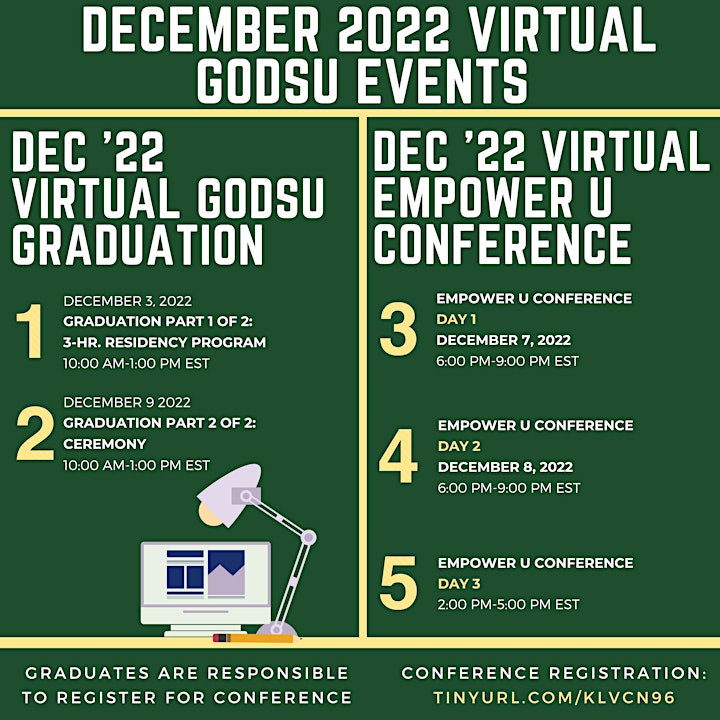 Conference dates: December 7-9, 202
This is a PRIVATE Online Conference the credentials will be shared after the purchase of ticket(s).
For more information about our Empower U Conference and our illustrious speakers (panelists include Embassy Ambassadors, West African Royalty, and international subject matter experts) please click HERE. 
This is a PRIVATE Online Conference. The credentials will be shared after the purchase of ticket(s).
The credentials ARE NOT BE SHARED.
*Register for Empower U Conference tinyurl.com/klvcn96
Graduates are free for GRADUATION CEREMONY 12/9/2022 10 AM -1 PM EST
Global Oved Dei Seminary and University (GODSU), is a 501(c)(3) Interfaith E-learning Global Florida Department Of Education Commission of Independent Studies approved degree-issuing Religious Institution of Higher Learning under Florida Statute 1005.06 (1)(f) in Miramar Florida, a suburb of Ft. Lauderdale, suburbs.
Our curricula include programs like our Theology diploma, B.A., M.A., and PhD programs which is designed for students called to the ministries of teaching and preaching. Program enrollees include pastors, evangelists, missionaries, and laypersons.
Our Additional Courses:
Entrepreneurial Studies :Premier self-development courses on wealth- building. We also offer a mini-course for youth (Jr. Ambassador Youth Public Speaking) to gain professional and personal skills.
Chaplaincy Diploma:Love & Spiritual Interfaith and Christian Programs.Chaplains are trained, certified leaders attached to either a religious and/or nonreligious institution/organization.
Cybersecurity IT Courses:Our licensed Instructor has a 95% pass rate compared to the 30% national average for COMPTIA accredited courses, eg. Security+ and Network+.
40% of our alum who have gone through our Prestigious GODSU Honors Programs have also previously matriculated through their earned doctorates programs. Our Alum includes Physicians, ambassadors, statesmen & stateswomen, icons, a billionaire, religious leaders, titans in business, global Philanthropists such as:
Ambassador of Ghana to the United States H.E. Dr. Barfuor Adjei-Barwuah
Ambassador of Nigeria to the United States H.E. Dr. Sylvanus Nsofor
Billionaire Builder & Dean H.E. Dr. Michael V. Roberts
Former Maritime Minister, Government of Nigeria Hon. Dr. Leke Oyewole
President of Fraser Net, FraserNation and Power Networking Conference Dean H.E. Dr. George Fraser
Our world-class and esteemed Professors Include:
Attorney H.E. Rev. Diane Moore-Eubanks, PhDChancellor
Physician Dr. Eric PesetskyClinical Health & NutritionGODSU Medical Expert
Physician H.E. Rhoda Makinde Ph.D. Chief Medical Doctor GODSU Medical Missions
Dean Michael V. Roberts, JD, PhDDean of Entrepreneurship Studies
Dean George Fraser, PhDPersonal Development Studies
Dean Cairo EubanksDean of Junior Ambassador
Professor Willis Eubanks, PhDDean of Cybersecurity Program
Professor Rev. Dr. Joseph Hickman, Associate Professor, Theology Program
Professor Imam Dr. Talib Shareef, Professor, Interfaith Program & Chaplaincy
Professor Rev. Dr. William Blake, Theology ProgramCurriculum Development
Professor H.E. DakarEthical & Successful Marketing TechniquesEntrepreneurial Studies
CHANCELLOR OF GODSU BIO**The Right Hon. H.E. Rev. Dr. Atty. Diane Moore-Eubanks** is the Founder, Visionary, & Chancellor of Global Oved Dei Seminary & University (GODSU) and its seven pillars. As Chancellor, Dr. Diane provides leadership, teaching, and strategic direction to further GODSU's global interfaith and entrepreneurial missions. After graduating in 1986 as both a Magna Cum Laude and Phi Beta Kappa recipient from Florida State University, she completed her Juris Doctorate degree from Georgetown Law School, interned at BET as well as served as Assistant General Counsel, Dept of Navy, reporting to both the Pentagon & White House. In private law practice, she conducted over 3,600 residential & commercial real estate transactions in 3 states. Since 2009 Dr. Diane has helped 10,000+ Nigerian & Ghanaian women start small businesses. In 2016 she was ordained as a Christian Pastoral Minister under Bishop Christopher Cox, Member of the Joint College of African American Pentecostal Bishops. In October 2019, she sponsored and co-hosted the 1st African Economic Panel at Florida International Trade and Cultural Expo with Broward County Mayor Hon. Dale Holness. She currently serves as the Director of Education for the UN NGO, NFFI—JA. In 2020 and is a 2020 Fellowship Recipient of the Jim Moran Non-Profit Executive Program. For over 20+ years she has been licensed in multiple States as a financial service advisor, now serving as a Senior Vice President with InVida Financial Network.
"What is a Chaplain and What Do They Do?"
Chaplains are essentially spiritual leaders attached to a secular institution/organization. Our Chaplains are certified and have a theological education. Chaplains can also be ordained or commissioned by a particular denomination. Traditionally, Chaplains have been associated with representatives of the Christian faith; today, the term is used as a representative of any faith.
Chaplains work in many fields and can be attached to any profession. From hospitals, military, law enforcement groups, political bodies such as The United States Congress and Senate, to educational institutions, sports teams, and even some corporate and music groups.
Chaplains generally are expected to serve the spiritual needs of others. Not all Chaplains serve in the same areas. Some Chaplains deliver spiritual messages, perform wedding or funeral ceremonies, administer sacraments, and provide regular counseling. They may also function as an advocate; as in-hospital chaplains who may make a request of a nurse to help meet a particular patient's need.
Chaplains work in many fields and can be attached to any profession. From hospitals, military, law enforcement groups, political bodies such as The United States Congress and Senate, to educational institutions, sports teams, and even some corporate and music groups.
Our Chaplaincy Program is currently offered with a focused foundation of Inter-Faith. Below is a listing of our current and future Chaplaincy Programs:
Jewish ChaplaincyChristianity ChaplaincyMuslim ChaplaincyHindu Chaplaincy
GODSU HONORS PROGRAM
GODSU Honorary Doctoral Programs include the Doctor of Humane Letters (Honoris Causa). The selection process is rigorous and includes vetting by a vibrant network of alumni, who are experts within their respective fields. Our rigorous application process requires that you submit your current professional BIO, photographs, and also complete three telephone interviews. GODSU has had many recipients of our Honorary Doctoral degree program, which have included successful business persons, such as Billion Dollar Empire Builder, H.E. Dean Dr. Michael V. Roberts, 7-time Grammy Nominee Dr. Kelly Price and former Nigerian, Maritime Minister, Dr. Olugbenga Leke Oyewole, to mention but a few.
The prestigious Doctor of Humane Letters (Honoris Causa) is exclusively offered to individuals, who have demonstrated and met the following criteria:
Have ten + years of excellence in their field of expertise. Made numerous documented philanthropic contributions to society.Provided documentation of awards and academic accomplishments. Provided one (1) referral endorsement from GODSU Alumni.
*Global Oved Dei Seminary & University Donations & Charitable Giving
GODSU Honors Program does utilize a flexible donation schedule; however, all past nominees have generously supported our mission. Donation is tax-free due to our 501(C)(3) tax status and allows us to sustain and expand our programs, hire exceptional faculty, and provide ample resources and scholarships to deserving students. The Chancellor in your final interview, on behalf of our Donations & Charitable Giving department, will discuss our mission, vision, and fundraising initiatives.
GODSU ACADEMY
We are CompTIA certified to teach the following courses: Cyber Foundations and Cyber Professional, which includes Cyber Security PLUS certification. The next SECURITY PLUS courses will be held in Summer 2018 in Prince Georges County, Maryland.
UN Goodwill Ambassador Program
Our relationship with Africa goes back many years through our UN NGO, New Future Foundation – The Jamaican Chapter headed by "Queen Mother" Dr. Delois Blakely, through whom we base our UN Goodwill Ambassador Program. It is a non-profit, non-political, nonpartisan foundation, which is committed to human dignity and service.
GODSU actively supports the NFFI-JA vision of women's security, peace, and philanthropic work Internationally. In addition, candidates who subsequently volunteer with GODSU for a minimum of 2 years may be recommended for UN Goodwill Ambassador positions through our United Nations Affiliate, New Future Foundation (NFFI) – The Jamaican Chapter.