DAY 1: TRADE-USA DR'21 inlcudes Google Mi Negocio Seminar @11am
La busqueda de su negocio en internet es muy importante. Usted necesita que sus clientes encuentren la informacion correcta de su negocio.
About this event
Tópicos:
- Crear o reclamar el perfil de su negocio en Google.
- Como administrar adecuadamente su informacion en la Busqueda Google y Maps.
- Use Google Mi Negocio para conectarse con potenciales clientes.
#GrowWithGoogle, #GoogleDigitalCoaches
Este Seminario virtual sera presentado por el Sr. Vicente Pimienta, Entrenador Digital de Google en Miami "Miami's Grow with Google Digital Coach."
Esta Conferencia es parte de la Mision Virtual TRADE-USA DR 2021 dirigido a importadores, exportadores e inversionistas, para promover las oportunidades de negocios bilaterales entre pequeñas, medianas y grandes empresas entre la Republica Dominicana y los Estados Unidos a traves del Estado de la Florida. Patrocinado por Enterprise Florida.
Acerca de Grow with Google:
El objetivo de Grow with Google es garantizar que todo el mundo pueda acceder a las oportunidades que crea la tecnología. Desde que se lanzó en 2017, hemos capacitado en habilidades digitales a más de tres millones de estadounidenses. Y, mediante una red de más de 5,000 organizaciones asociadas (incluidas bibliotecas locales, instituciones educativas y organizaciones sin fines de lucro), más usuarios de todo el país pueden alcanzar su máximo potencial. Para obtener más información sobre nuestros socios y los recursos de herramientas disponibles, visita google.com/grow.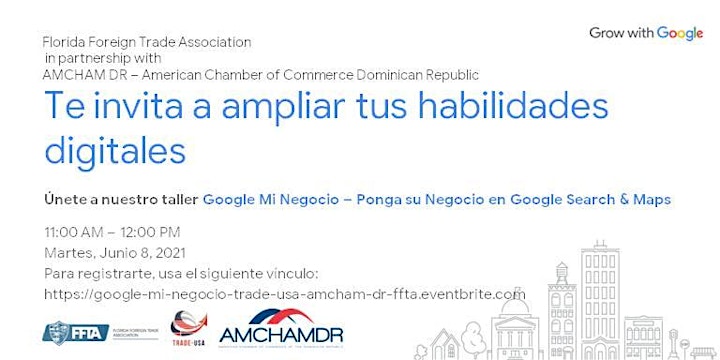 Organizer of DAY 1: TRADE-USA DR'21 inlcudes Google Mi Negocio Seminar @11am
The Florida Foreign Trade Association (FFTA) is a non-profit trade organization incorporated in July 1985 that represents the most diverse group of individuals and companies in the foreign trade.
FFTA is an effective networking organization that provides everyone an opportunity to expand their business by visiting new markets, safely and economically through its outbound trade mission program.   In addition, the association holds workshops and seminars designed to train beginners and executives in import/export, franchise opportunities and other related topics. FFTA is also known by its successful business expos and other after-hour networking events.
FFTA created the inbound trade mission TRADE-USA program in 2000. The target foreign markets for several years have been countries in Latin America and the Caribbean all part of Miami's Top 50 Merchandise Export Destinations.  TRADE-USA's objectives are to increase U.S. exports, bilateral trade, sustain/expand current key export destinations, business and investment opportunities, and the development of products/services into new markets by offering free one-on-one business meetings with foreign prospects.
For more information visit: www.ffta.com or call 305-471-0737.
Florida Foreign Trade Association
1865 Brickell Avenue | Suite A2008 | Miami, FL 33129
Phone: (305) 471-0737 | Fax: (305) 471-7636
www.ffta.com | info@ffta.com | tradeusa@ffta.com