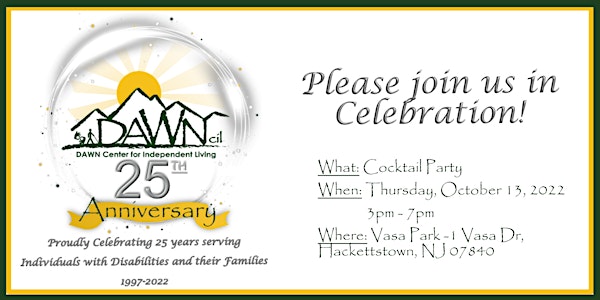 DAWNcil's 25th Anniversary Celebration
DAWN Center for Independent Living is proudly celebrating 25 years serving individuals with disabilities and their families 1997-2022
When and where
Location
Vasa Park 1 Vasa Drive Hackettstown, NJ 07840
About this event
DAWN Center for Independent Living (DAWNcil) is proud to celebrate 25 years of serving the disability community in the Northwest communities of NJ.
From our humble beginnings on the boardwalk in Sparta in October of 1997, DAWN has dedicated its efforts over the past 25 years to ensuring the programs and services delivered through this organization meet the needs of the individuals and families we serve.
As an organization, everything we do is aligned with the independent Living philosophy which states that that people with disabilities should have the same civil rights, choices and control as do people without disabilities. Independent Living Centers were created to change attitudes and beliefs that perpetuate dependence for people with disabilities.
Independent Living is about choice!
Kindly RSVP to join us, complimentary of DAWNcil's Board of Directors, on Thursday October 13, 2022 from 3-7pm at Vasa Park (1 Vasa Drive, Hackettstown, NJ 07840).
As we celebrate our 25th Anniversary, we hope you will join us!