UPDATE: <p style="font-family: -apple-system, BlinkMacSystemFont, Roboto, 'Helvetica Neue', Helvetica, Tahoma, Arial, sans-serif; -webkit-f
About this event
Davis Technical College Spring Graduation
Drive-Thru Procession and Celebration
Due to the community impact of COVID-19, State and local guidelines of social distancing and limiting groups, Davis Technical College has decided to hold a unique, fun and safe graduation drive-thru event on Friday, May 21, from 5:00-6:00 p.m.
How this will work:
Graduate are invited to campus for a vehicle procession through (inside) the Diesel/Heavy Duty program, where students and their families will drive through to receive their certificate cover, get a graduation picture, be celebrated by our faculty and staff, and generally make loud and joyful noise.
TIME: The procession will begin at 5:00pm, and run continuously until 6pm. Cars will begin lining up at 4:45pm.
LOCATION: The procession will take place through through the P1 parking lot - along the east side of the new Allied Health Building - to the main doors.
DETAILS: We recommend that someone other than the graduate drive, so that the graduate can exit the car, walk to be presented with their certificate/cover, get a picture, then the driver will pick them up at the south end of the building.
CAP & GOWN PICK UP: Available at the bookstore for pick up starting Wednesday, May 19.
CELEBRATE:
Decorate Your Car
Bring noise makers (or use your horn)
Invite your favorite people to join the car procession
Guests that want to watch but not join the procession can park in the middle spots in the P1 parking lot
Get group/family photos in the southeast corner of the P1 parking lot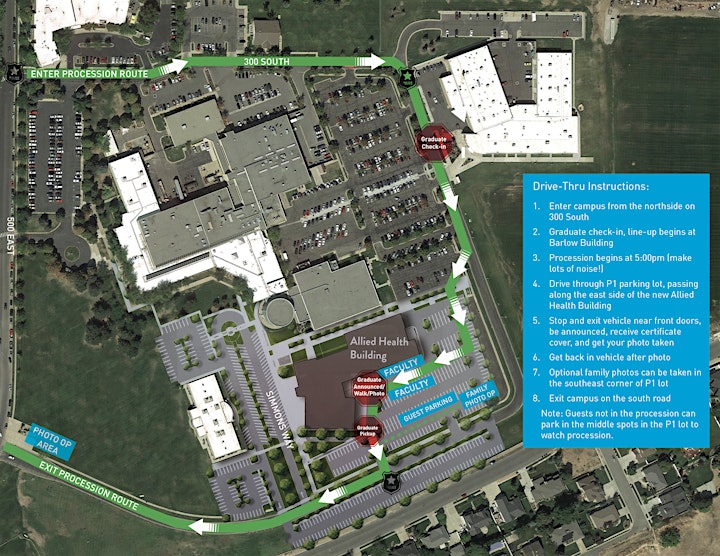 Organizer of Davis Tech Spring 2021 Graduation Drive-Thru and Celebration