Description
Coming February 2, 2019
---
Get ready for a mind-blowing day!
We are a community of passionate learners, entrepreneurs, creatives and brilliant disruptors.
We firmly believe we are living in a new renaissance, one which combines science, technology, art, community and passion.
We invite you to join us for this FREE community event, and challenge you to create the future you desire.
What do you have to do? Show up, pay attention and engage. There is truly something here for everyone at this all-ages event.

What is DaVinci's Faire anyway?
DaVinci's Faire is a multi-generational sensory-rich community engagement centered on science, technology, makers, inventors and lifelong learners in a unique open-spaces format.

DaVinci's Faire can be described in three words: Share ~ Learn ~ Grow. Every attendee – no matter how old or young – has a story to tell and an expertise to share.

DaVinci's Faire is a Free Community Event supported by a group of dedicated volunteers, Manatee County Schools, Library services and kept free with the help of our generous sponsors.
Join life-long learners, creatives, geeks, business people, entrepreneurs, makers, inventors, investors, speakers, robotic enthusiasts, social gurus, information technology enthusiasts, educators, science & engineering people, gamers who dabble in the latest & greatest board games, IoT innovators, and much more.
The event will include the following:
Tech Talks – keynotes, panel discussions, shared ideas and displays of today's coolest technologies

Robot competition rinks, drones and F1 race cars – designed and built by area STEM students

Manatee STEM Competition – Don't miss the cool projects and your chance to vote for the Peoples' Choice Award

Deconstruct Zone – Who doesn't like to take things apart when you don't have to put them back together!?

Microsoft gaming and virtual reality zone – come and explore some of the latest and greatest tech that will blow your mind!

Coding lab for kids with progressive levels for real learning – provided by local non-profit Little Geniuses

Hands on creative opportunities for all ages – bring your gear, games and goodies to share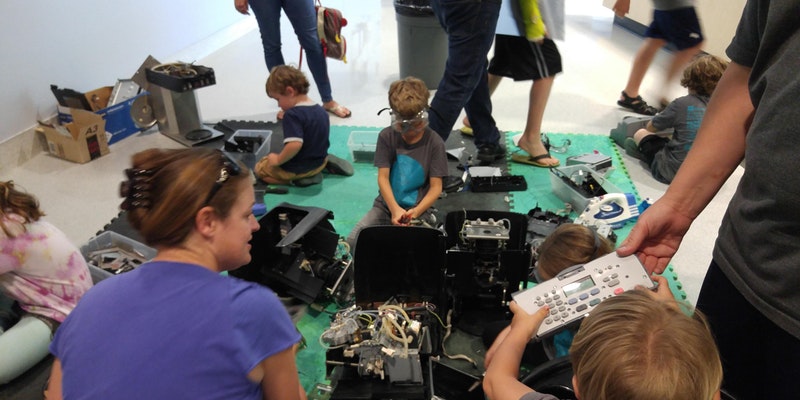 Special display opportunities are available for makers, inventors, robotic enthusiasts and cool science & engineering projects. When you register, request a table (with power if needed) - only $10 reservation fee to display your projects! There is no cost for student robotics or drone teams, or student STEM displays. Your community would love to see what you are working on!
Register to attend today … and don't even think of missing the fun!
*This event is FREE with pre-registration.