| | |
| --- | --- |
| DaVinci Resolve for Editing & Motion Graphics Templates @ June LAPPG | |
Event Details
Come celebrate our 9th Anniversary on THURSDAY, June 22nd featuring two special presentations:

DAVINCI RESOLVE FOR EDITING

Alex Ferrari is an award winning director/writer/producer and the founder of IndieFilmHustle.com. He has been directing short films and working on the post production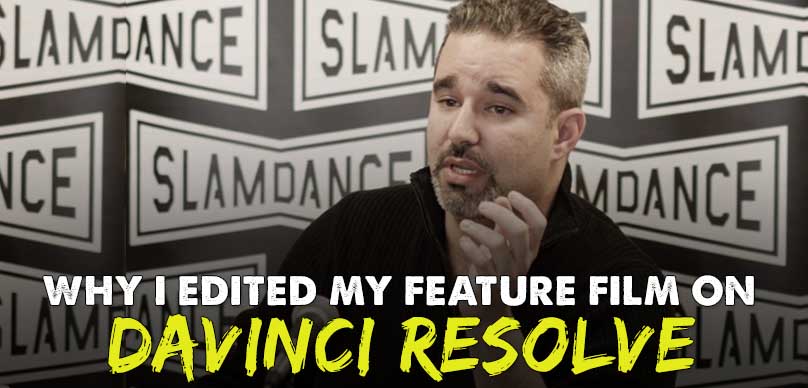 side of the industry for over a decade. He decided to stop waiting for some "Movie God Gatekeeper" to give him a shot to direct a feature film and created the opportunity for himself with his first feature film, "This Is Meg," which was shot, edited and graded using Blackmagic Design exclusively.

Alex will discuss how filmmakers can make the most of DaVinci Resolve as a professional editing solution. He will dive into the ins-and-outs of what filmmakers need to know when editing with Resolve and how it can best fit into their workflows.


INTRODUCTION TO MOTION GRAPHICS TEMPLATES & THE ESSENTIAL GRAPHICS PANEL IN AFTER EFFECTS CC AND ADOBE PREMIERE PRO CC
In this short presentation, Marcelo Lewin and Riccardo Silva, founders of Essential GFX, a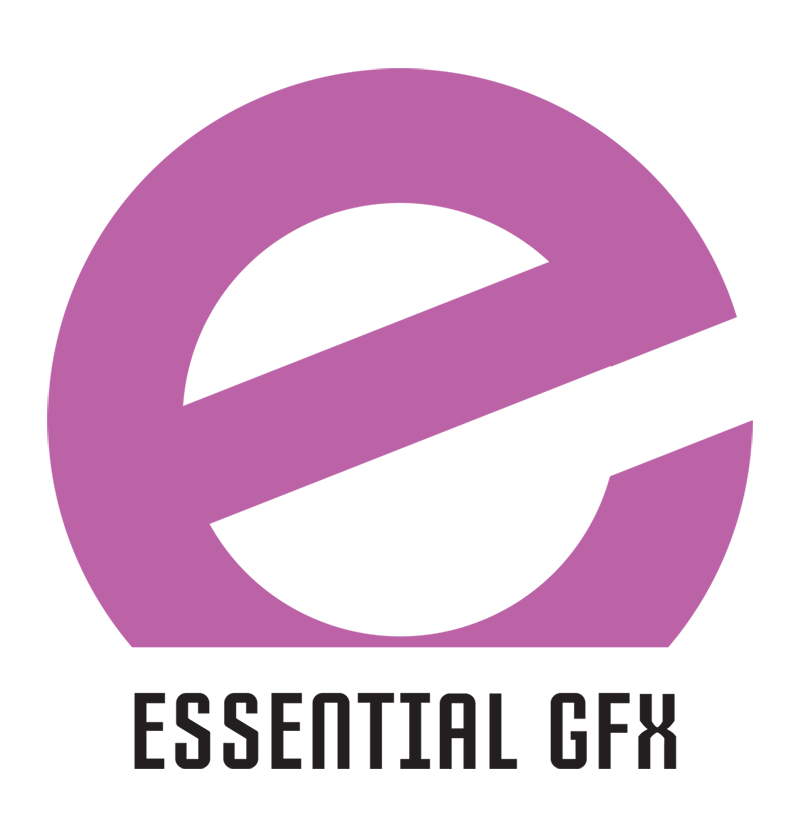 company which focuses on bringing essential tools for media creators, will show you how to create simple Motion Graphics Templates inside of After Effects and then publish those templates using the Essential Graphics Panel to the Adobe CC library so that Adobe Premiere Pro users can easily use them inside their project.   They'll also cover why you should use templates in your projects, some best practices and how to share them within your team. 
For more information about Essential GFX, please visit EssentialGFX.com.


***As always there will be plenty of time to network, enjoy some coffee and participate in our great giveaway which includes thousands of dollars of amazing prizes from our generous partners!

$5.00 cash kindly requested at the door will include 1 giveaway ticket.
Location:

Sports Complex - Community Room - 2nd Floor

1634 18th Street

Santa Monica, CA 90404
Click for a map here.
***Street parking is available as well as a Crossroads parking lot behind the Sports Complex.

---
LAST MONTH'S MEETING RECAP
May's Meeting was in Roth Hall where we welcomed back Karl Soule from Adobe to share the latest from Adobe Creative Cloud including updates, new features, a cool Character Animator demo, Adobe's support for the latest formats and more. After the networking break Jeffrey Stansfield of Advantage Video Systems shared some of the best products from NAB. Everyone got some great ideas for their wishlists including the soon to be released OWC Thunderbolt 3 Dock which Jeffery showed.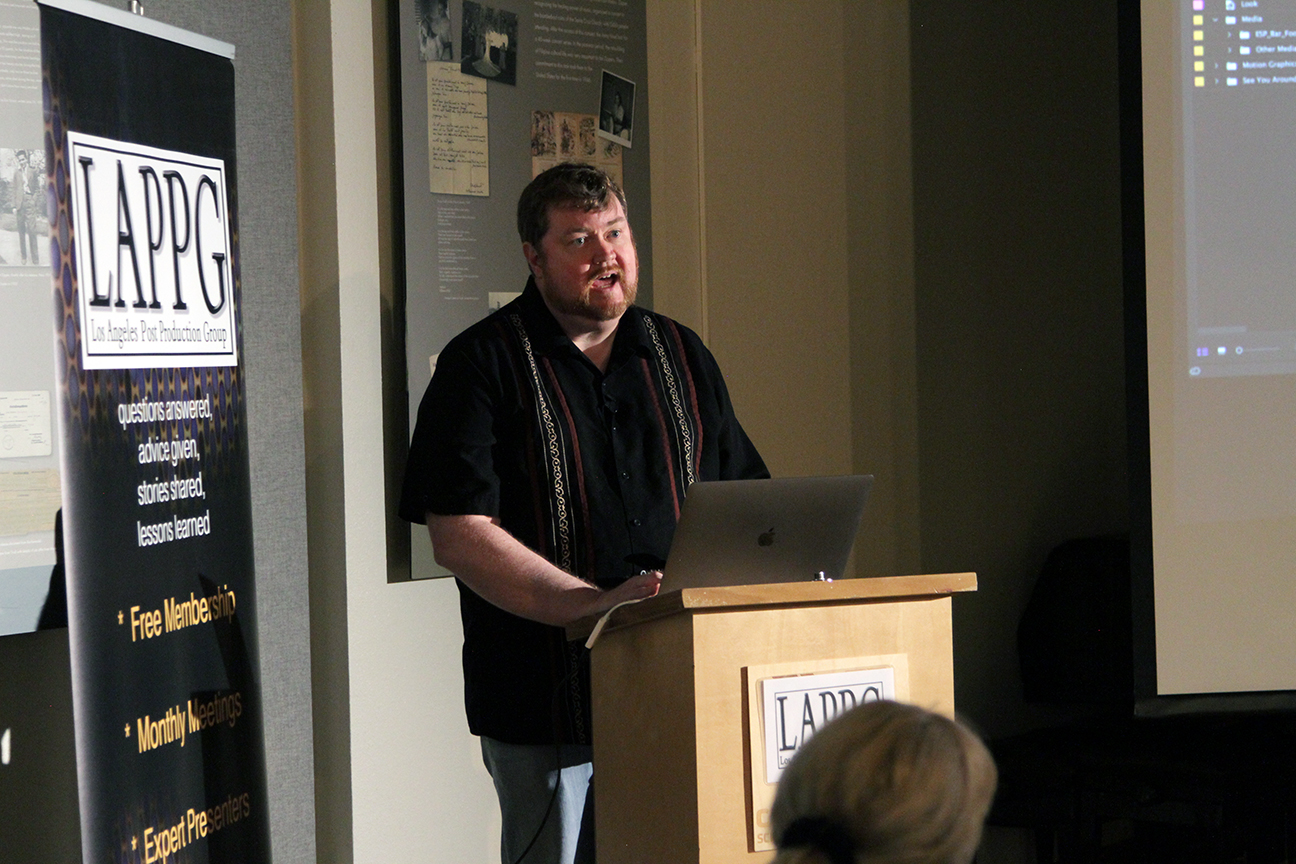 Adobe's Karl Soule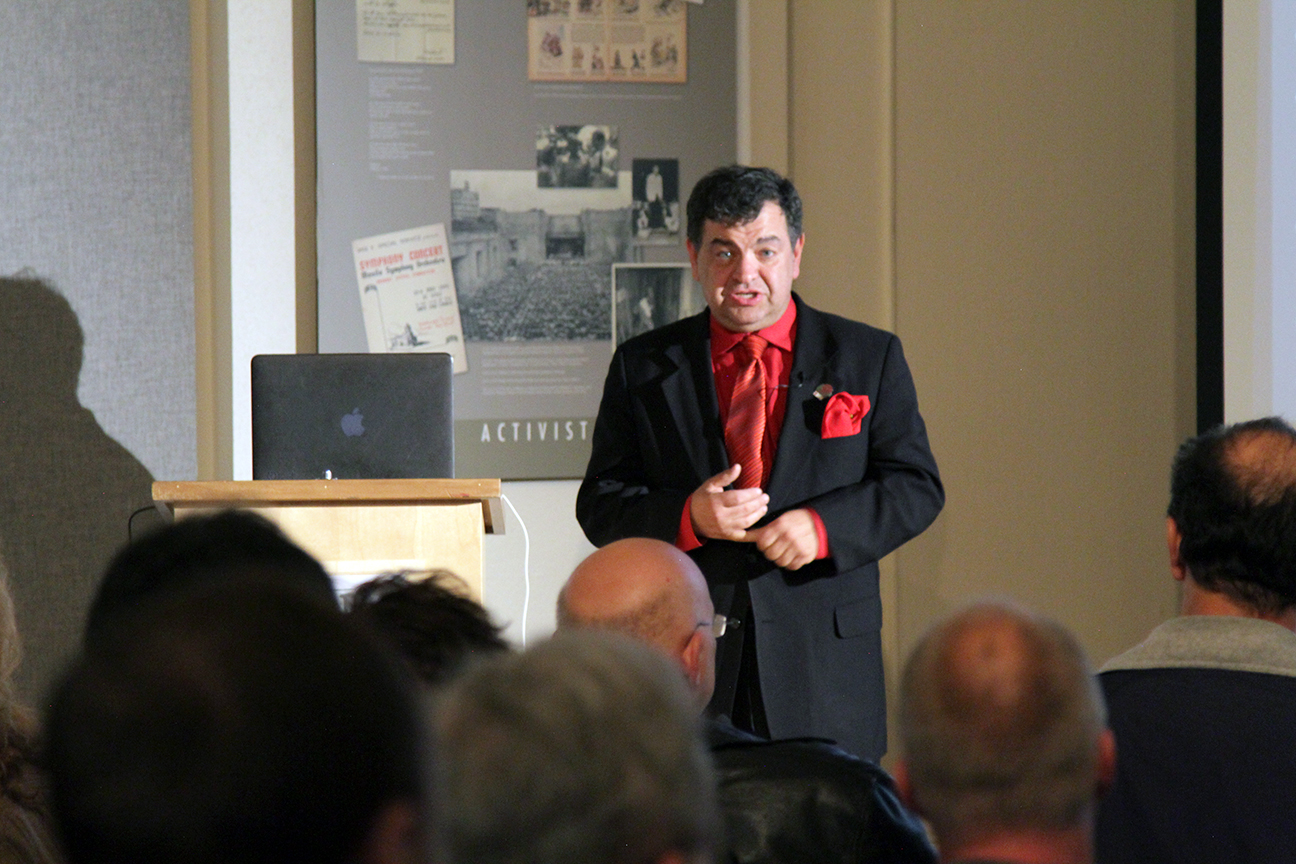 Advantage Video System's Jeffrey Stansfield

---
DRIVE ENGAGEMENT WITH VIMEO'S NEW VIDEO INTERACTION TOOLS

From The Vimeo Blog...

Connecting with viewers is a beautiful thing: it means you're telling your story, reaching
more humans, and growing your brand. That's why we're oh-so excited to release all-new interaction tools, which include:

    ● Updated end screens for Vimeo Plus, PRO, and Business members let you customize what appears after your video, and drive even more engagement with call-to-action buttons.

    ● Mobile-friendly cards let Vimeo Business members link viewers to any destination they choose, at any point in their video. These were designed to elevate the video and encourage viewers to engage with the cards.

    ● Email capture forms help Vimeo Business members generate leads, whether it's before, during, or after their video.


---
SPECIAL ONLINE INVITATION FOR LAPPG MEMBERS FROM ADOBE

 
In case you missed our informative Adobe presentation last month, LAPPG members are invited to Adobe's Live VIP User Group Meetings with Adobe Worldwide Video Evangelist Jason Levine on:

June 19 4:30PM PT/7:30PM ET -or- June 20 7:00PM PT/10:00PM ET

 
Creative Cloud gives you the power to create, collaborate, and streamline your video workflow from start to finish. Jason will show you how dynamic integration between Adobe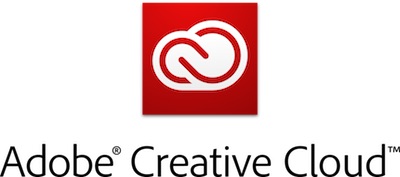 products deliver powerful performance and efficiency to keep your projects on track and keep you in the creative zone.
 
Jason will also discuss the latest release of Adobe Video tools announced at NAB, including new features for graphics and titling, animation, polishing audio and sharing assets; support for the latest video formats, such as HDR, VR, and 4K; and advanced artificial intelligence capabilities powered by Adobe Sensei. In addition, Jason and the product team will be on-hand to answer questions. Please tell us if there is anything specific you would like us to cover.
 
Both meetings will cover similar topics.
 
This is an unlisted YouTube Live event exclusively for our closest user groups, and we will be giving away one annual Creative Cloud membership to a registered attendee in each session.
 
Register here for the June 19 Meeting
 
Register here for the June 20 Meeting
 
Adobe is looking forward to sharing their excitement about the latest release!

---
CINE GEAR EXPO

Congrats to Cine Gear Expo for another wonderful event this year as always! It was wonderful seeing so many LAPPG members along with lots of our partners and friends at Paramount Studios. We can't wait for next year!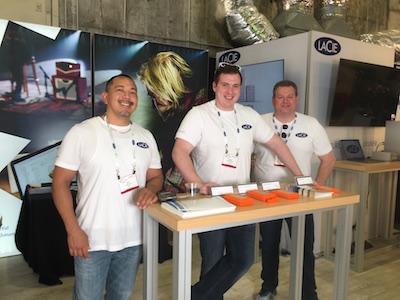 The Team from LaCie showcasing their newest products.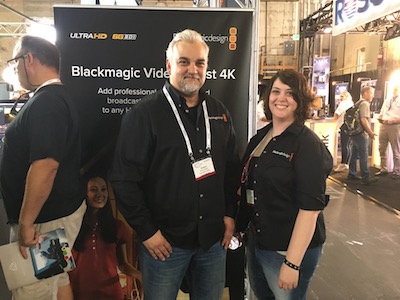 Shawn and Sarah from Blackmagic Design showing DaVinci Resolve 14.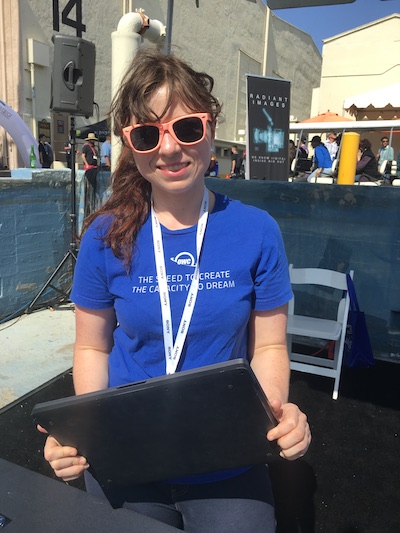 Caitlin Zinda showcases OWC's DEC.

---
GOLDCREST FILMS UPGRADES ASSET FORMATTING WITH BLACKMAGIC CINTEL FILM SCANNER
Blackmagic Design has announced that Goldcrest Post has utilized a Blackmagic Cintel Film Scanner for a major restoration project to upgrade asset formatting for all of Goldcrest Film's prestigious library titles, which were scanned to Ultra HD 4K and remastered in 2K.


Led by Goldcrest's CTO, Laurent Treherne, the project involved remastering sixteen of Goldcrest Film's titles, including "Dance with a Stranger" (1985 ), "Absolute Beginners" (1986 ) and "White Mischief" (1987). "With an increase in the number of OTT services there is a growing demand for high quality film originated content," Laurent begins.

Laurent goes on to explain that as well as meeting the clients' demand for 4K quality content, the Cintel Film Scanner allowed Goldcrest Film to keep the restoration workflow within the group. "As with any restoration, we knew the project would entail numerous challenges. They included locating suitable source elements, repairing damage, identifying reference images for color grading and re-versioning picture and sound files into formats suitable for the modern consumer. The versatility and speed of the Blackmagic infrastructure helped us to address those challenges."
---
NEWFILMMAKERS LOS ANGELES (NFMLA) FILM FESTIVAL - June 24th, 2017

NewFilmmakers Los Angeles is proud to present another month of incredible independent film talent. Join them on Saturday, June 24th, as they start the night with an eccentric film program. They'll be screening five short films that cover a wide range of narratives from a lonely girl trying to find her voice in the world to a 100-year-old woman rebelling against her aging daughter's demands.



The next program of the night presents the 1st of 2 InFocus: LGBTQ Cinema Film Programs. This shorts program focuses on stories of love, connection and reconciliation by both local filmmakers and international talents from China and Brazil.

Closing the evening is the second LGBTQ shorts program that revolves around conflicts of identity, community and family that illuminate a wide range of the LGBTQ experience, contrasting with the common one-dimensional portrayals of LGBTQ characters. These emerging directors give more representation to the LGBTQ community by humanizing their characters and relating them to their audiences.

Throughout the event, attendees will have opportunities to mingle with the filmmakers, industry supporters and film lovers with an open bar at the filmmakers' lounge adjacent to the private entry of the South Park Center's 500 seat theater in Downtown Los Angeles.

$5 advanced purchase / $7 at the door for individual film blocks
$15 for all three programs with open bar
 
For more event information and tickets, visit: https://www.newfilmmakersla.com/events/event/monthly-film-fest-june-24th-2017/
---
DIVULGE DANCERS' FILM FESTIVAL (DF2) - CALL FOR ENTRIES


Divulge Dancers' Film Festival (DF2) is a 2 day high energy event that will showcase dance
videos, music videos and dance related films with live performances from some of the best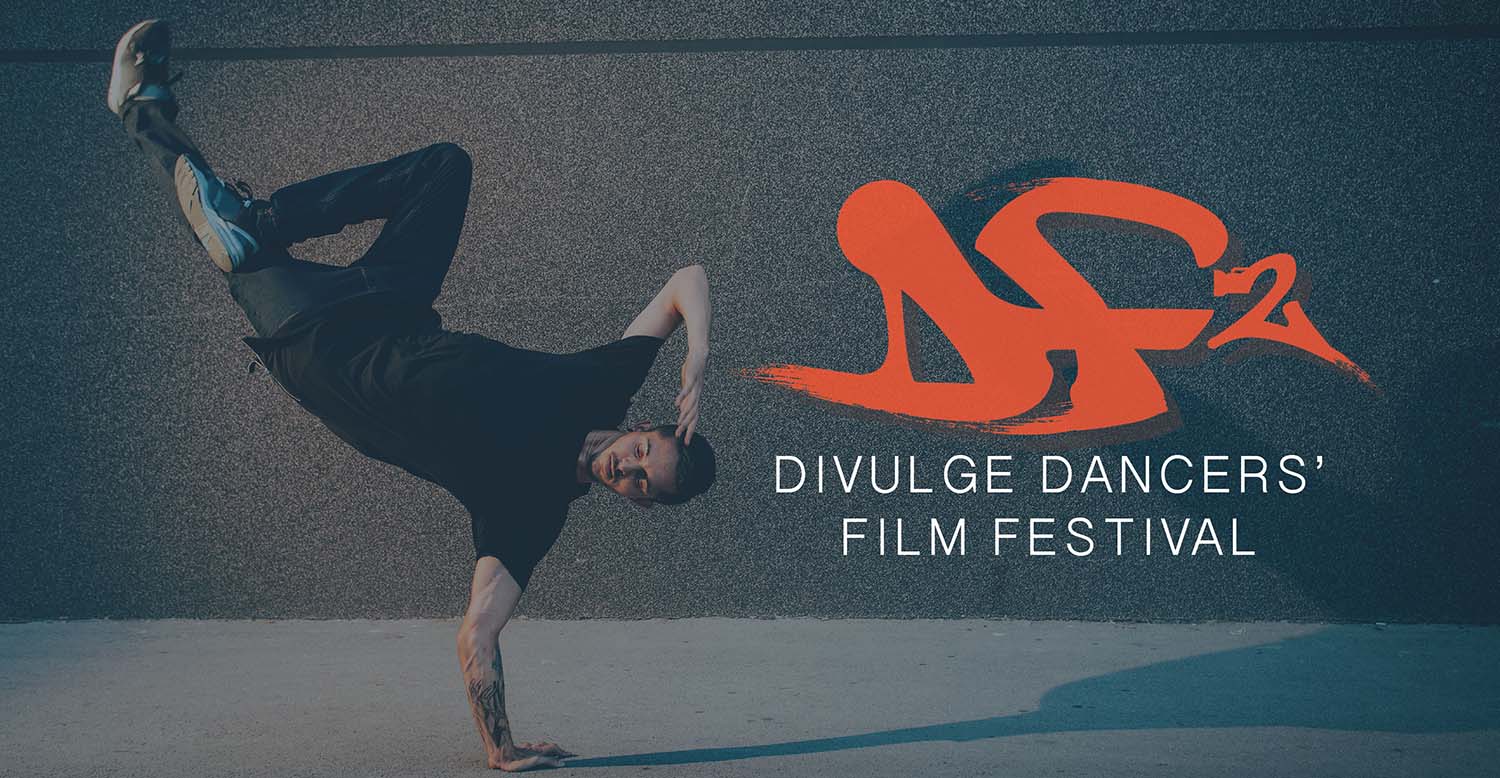 dance crews around the globe. The festival will be held September 2-3, 2017 at GWC Theatre, Huntington Beach CA.


DF2 is a social event that aims to unite accomplished and emerging filmmakers, choreographers and dancers to share their passionate, creative, and captivating work. DF2 is poised to feature short and feature-length films, dance videos, music videos, and dance promo trailers.

Regular Deadline June 30, 2017
Notification July 10, 2017

For more information on how you can be part of this event and the submission process, visit them at: www.divulgedancersfilmfestival.com
---
We thank the following partners for their generosity and support of our monthly meetings. Please visit them:
Adobe, Advantage Video Systems, Art of the Guillotine, Audio Network, Blackmagic Design, BorisFX, Creative Handbook, Digieffects, Digital Rebellion, Focal Press, GoPro Entertainment, HDSLR Shooter, Imagineer Systems, Intelligent Assistance, iZotope, Lacie, Mercury Production Report, Other World Computing,  Post Production Buyers Guide, Pro Sound Effects, Pro Video Coalition, ProductionHUB, Randi Altman's postPerspective, Shutterstock, Sorenson Media, Sound & Picture, Vimeo.

We look forward to seeing you on Thursday, June 22nd!
Sincerely,

Los Angeles Post Production Group
Please visit www.lappg.com for discount offers, job listings, industry news and more.
When & Where

Crossroads School for Arts & Sciences
Sports Complex - Community Room - 2nd Floor
1634 18th Street
Santa Monica, CA 90404


Organizer
Los Angeles Post Production Group
The Los Angeles Post Production Group is a professional organization for people with a passion for film, video and the digital media finishing process.

The LAPPG discusses all aspects of post production, from picture and sound editing to color correction, visual effects, codecs, storage and post workflows.

Expert presenters and leading companies come to our monthly meetings and share new technologies, techniques, tools, products and best practices to aid us in telling great stories.
We also provide our members with great offers and discounts as well as opportunities to network and make industry connections.
Membership is free and you need not live in Los Angeles to take advantage of this great resource.
To become a member please email your name and information about yourself to membership@lappg.com.
DaVinci Resolve for Editing & Motion Graphics Templates @ June LAPPG