Sales Have Ended
Ticket sales have ended
Thank you for your support. If you have any questions or comments, please contact the Jim Austin Online.com business office at (817) 923-9305; or email receptionist@jimaustinonline.com.
Sales Have Ended
Ticket sales have ended
Thank you for your support. If you have any questions or comments, please contact the Jim Austin Online.com business office at (817) 923-9305; or email receptionist@jimaustinonline.com.
ENJOY THE CONCERT VIRTUALLY OR IN PERSON FEATURING THE FABULOUS AND EXCITING MUSIC OF THE DAVID WHITEMAN BAND ON 1/16/2021, FORT WORTH
About this Event
DFW METROPLEX JAZZ PRESENTS THE DAVID WHITEMAN BAND, January 16, 2021, at The Warehouse in Fort Worth
Doors Open: 7:00 PM
Concert : 8:00 PM
Admission:
GA: $35 Advance l $40 Door
VIP: $45 Advance | $50 Door
Self-Parking - $5.00
Virtual Live Stream Concert - Free Registration @ Tickets
Table Seating
Food & Beverages For Purchase from WhoDaq? Daiquiris
Reservations for Groups Accepted
Special Celebration Reservations (Birthdays, Anniversaries, etc.) Accepted
Virtual and On-site Vendor Opportunities Available
Sponsorship Opportunities Available
Inquiries:
Jim Austin Online Team | (817) 923-9305
Email: Receptionist@JimAustinOnline.com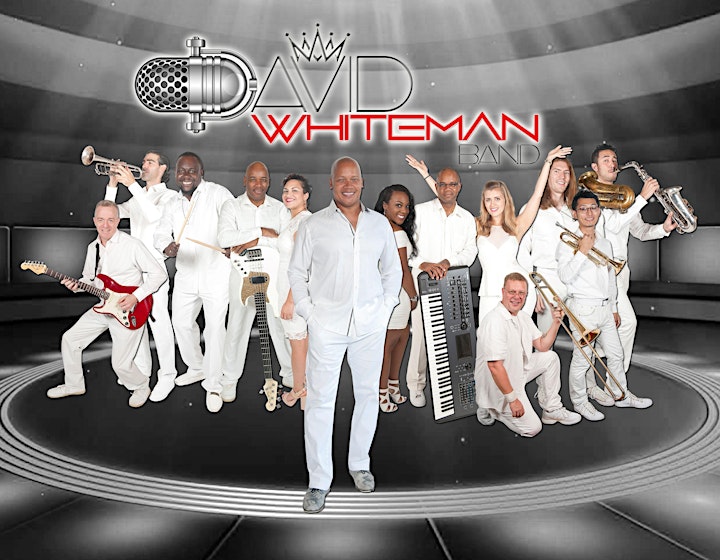 ABOUT THE BAND
David Whiteman and the King David Band is one of the most versatile and entertaining dance/party bands in America. Led by vocalist/guitarist David Whiteman, this 13-piece band cuts no corners entertaining, combining the finest available mix of musicianship, vocals, sound and stage lighting. Covering the widest range of genres, featuring Current Top 40, Pop, R&B, Funk, Hip Hop, Rock, Latin and Dance variety music, including many of your favorite current hits and classics dating back to the 1960's. The band features the finest male and female vocals available, an electric and interactive 5-piece horn section, and a very experienced rhythm section of Bass, drums and keyboards that keeps you entertained and on the dance floor. The passion of performing is evident when you experience them live. Whether the audience is 100 people, 1000 people or 10,000 people, the approach is the same. Focusing on the joy of performing, delivering outstanding music as a team, and most of all, entertaining the public!
DAVID WHITEMAN
David Whiteman joined the Dallas Fire Department in 1989, for 10 of those years he served as a front-line paramedic. He retired after 28 years of service to the city. During his time, he realized his desire to help people was equaled by his passion for bringing joy to the masses through live music. David Whiteman and the King David Band has performed since 2001 at the hottest venues in Dallas/Fort Worth well as countless wedding receptions, birthday parties, conventions, festivals, holiday parties, mitzvahs and corporate events all across the U.S……
www.davidwhiteman.com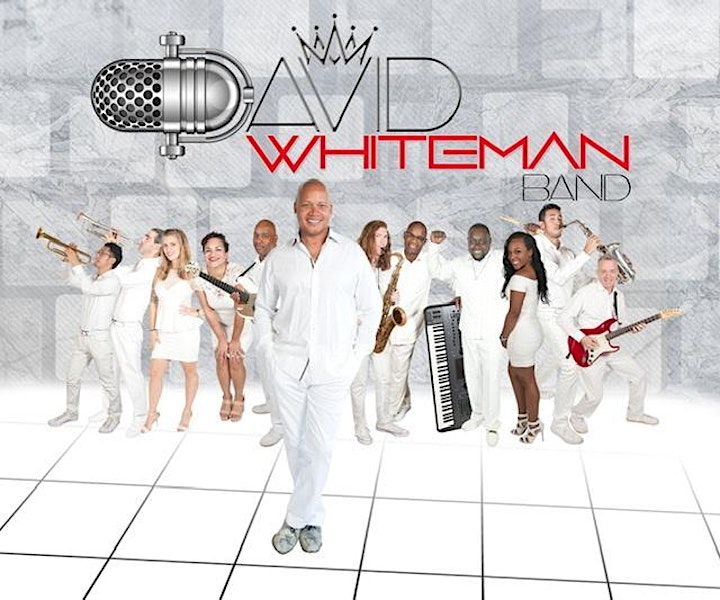 WANT MORE LIVE MUSIC??? WANT TO ADVERTISE YOUR BUSINESS TO A NEW AUDIENCE?
Be sure to join us for upcoming Live Music Events at the Warehouse!!
Visit JimAustinOnline.com to purchase tickets and sign-up to receive the E-Newsletter, Livestream Concert info and exciting updates!
VIRTUAL & ON-SITE VENDOR & EVENT SPONSOR OPPORTUNITIES
Sponsorship & Vendor Opportunities are available for all scheduled concerts and events at the Warehouse.
Call the Jim Austin Online Business Office (817) 923-9305 or email Receptionist@jimaustinonline.com for details.
PUBLIC POLICY NOTICE
Out of an abundance of care for our guest and artist, and in compliance with current regulations, social distancing seating, temperature scan at entrance; and mask are requested to be worn when away from your socially distanced seating area. (Complimentary mask will be available if you do not have one).
Thank you for your compliance as we care for the well being of one another.