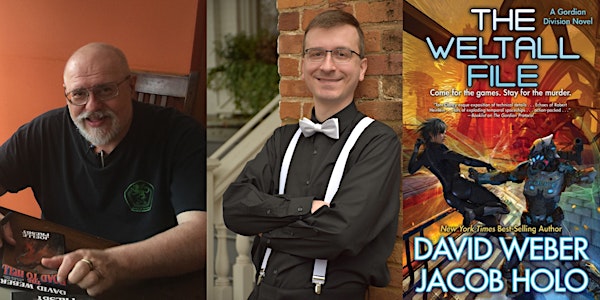 David Weber & Jacob Holo Book Talk & Signing
Join authors David Weber and Jacob Holo for a Book Talk & Signing
Date and time
Starts on Friday, June 16 · 3pm EDT
Location
Fiction Addiction 1175 Woods Crossing Road Greenville, SC 29607
Refund Policy
Contact the organizer to request a refund.
About this event
COME FOR THE GAMES. STAY FOR THE MURDER.
A mystery in the Gordian Division universe.
The Weltall Tournament's professional VR games were supposed to be a symbol of cooperation between SysGov and its militaristic neighbor, the Admin. But that was before star Admin player Elly Sako received a death threat, written in blood next to a copy of her own severed head. The Admin's Department of Temporal Investigation swiftly seizes control of the crime scene, and the tournament transforms into a flashpoint of charged politics and conflicting jurisdictions.
SysPol Detective Isaac Cho and DTI Special Agent Susan Cantrell—partners in the officer exchange program—are sent in to take charge of the investigation and bring the situation under control. But solving this mystery won't be easy, and the pair struggles to determine who is telling the truth. A jilted relationship between players soon explodes into signs of a far-reaching conspiracy, and the two detectives find themselves racing against time before the tournament ends.
Because the killer will be the only one who wins, should they fail.
About the Authors:
With more than eight million copies of his books in print and 33 titles on the New York Times bestseller list, David Weber is a science fiction powerhouse. In the vastly popular Honor Harrington series, the spirit of C.S. Forester's Horatio Hornblower and Patrick O'Brian's Master and Commander live on—into the galactic future. Books in the Honor Harrington and Honorverse series have appeared on 21 bestseller lists, including The Wall Street Journal\,* The New York Times*, and* USA Today*. Additional Honorverse collaborations include the spin-off miniseries Manticore Ascendant with* New York Times best-selling author Timothy Zahn, and with Eric Flint, Crown of Slaves and Cauldron of Ghosts contribute to Weber's illustrious list of New York Times* and international bestsellers.
Best known for his spirited, modern-minded space operas, Weber is also the creator of the Oath of Swords fantasy series and the Dahak Saga, a science fiction and fantasy hybrid. Weber has also engaged in a steady stream of best-selling collaborations: the Starfire series with Steve White; the Empire of Man series with John Ringo; the Multiverse series with Linda Evans and Joelle Presby; and the Ring of Fire series with Eric Flint.
Jacob Holo has been a recreational geek since childhood, when he discovered Star Wars and Star Trek, and a professional geek since college, when he graduated from Youngstown State University with a degree in Electrical and Controls Engineering. He started writing when his parents bought that "new" IBM 286 desktop, and over the years, those powers combined to push him to the next level of nerddom: a sci-fi author who designs intricate worlds and tech systems...and promptly blows them up in a string of nonstop action.
He is the author of ten books, including national bestsellers The Gordian Protocol and The Valkyrie Protocol (with David Weber), Time Reavers (a Kirkus Reviews Best Indie Book of 2014); The Wizard's Way (with H.P. Holo), and Monster Punk Horizon: Excess (with H.P. Holo).
Refund Policy:
You may request a full refund prior to the ticket cutoff.
About the organizer
We are Greenville, SC's oldest independent bookstore. We carry new books, gifts, and host numerous author events. Visit us behind Haywood Mall at 1175 Woods Crossing Rd.