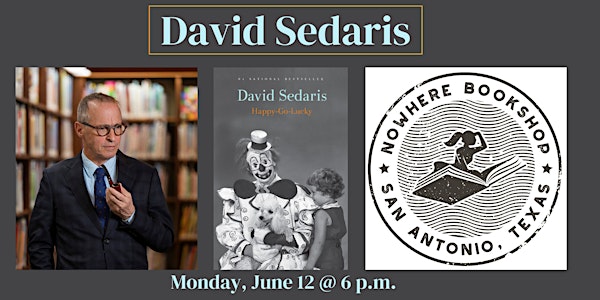 David Sedaris In-Store Appearance
David Sedaris speaking and signing at Nowhere Bookshop
Date and time
Starts on Monday, June 12 · 6pm CDT
Location
Nowhere Bookshop 5154 Broadway Street San Antonio, TX 78209
Refund Policy
Contact the organizer to request a refund.
About this event
Nowhere Bookshop is thrilled to host master storyteller, David Sedaris, on June 12th as he tours independent bookstores in celebration of the release of the paperback version of Happy-Go-Lucky.
This event will take place in our store at 5154 Broadway in San Antonio, Texas. As such, seating will be extremely limited.
We will sell a limited number of tickets to attend the in-store reading. After those sell out we will be selling tickets to join the priority book signing line after the speaking portion of the event. Tickets to both the speaking portion and to join the priority signing line, include a copy of Happy-Go-Lucky in paperback, which you can have signed by David Sedaris (along with any of this other books)!
If you miss a chance at the in-store portion, don't despair! If you purchase a priority signing line ticket, you will be entered into a drawing to be upgraded to the in-person event.
There are only 300 Priority Signing Line tickets available but an unlimited number of free signing line tickets (no book included) will become available after sales end for the in-person event and the Priority Signing Line groups.
We will have copies of David Sedaris's backlist available for purchase on the evening of the event. Attendees to the reading portion will be the first through the signing line and we will call Priority Signing Line groups once those attendess have had their books signed.
CAN'T MAKE THE EVENT IN PERSON? Order your personalized copy of one of David's books here, and he will sign and personalize it for you at the event! Sorry no inscriptions, just personalized names.
Limit two tickets per customer. No refunds.
How it works:
Once the in-person event sells out, tickets will be available to join the Priority Signing Line at Nowhere Bookshop beginning around 7:00 PM on Monday, June 12th. Priority Signing Line tickets include a paperback copy of Happy-Go-Lucky.
The Priority Signing Line tickets are arranged into groups of 50 attendees, beginning with Group A. The signing line will form outside the bookstore from the front door, down the alley with the Nowhere Bookshop mural and behind the building. You will not be permitted to join the signing line until we have called your group. We will notify each signing line group that it's time to get in line via email and our social media (Twitter and Instagram) so you can feel free to grab dinner, drinks or a snack nearby until your group is called (our cafe will only be available to those attending the in-store event).
From all Priority Signing Line tickets sold, we will randomly select 40 guests to attend the in-person reading. These tickets will be standing room only. We will draw for these spots two weeks before the event and notify winners via email.
Following all Priority Signing Line groups, the signing line will be free and open to anyone who would like to join and meet David Sedaris, who will stay and meet with guests as long as people are still in line. We will make free signing line tickets available on the Eventbrite page when Priority Signing Line ticket sales end.
Photos and videos will not be permitted in the store during the reading or the signing.
About David Sedaris:
David Sedaris is the author of twelve previous books, including, most recently, A Carnival of Snackery, The Best of Me, and Calypso. He is a regular contributor to The New Yorker and BBC Radio 4. In 2019, he was inducted into the American Academy of Arts and Letters. He is the recipient of the Thurber Prize for American Humor, the Jonathan Swift International Literature Prize for Satire and Humor, and the Terry Southern Prize for Humor.
About Happy-Go-Lucky:
Back when restaurant menus were still printed on paper, and wearing a mask—or not—was a decision made mostly on Halloween, David Sedaris spent his time doing normal things. As Happy-Go-Lucky opens, he is learning to shoot guns with his sister, visiting muddy flea markets in Serbia, buying gummy worms to feed to ants, and telling his nonagenarian father wheelchair jokes.
But then the pandemic hits, and like so many others, he's stuck in lockdown, unable to tour and read for audiences, the part of his work he loves most. To cope, he walks for miles through a nearly deserted city, smelling only his own breath. He vacuums his apartment twice a day, fails to hoard anything, and contemplates how sex workers and acupuncturists might be getting by during quarantine.
As the world gradually settles into a new reality, Sedaris too finds himself changed. His offer to fix a stranger's teeth rebuffed, he straightens his own, and ventures into the world with new confidence. Newly orphaned, he considers what it means, in his seventh decade, no longer to be someone's son. And back on the road, he discovers a battle-scarred America: people weary, storefronts empty or festooned with Help Wanted signs, walls painted with graffiti reflecting the contradictory messages of our time: Eat the Rich. Trump 2024. Black Lives Matter.
In Happy-Go-Lucky, David Sedaris once again captures what is most unexpected, hilarious, and poignant about these recent upheavals, personal and public, and expresses in precise language both the misanthropy and desire for connection that drive us all. If we must live in interesting times, there is no one better to chronicle them than the incomparable David Sedaris.