David Schwaratz (CEO Waterton) - YREP Speaker Luncheon
Actions and Detail Panel
David Schwaratz (CEO Waterton) - YREP Speaker Luncheon
Tue, January 17, 2017, 12:00 PM – 1:30 PM CST
Description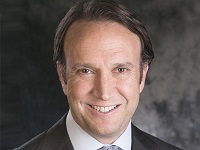 CLASS A MULTI-FAMILY
The Young Real Estate Professionals is extremely excited to have Mr. David Schwartz, CEO of Waterton to speak at our next speaker luncheon on Tuesday, January 17, 2017 from noon to 1:30pm.
Mr. Schwartz co-founded the company with Peter Vilim in 1995 and serves as CEO and Co-chairman. Mr. Schwartz is responsible for strategic decisions and leadership of Waterton's business activities and operations. Mr. Schwartz participates on Waterton's leadership and investment committees.
Prior to co-founding Waterton in 1995, Mr. Schwartz was a vice president of acquisitions for Equity Residential Properties Trust (EQR-NYSE) and from 1985 through 1989 was with AMLI Realty Co. During that time, he invested over $1 billion in 70 properties totaling approximately 20,000 units. Mr. Schwartz received his Bachelor's Degree in Economics from the University of Illinois and Master's in Business Administration from the University of Chicago, Booth School of Business.
Mr. Schwartz is a member of the executive committee, a senior officer and Secretary of the National Multi Housing Council. He is also a member of the Urban Land Institute and is chairman of the Multifamily Blue Council, is a member of the Pension Real Estate Association and the Economic Club of Chicago. Mr. Schwartz is a member of the Visiting Committee of the Department of Biological Sciences at the University of Chicago.
---
As always, there will be a question and answer period during/following the presentation.
There are only 70 seats available for this event. Tickets are non-refundable.

PLEASE NOTE:
If you would like to become a YREP member to receive a discount on speaker luncheons along with other Member benefits, just join YREP prior to purchasing your luncheon ticket.

---
Registration Ends
Monday, October 24th at Noon

(or when all seats are reserved, whichever comes first)
Pre-Registration Required No Walk-ins Permitted
---
If you have any questions or are experiencing any technical difficulties registering for this event, please contact 312-231-8851 or email info@yrep.org
Date and Time
Location
DePaul University Loop Campus DePaul Center
1 East Jackson Boulevard
Chicago, IL 60604