David Picket & the Cornell Creative Writing Program Literary Reading Series
About this Event
Attention all lovers of literature:
We are excited to invite you to the second installment of the David L. Picket & the Cornell Creative Writing Program Literary Reading Series!
Join us at 2 pm on Sunday, April 7, 2019 at the Brooklyn Academy of Music (BAM) Fisher Building in the HILLMAN STUDIO for a showcase reading by poets & writers from Cornell University's renowned Creative Writing program.
Acclaimed writer Helena María Viramontes will introduce poets Christopher Hewitt, Frances Revel, Sasha Smith, and Alice Turski, and writers Remy Barnes, Nneoma Ike-Njoku, Alice Mercier, and Charlotte Pattison. Each will treat us to a presentation of their most recent work.
Afterward, we'll head across the street to FULTON HALL at Gotham Market at the Ashland, for repast and repartee.
This event is free but ticketed due to limited space. Please reserve your ticket now!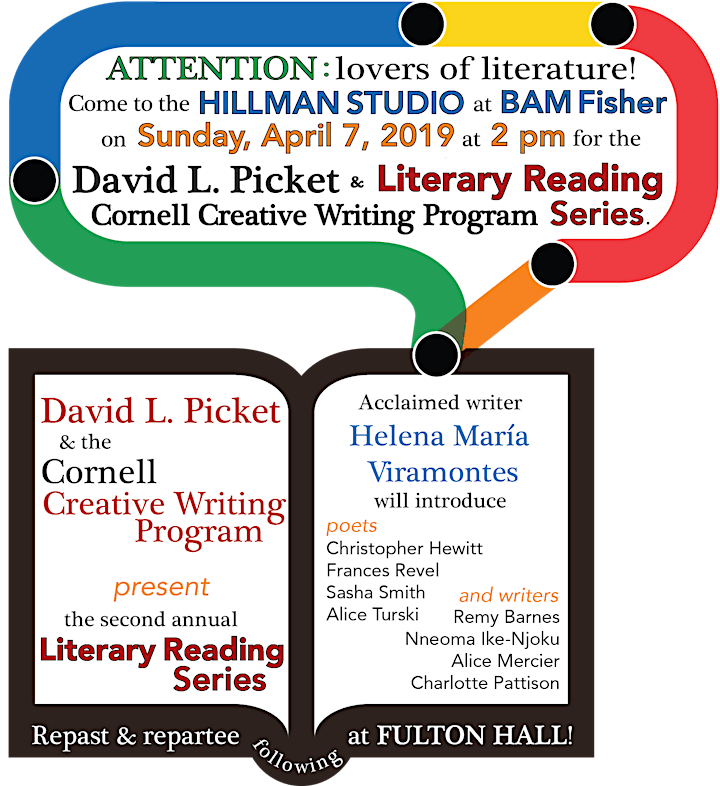 Helena María Viramontes is Goldwin Smith Professor of English and the Director of the Creative Writing Program at Cornell University. She is the author of The Moths and Other Stories, two novels, Under the Feet of Jesus and Their Dogs Came With Them, and co-editor, with Maria Herrera Sobek, of two collections, Chicana (W)rites: On Word and Film and Chicana Creativity and Criticism. A recipient of numerous awards and honors, including the John Dos Passos Award for Literature and a United States Artist Fellowship, her short stories and essays have been widely anthologized, her writings have been adopted for classroom use, and her work is the subject of a critical reader titled Rebozos De Palabras. A community organizer and former coordinator of the Los Angeles Latino Writers Association, Helena is a frequent reader and lecturer in the U.S. and internationally. Currently she is completing a draft of her third novel, The Cemetery Boys.
David L. Picket is an alumnus of Cornell University and an ardent supporter and benefactor of the MFA Program in Creative Writing. He is President of Gotham Organization, a vertically integrated real estate development company. David represents the fourth generation of Picket leadership in Gotham's 100-year history, continuing the firm's dedication to multifamily housing in New York City.
The MFA Program in Creative Writing at Cornell University is highly selective: just 4 poets and 4 fiction writers are accepted into the program each year. The writers you'll meet at this year's reading are from the 2nd year MFA cohort, and are just finishing up their manuscripts in preparation of conferring their degrees.
Important Location Information:
The Brooklyn Academy of Music (BAM) Fisher Building - Hillman Studio is located at 321 Ashland Place, Brooklyn.
Fulton Hall is located in Gotham Market at the Ashland, at 250 Ashland Place, Brooklyn.