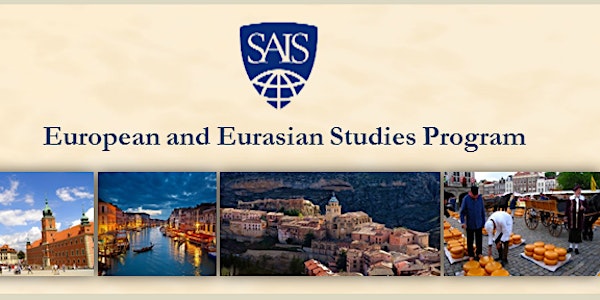 David P. Calleo Seminar Series
When and where
Location
Rome Auditorium 1619 Massachusetts Ave NW Washington, DC 20036
Description
The SAIS European and Eurasian Studies (EES) Program cordially invites you to the David P. Calleo Seminar Series at the SAIS Washington campus. The series is named in honor of Emeritus Professor David P. Calleo, who continues to inspire EES scholars through his contributions and legacy in teaching, research and scholarship.

RSVP and a valid JHU or government-issued ID is required for entry. Appetizers and refreshments will be available.

Members of the media, notice of intent to bring recording equipment is required. For special accommodatios or questions, please contact Cristina Benitez at cristina.benitez@jhu.edu. Please provide five business day advance notice for all special requests.
Spring 2020

Thursday, February 6, 6:00-7:30pm
The Year of Truth for the Europe-China Relationship
Andrew Small, The German Marshall Fund; European Council for Foreign Relations
Hosted by Professor Alice Pannier
conference room 806 (1619 Mass Ave NW)

Thursday, February 13, 6:00-7:30pm
A Conversation with the Ambassador of France to the United States, His Excellency Philippe Etienne, on New Challenges for Transatlantic Relations
His Excellency Philippe Etienne, Ambassador of France to the United States
Hosted by Professor Alice Pannier
Rome Auditorium (1619 Mass Ave NW)


Thursday, March 5, 6:00-7:30pm
The End of Certainties: Current Developments in German Foreign Policy
Markus Kaim, The German Marshal Fund
Hosted by Professor Alice Pannier
conference room 806 (1619 Mass Ave NW)


Thursday, April 9, 6:00-7:30pm
Transatlantic Economic Relations and Challenges to the Liberal Trading Order
Professor Michelle Egan, American University
Hosted by Professor Alice Pannier
conference room 806 (1619 Mass Ave NW)
Tuesday, April 22, 5:30-7:00pm
The emergence of iliberal democracies in Europe and the response of the European Union
Professor Carlos Closa Montero, IPP-CSIC, Spain; European University Institute
Hosted by Professor Alice Pannier
conference room 812 (1619 Mass Ave NW)
Fall 2019

Tuesday, September 3, 2019, 5:30-7:00pm
Transatlantic Relations in the Age of Trump
Philip Gordon, U.S. Council on Foreign Relations
Hosted by Professor Erik Jones
conference room 806 (1619 Mass Ave NW)


Thursday, September 19, 2019, 6:00-7:30pm
Tensions with Turkey: A Calleo Panel
Alan Makovsky, Center for American Progress
Gönül Tol, Middle East Institute
Sinan Ciddi, Georgetown University
Amb. Eric Edelman, Johns Hopkins SAIS
Hosted by Professor Lisel Hintz
Rome Auditorium (1619 Mass Ave NW)

Thursday, October 3, 2019, 6:00-7:30pm
Is there a European Identity? Policy Implications
Kate McNamara, Georgetown University
Hosted by Professor Lisel Hintz
conference room 806 (1619 Mass Ave NW)

Thursday, October 17, 2019, 6:00-7:30pm
Human Rights Concerns and Advocacy in Turkey, Hungary, Ukraine, and Bosnia
Daniel Balson, Amnesty International
Howard Eissenstat, St. Lawrence University
Hosted by Professor Lisel Hintz
conference room 806 (1619 Mass Ave NW)

Thursday, November 7, 2019, 6:00-7:30pm
Russian Strategy vis-à-vis Europe
Michael Kofman, Wilson Center
Hosted by Professor Lisel Hintz
conference room 806 (1619 Mass Ave NW)


---