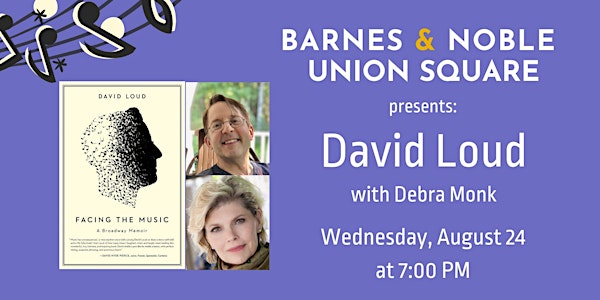 David Loud celebrates FACING THE MUSIC with Debra Monk at B&N Union Square
Barnes & Noble Union Square welcomes David Loud and Debra Monk to celebrate FACING THE MUSIC on Wednesday, August 24, 2022 at 7 PM ET!
When and where
Location
Barnes & Noble 33 East 17th Street New York, NY 10003
About this event
**PLEASE BE AWARE THAT THESE GUIDELINES ARE SUBJECT TO CHANGE DUE TO CHANGING COVID-19 REQUIREMENTS**
Join Barnes & Noble - Union Square on August 24, 2022, as we welcome Broadway music director and actor, David Loud, for a discussion and signing to celebrate FACING THE MUSIC, an unforgettably entertaining and emotionally revealing memoir that explores Loud's Broadway career, his struggle with Parkinson's, and his love of music.
David will be joined by Tony Award-winning actress Debra Monk for this special event.
....................................................................................................................
**Even if you are vaccinated, masks are required at this event**
To make this event safe and enjoyable for all attendees, please read the below guidelines ahead of buying a ticket, so you know what to expect on the day. To avoid disappointment, we must stress that there will be no access to the event for non-ticketholders.
Barnes & Noble reserves the right to make new rules and orders in its sole discretion with regard to COVID-19 at any time and any person not abiding by the Barnes & Noble directives will be refused entrance or directed to leave the premises.
TICKETING INFORMATION
General Admission - Free **LIMITED QUANTITY AVAILABLE**: A ticket PER PERSON includes:
Socially distanced photos with David will be allowed at the event.
Masks are required at this event.
David will be signing and personalizing books, but purchasing a copy of FACING THE MUSIC from Barnes & Noble Union Square is required to join the signing line.
Any gifts for David Loud will be collected prior to the signing line.
Due to health and safety and space limitations, those without a ticket will not be permitted into the event space.
Please arrive by 7 PM in order to secure your seat in the event space. Late arrivals may only have access to standing room and may not have the opportunity to meet the author.
GUIDELINES
No memorabilia will be signed at the event.
No large bags will be permitted into the event.
Ticket holders will be admitted into the event beginning at 6:30 PM the day of the event. Please have a copy of your ticket available (either printed out or on your phone) for check in.
In order to attend this event, ticket holders should:
Have not had any contact in the last 14 days with a confirmed COVID- 19 patient.

Not be subject to a quarantine order.

Not traveled in the past 14 days to any state or country that New York has designated as an area requiring isolation upon returning to the state.

At the time of the event, have not experienced in the last 72 hours any body temperature above 100 degrees Fahrenheit or any new symptoms associated with COVID-19. People with COVID-19 have had a wide range of symptoms reported – ranging from mild symptoms to severe illness. Symptoms may appear 2-14 days after exposure to the virus. People with these symptoms may have COVID-19: fever or chills; cough; shortness of breath or difficulty breathing; fatigue; muscle or body aches; headache; new loss of taste or smell; sore throat; congestion or runny nose; nausea or vomiting; and/or diarrhea..
Due to health and safety and space limitations, those without a ticket will not be permitted into the event space.
All event guidelines are subject to change.
If you have any additional questions, please call the store directly at: 212-253-0810.
Please note that Eventbrite is the only authorized dealer for this event. Each person must have a ticket to enter.
Event guidelines are subject to change.
_______________________________________________________________________________________
ABOUT FACING THE MUSIC:
Musical Director and arranger David Loud, a legendary Broadway talent, recounts his wildly entertaining and deeply poignant trek through the wilderness of his childhood and the edge-of-your-seat drama of a career on, in, under, and around Broadway for decades. He reveals his struggle against the ravages of Parkinson's and triumphs repeatedly. This memoir is also a remarkable love letter to music. Loud is the 'Ted Lasso' of the theater business, ever the optimist. An inspiration to all!
Unforgettably entertaining and emotionally revealing, Loud is pitch-perfect as he describes his path to the podium, from a stage-struck kid growing up at a school devoted to organic farming and mountain climbing, to the searing formative challenges he faces during adolescence, to the remarkable behind-the-scenes stories of his Broadway trials and triumphs. Skilled at masking his fears, Loud achieves his dream until one fateful opening night, when in the midst of a merry, dressing room celebration, he can no longer deny reality and must suddenly, truly, face the music.