DAVID LINDLEY ● Maui ● McCoy Studio Theater

Thursday, October 23, 2014 at 7:30 PM (HST)
Event Details
 Tickets Are Available Now at:
MACC Box Office
By Phone: (808) 242-SHOW (7469)
Online (click link to purchase): mauiarts.org 
Reserved Seating - Buy Now for Best Seats!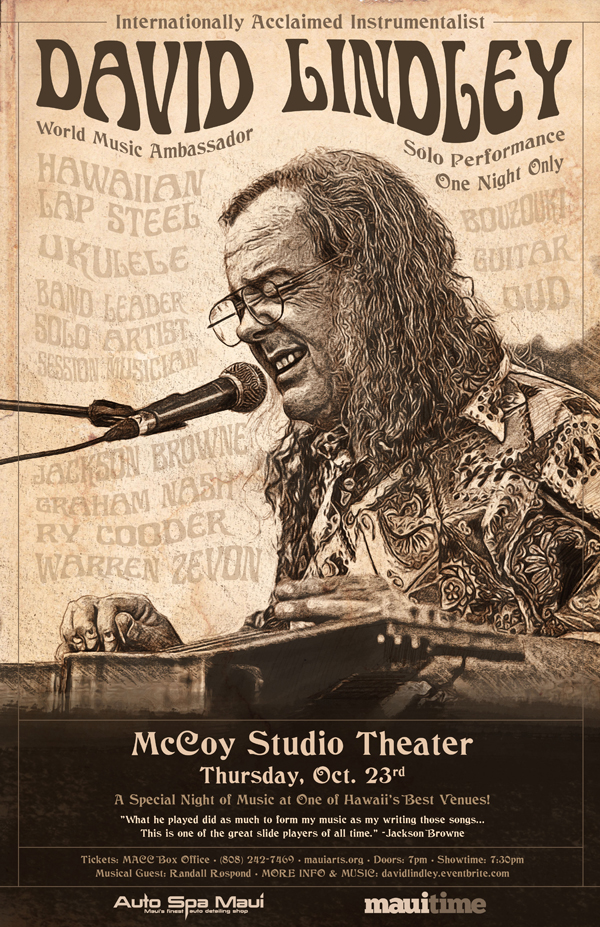 David Lindley Returns to Maui!
A Special Night of Music at One of Hawaii's Best Venues! 
Legendary instrumentalist, world music ambassador and 2011 Grammy nominee, David Lindley, returns to Maui carrying an arsenal of stringed instruments and repertoire of songs and musical styles of uncanny diversity and beauty. Lindley performs one concert alone on-stage at the McCoy Studio Theatre on Thursday, October 23, 2014. Maui resident and Mana'o Hana Hou Radio host, Randall Rospond, begins the night's entertainment at 7:30pm.
 
While David Lindley's taste in music runs the gamut from blues to African, Arabic, Celtic, Turkish and beyond, several common threads run throughout - starting with unbridled joy - in the music and moment. Having toured and recorded endlessly for 40+ years and delved deep into seemingly every type of stringed instrument there is, Lindley has made clear that at the heart of his persona lies an insatiable love for song and the opportunity to share his passion with others. Lindley's spirit is further evinced by his on-stage antics - shockingly colorful attire combined with quirky banter demonstrating that for Lindley life is to be celebrated and enjoyed. His energy in concert is as infectious as the music itself.
 
A second commonality across the broad Lindley musical landscape is unique talent and the ability to captivate listeners, regardless of their familiarity with the music or genre, and transport them to another world. As proclaimed by the San Jose Mercury News, "A David Lindley performance isn't just an awe-inspiring demonstration of string prowess. It's a portal to far-flung realms, a magic carpet ride skittering around the globe offering vivid glimpses of Jamaica, the Mississippi Delta, Madagascar, Turkey and Cuba."
 
Lindley's diversity doesn't end with his instruments and varying genres; it extends to his role in creation of the music - earning ultimate respect from his peers as a band leader, solo artist, session musician and tour ace. His first album as band leader, "El Rayo-X," has been described as the album that no discriminating rock lover should be without. As session musician/tour ace, Lindley has remained in constant demand for decades from a bevy of world-renowned artists including Jackson Browne (11 albums and many tours), Ry Cooder (eight albums and many tours), Graham Nash (eight albums and many tours), Warren Zevon (seven albums and many tours) and Linda Ronstadt (five albums and many tours). The following words from Jackson Browne shed light on why Lindley repeatedly appears alongside so many greats: "What he played did as much to form my music as my writing those songs...This is one of the great slide players of all time."
 
And Lindley shows no signs of slowing down. His 2011 album with Browne, "Love Is Strange: En Vivo Con Tino," reached number one on the Billboard folk chart and earned him a Grammy nomination for Contemporary Folk Album Of The Year. At the intimate, acoustic gem, McCoy Studio Theater, Lindley's prowess will be on full display with the master entertaining via acoustic guitar, Hawaiian lap steel, ukulele, the oud and bouzouki. Whether you're a long-time Lindley follower or just a fan of roots music, it's a show you'll not soon forget.
 
MORE INFORMATION & VIDEOS:
Bio/EPK:  https://app.box.com/davidlindleyBIO-EPK
Discography:  http://www.davidlindley.com/discography.html
Videos: 
    ●  Ukulele Ride toTurkey: http://youtu.be/hicabusfluY  
    ●  Well Well Well: http://youtu.be/7_ci205DZEI 
    ●  With Ry Cooder - New Orleans Jazzfest:
         http://youtu.be/uOEFNZJDXGM
    ●  Cat Food Sandwiches - YUM:  http://youtu.be/eXHlBkg3Mzk
ILLUSTRATION & ARTWORK: Maui resident and artist, Patrick Dunne, created the illustration and design of the poster for David Lindley's 10/23/14 Maui concert. Dunne brought the illustration to life through a multi-step process including hand-drawing the piece and adding six layers of texture and effects. For the past ten years, Dunne has worked at Naish International, a Maui windsurfing and kiteboarding company, and currently serves as its Creative Director, designing everything from product graphics to print ads and everything in between. Dunne was born and raised in Los Angeles surrounded and inspired by natural and man-made beauty and earned an arts degree before settling on Maui. More of Dunne's artwork can be found at: http://patrickdunneart.blogspot.com/
Mahalo to our sponsors for helping bring great LIVE music to Maui!


When & Where

McCoy Studio Theater
Maui Arts & Cultural Center
One Cameron Way
Kahului, HI 96732


Thursday, October 23, 2014 at 7:30 PM (HST)
Add to my calendar
Organizer
T-Rx Entertainment, LLC
T-Rx Entertainment has been producing events in Hawai'i for over 10 years.
Each year, we produce the Hallowbaloo Music + Arts Festival in Honolulu and roots concerts around the state. Past shows include Booker T. Jones, Edward Sharpe & the Magnetic Zeros, Diplo, 
Maceo Parker,
Xavier Rudd,
 Allen Toussaint, 
Big Freedia, Nahko and Medicine for the People,
Z-Trip, Steve Gadd, Cut Chemist, Greensky Bluegrass, 
Anders Osborne,
David Lindley, Gaudi, Jake Shimabukuro, Quantic, Brett Dennen, Ozomatli, Rebirth Brass Band, Warpaint, 7 Walkers (feat. Bill Kreutzmann & Papa Mali), Luther Dickinson, Iyeoka, Blitzen Trapper, Jon Cleary (with Steve Ferrone and Reggie McBride), Delta Spirit, John Cruz, The New Mastersounds, Mad Professor, Mike Love, Old Blind Dogs, Eddie Bo, Man Man, Big Chief Monk Boudreaux, Dengue Fever, Baths, The Budos Band, Paper Diamond, The Helio Sequence, Taimane, Benzi, Ursula 1000, DJ Logic, Jeremy Sole, Eric McFadden, Larry and Jenny Keel, Dj Low Down Loretta Brown (aka Erykah Badu), Charlie Hunter with Scott Amendola, and more.
DAVID LINDLEY ● Maui ● McCoy Studio Theater