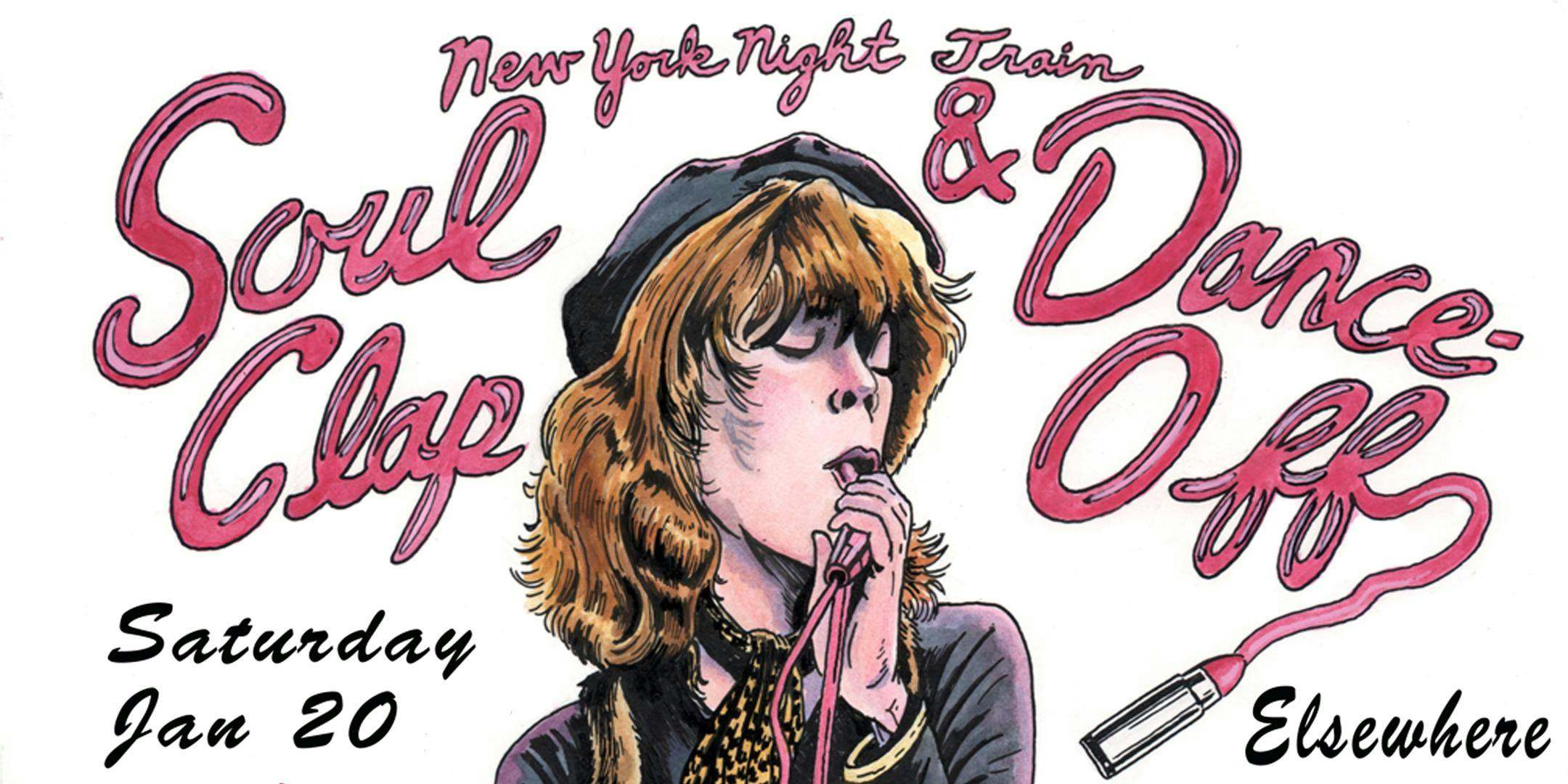 About this Event
After a couple of years on the road, the New York Night Train Soul Clap and Dance-Off becomes a monthly NYC party once again! The legendary shindig started out monthly third Saturdays at Glasslands in 2007, moved to the Brooklyn Bowl in 2012, and settled in at Market Hotel in 2016 just before the venue's closure left the party homeless… While there's a Clap nearly every week somewhere in dozens of markets internationally the last couple of years, the world's most popular and prolific touring soul party only rears its head in its home turf for big events like March's 10th Anniversary Revue with Irma Thomas, Archie Bell, et al, or July's Madison Square Park edition with Ural Thomas. Glasslands proprietors Rami Haykal and Jake Rosenthal reached out to New York Night Train soul proprietor Jonathan Toubin when they were finally ready to open their 1000+ capacity multi-room Bushwick mega-venue Elsewhere. Together the entities agreed to reunite and bring one of the 21st Century's most iconic parties back into regular rotation on a local level. Every month features three rooms of bands and DJs, a 60s soul vinyl dance with Jonathan Toubin and the New York Night Train Shadow Dancers, and the Midnight $100 Dance Contest.
Saturday, January 20 The Clap's first monthly local residency in years kicks off with David Johansen's first full rock'n'roll set in years. The international music legend, actor, and NYC icon performs a full set of New York Dolls standards, solo classics, covers, and new material with an all-star live band Saturday, January 20 at Elsewhere. The funky but chic troubadour has spent the last few years showing the upper crust the meaning of class as Buster Poindexter in the private world up at Café Carlyle, down at the Roxy Hotel, and over at City Winery. But devouring uptown and downtown Manhattan is not enough to satiate the voracious appetite this consummate entertainer. Baby he can't be satisfied! So the eternally restless soul of one of the most distinctive voices of the last-half century is riding the subway train out to the wilds of Bushwick to show the Brooklyn rock scene how it's done. Do not miss David Johansen's inimitable singing, dancing, banter, style, and presence revisiting his finest New York Dolls and solo material live and in person for one night only! With live performances by Baby Shakes, Daddy Long Legs, Beechwood, and more…
7pm Doors
8pm Beechwood
8:30pm Baby Shakes
9pm Daddy Long Legs
9:30pm David Johansen
10:30pm - 4am Rock'n'Roll Dance with Rebel Rouser Records in the front room
11pm - ? Soul Dancing with Jonathan Toubin and the NY Night Train Shadow Dancers in the back room
12am $100 Dance-Off
Tickets for this tier allow entry for the entire night!
7pm-4am // 18+