| | |
| --- | --- |
| DAVID GUSSIN to be honored as one of "Long Island's Champions for a Cure" at an August 13th Awards Dinner, 6pm-9pm, at Carlyle on the Green in Bethpage State Park! | |
Event Details
"Long Island's Champions for a Cure"
to honor
DAVID GUSSIN
Co-Founder, 516ads and 631ads Websites
who will be inducted into the "Class of 2013 Long Island's Champions for a Cure"
David Gussin is the co-founder of the famous 516ads and 631ads websites, helping Long Island's business community grow with both an online presence and weekly networking events.

David is also the founder of LEARN (Let's End All Racism Now), a movement bringing greater awareness to the advantages of embracing different cultures.
Considered a powerful business leader on Long Island, David has been featured in several publications such as Newsday and the New Yorker magazine. He was even interviewed on CNN, displaying his trademark "roar" - his famous call-to-action "igniting business growth."
David is also the creator of the famous "Everything Bagel." Working at a bagel shop in Queens, one of his jobs was sweeping the roasted seeds that had fallen off the bagels over the course of the day out of the oven. One day, instead of throwing them out, he saved the roasted seeds, realizing how delicious they are, and asked the owner of the shop to make bagels with them, suggesting they call it, "The Everything Bagel." It was an immediate hit and now the Everything Bagel can be found in practically every bagel, bakery and donut shop in America.
David is best known, though, for his big heart. He benefits charities at many of his events, enlightening his audience about the nonprofit's mission and asking them to donate either monetarily or physically. He's held shoe drives for Shoes-for-All, toy drives for Toys-for-Tots and clothing drives for the Salvation Army. The list of charities he's helped is just too long to list.

Most importantly, David is the proud father of two teen-aged daughters, who are "beautiful inside and out."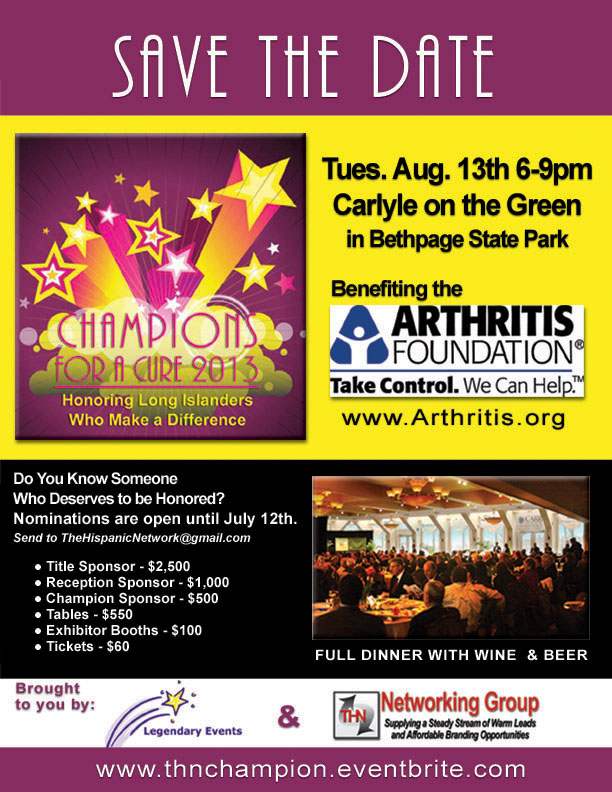 "Long Island's Champions for a Cure ~ Honoring Long Islanders Who Make A Difference" Awards Reception takes place on Tuesday, August 13, 2013, 6pm to 9pm, at Carlyle on the Green, Bethpage State Park.  The Reception is presented by THN Public Relations & Marketing and Legendary Events.
To register or for more information, call Tracey Gittere at (516) 222-0550 or TGittere@LegendaryEvents.net.   A portion of the proceeds will benefit the Arthritis Foundation - Long Island Chapter's important programs and services!  
Where

Carlyle on the Green, Bethpage State Park, Presented by THN Public Relations & Marketing and Legendary Events
99 Quaker Meeting House Road
Farmingdale, NY 11735


Organizer
RotaCare: Free Health Care for People in Need
Founded in 1992 by members of the Mineola‐Garden City Rotary Club, RotaCare was created to serve the needs of the uninsured on Long Island. It began when a group of concerned volunteers met at the Mary Brennan Interfaith Nutrition Network in Hempstead. Many of these volunteers recognized that in addition to food, the medical needs of their clients were not met adequately by the healthcare system. Through the collaborative efforts of the Rotary Club, local healthcare professionals, area residents, and Mercy Hospital, a "MASH" team was formed to operate weekly at the soup kitchen. RotaCare was born. Since its inception, RotaCare has remained a Rotary District project and supported by concerned companies, organizations and individuals to sustain its good works and benefits to the community by providing free health care to people in need. In 2007, RotaCare expanded its scope again, and moved to larger quarters at the A. Holly Patterson Extended Family Care Facility in Uniondale.
RotaCare is a 501(c)(3) non-profit registered with the State of New York.
Federal Tax ID 11-3135331
RotaCare Contact Information
Located on the grounds of the 
A. Holly Patterson Extended Care Facility
875 Jerusalem Avenue
Uniondale, NY 11556
(516) 539-9834
www.rotacareny.org