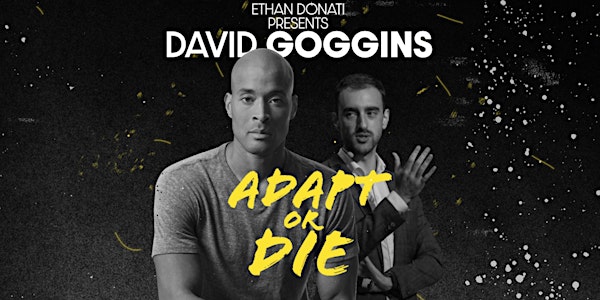 David Goggins LIVE In Melbourne at Adapt Or Die
David Goggins is coming to Melbourne for the Adapt Or Die business conference. Perfect for all business owners & entrepreneurs
When and where
Location
Melbourne Exhibition Centre 1 Convention Centre Pl South Wharf, VIC 3006 Australia
About this event
Australian Business Owners, Speakers, Entrepreneurs & Coaches Learn How To Scale Your Business, Marketing, Funnels, Sales, Team and Purpose at The Adapt Or Die Conference.
Get a 360 degree view of what you have to do to get your marketing, funnels, branding and systems dialled in.
We'll also be joined by David Goggins
Reserve your spot at the upcoming Adapt Or Die Conference below whilst early bird tickets are still available.
Over 2 cities in 2 world class locations, there is no better place to hit your business goals, personal goals and life goals this year.
David Goggins is known as the world's toughest man for a reason - he will push you to achieve what you never felt was possible
This conference is for all business owners, speakers, entrepreneurs, coaches, real estate entrepreneurs and anyone interested in business and of course anyone in a high performance field of life that requires them to operate at peak performance all the time
We are going to teach you how to rise above the recent circumstances
You are going to learn how to build your own personal brand to stand out in a crowded market.
How to build a sales team with unstoppable grit that produces more sales with less headache.
How to create customers on demand with simple marketing systems and funnels that work for any type of business or industry.
We are going to be talking about every single way to maximise your potential and live your purpose. To do that we are going to talk about marketing, your funnels and your advertising strategy
Then we move into the marketing & funnels...
One thing I teach that most coaches don't is a concept called "marketing omnipresence"
When you market, sell, follow up, and train your people with video then you can have more customers, sales people , and time. When you learn how to use digital platforms to market effectively you open up more opportunities
In today's world it's also important for you to create your own stage.
I will also be teaching you how to have mass influence from your own online and offline stages.
Grab your tickets now so you can get super early bird prices
We only have limited seats per city and this event will sell out.
We've already sold over 150 tickets to clients and people who attended previous events.
Now is the time to draw a line in the sand and make a change.
Get your ticket to the Adapt Or Die Conference before we sell out and see DAVID GOGGINS live for the first time in YEARS
The energy and information inside of this event won't be like any conference you've ever attended.
Now's the time to reserve your spot at the hottest entrepreneur event in 2023.
Australian business owners, you can't miss this
Act now to get your discounted ticket to the Adapt Or Die Conference.
TICKET TYPES
GENERAL ADMISSION/GOLD
A full day of business transformation and implementation with speakers from around the country who specialise in business growth, branding, marketing & sales for people like you!
The unique experience of getting into a state of mind to grow your business with laser focused attention!
The network growth alone at a business owner-minded event like this is worth 10x the ticket price by itself...
Adapt Or Die Workbook
See David Goggins & Ethan Donati LIVE in your city
VIP's Also Get This:
VIP TICKETS
VIP seating - closer to the front
A copy of David Goggins' Book
Ethan Donati's Book 'No One's Coming'
Access to exclusive VIP & Platinum Adapt Or Die Facebook group
Full Access To Ethan's Facebook Marketing Mastery Online Course (Value $500)
Bonus VIP Session Digital Marketing Masterclass & Q&A With Ethan Donati
PLATINUM Tickets Also Get...
Personalised BOOK SIGNING Meet & Greet With David Goggins
1 on 1 PHOTO With David Goggins
PLATINUM Lounge - Lunch Included & Best Place For Networking - Brush Shoulders With Who's Who At The Event
Platinum Seating - Closest To Front
A Signed Copy Of Ethan Donati's Book 'No One's Coming'
Ticket To Ethan's Million Dollar Funnels 3 Day Intensive Online & Recordings (Value $1,997)