David Eccles School of Business Communications Summit 2019
Description
The David Eccles School of Business Communications Summit is a free, one-day conference for higher education communicators around the state of Utah to continue to hone their craft and learn new skills.
Please park on the third floor of the parking garage located just south of the GARFF building. Parking is free, but please park only on the third floor to avoid being ticketed.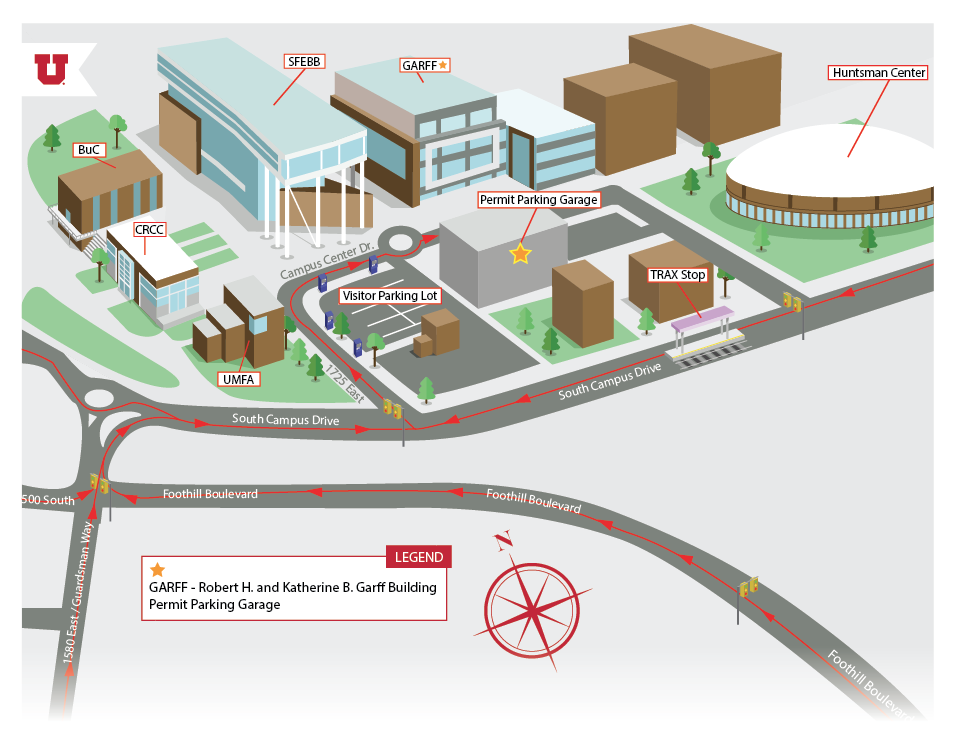 Summit Agenda
8:30-9 a.m.
Breakfast
9-9:15 a.m.
Welcome Remarks by Eccles School leadership
9:15-10 a.m.
Eccles School Campus Tour
10 a.m.-noon
Behavior Design Workshop
Roger Hurni, Partner at The Praxis Agency
Pioneered at Stanford University, Behavior Design and its tenets have been used to engineer some of the most habit-forming experiences in the world. Its models and methods can strategically and thoughtfully facilitate a change in behavior. It can inform and refine planning, executions, and analysis, in turn creating the environment for change to occur.
Behavior Design can produce unprecedented results by optimizing the three variables of human behavior: 1) the Motivation to act, 2) the Ability to do so and 3) the Prompt to spark action. If any of the three are absent, the behavior that constitutes success won't occur. When prompted properly, a behavior will occur given a sufficient amount of motivation and ability. Everything we do revolves around optimizing those three variables of human behavior.
A Behavior Design Workshop begins by using specific methods to help to uncover opportunities and prioritize activities that will best facilitate the behaviors required for success.
Behavior Design specialist and higher education marketer, Roger Hurni of The Praxis Agency, will lead an extended workshop on how campus communicators and marketers can use behavior design to create lasting results for the institutions.
Noon-1 p.m.
Networking Lunch
1-2:15 p.m.
Leading on Diversity: A Frank Discussion About Engaging on Issues of Race
Panelists:
Jamal Watson, PhD., Editor Diverse Issues in Education
Sean Rossall, CEO, RW Jones Agency
Moderator: Sheena McFarland, Director of Marketing + Communications, David Eccles School of Business
This frank conversation will focus on the ways in which schools can improve and rethink how they talk about matters of diversity. The conversation will specifically focus on how schools in areas, like Utah, have the ability to lead on issues related to diversity, despite the fact that they have populations that are different from much of the rest of the country.
The conversation also will look at and focus on how schools manage and engage on issues related to racial bias. Specifically, it will look at how in the politically charged climate, schools can help their communities come together and address events that are divisive on the whole.
2:15-2:30 p.m.
Break
2:30-4 p.m.
Creating an Executive Voice
Erik Fallis, Associate Vice President, RW Jones Agency
Executive Communications is intensely personal. Yet, every piece of executive writing must also serve a purpose that moves the university closer to its goals. This active writing session will focus on how to bridge that divide.
Executive Communications occupies an odd space in our work – part coach, part advisor, part researcher, part writer, part sounding board and part problem solver. The day-to-day demands can sometimes distract from our mission. Yet, every speech – indeed, every piece of executive writing – needs to serve a purpose and move the university closer to its goals.
This session will address the elements that anchor a speech to a particular time, place and audience, that connect writing to matters of substance and that provide a call to action through purposeful storytelling.
Participants should be prepared with executive-storytelling ideas for a brief writing exercise. Those leaving the session will have the elements for a minute-long advocacy case in the voice of their president or chancellor.
4:30 - 6 p.m.
Reception
Hosted by RW Jones Agency
A free reception with wine, beer, soft drinks, and appetizers at Squatter's Pub Brewery will follow the day's events.

The Grain Room at Squatter's Pub Brewery
147 W. Broadway (300 South)
Salt Lake City, UT