David Eagleman at The Interval: The Future of the Human Brain

Wednesday, November 18, 2015 from 6:30 PM to 8:30 PM (PST)
Event Details
A live audio stream will be available for Long Now members
Join Long Now so you can tune in live
******************************
The Long Now Foundation welcomes
David Eagleman
Neuroscientist, author, televison host

"The Future of the Human Brain: Who We Become Is Up to Us"
@ The Interval at Long Now: check-in begins at 6:30; talk will start at 7:30 
Join us afterwards for drinks and conversation with our speaker
David's book The Brain: The Story of You will be on sale and he will sign it after the talk

If we can understand the secrets behind our achievements, then perhaps we can direct the brain's strengths in careful, purposeful ways, opening a new chapter in the human story. What do the next thousand years have in store for us?

What will the human race be like when we begin to take more and more control over our own development?
Neuroscientist and author David Eagleman's latest project is both a book and a PBS television series called The Brain. He describes his vision for the project: "to make an epic series about the brain with a seriousness of purpose, with a rigorous adherence to facts instead of empty calories, and with an eye toward ambitious questions rather than a listing of factoids." At The Interval, David will discuss the themes, research and ideas he covers in The Brain on stage in conversation with Long Now's Stewart Brand.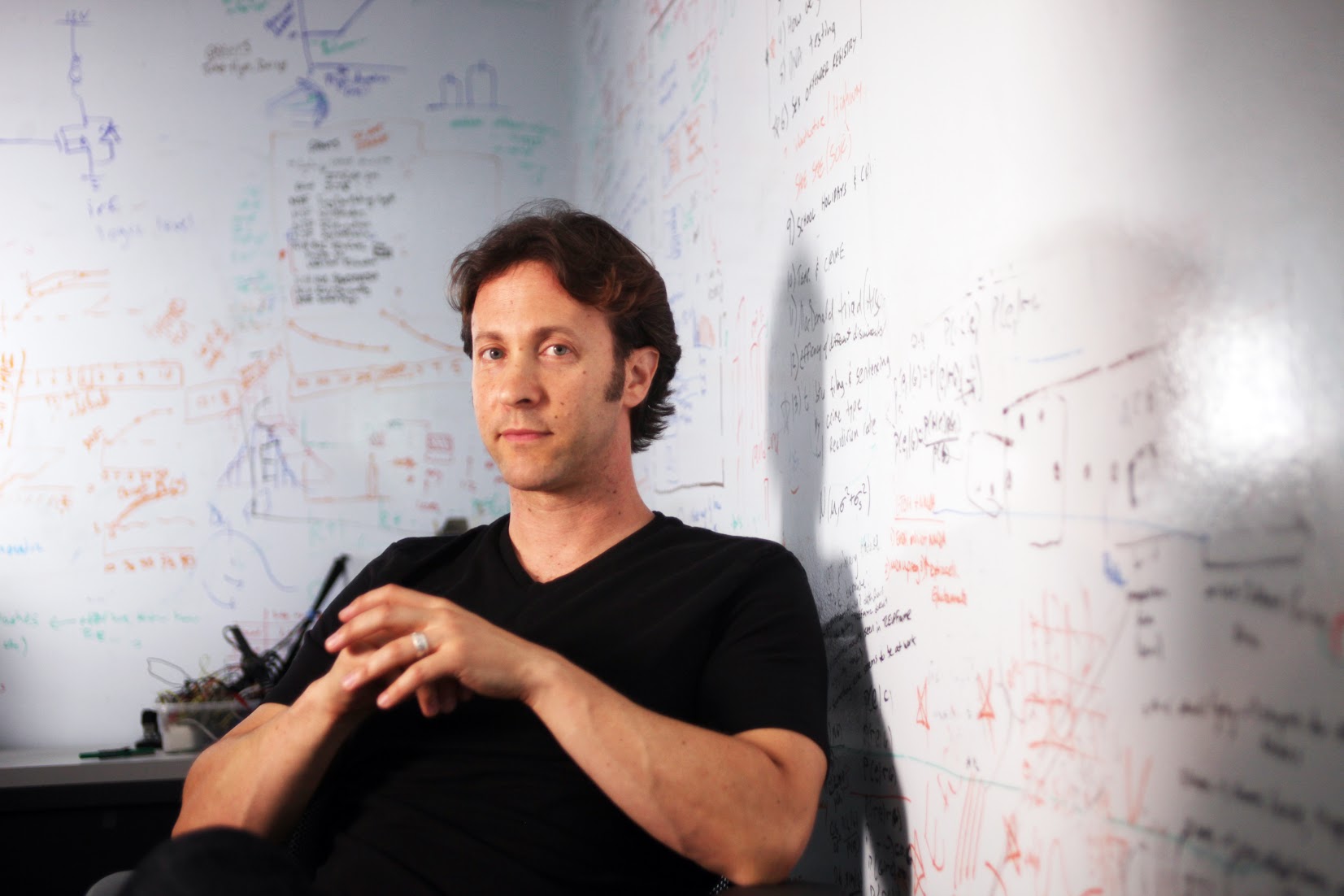 The human body is a masterpiece of complexity and beauty – a symphony of forty trillion cells working in concert. However, it has its limitations. Your senses set boundaries on what you can experience. Your body sets limits on what you can do. But what if the brain could understand new kinds of inputs and control new kinds of limbs – expanding the reality we inhabit? We're at a moment in human history when the marriage of our biology and our technology will transcend the brain's limitations. We can hack our own hardware to steer a course into the future. This is poised to fundamentally change what it will mean to be a human.
About The Brain:
Neuroscientist and Long Now Board member David Eagleman explores the human brain in an epic series that reveals the ultimate story of us, why we feel and think the things we do. This ambitious project blends science with innovative visual effects and compelling personal stories, and addresses some big questions. By understanding the human brain, we can come close to understanding humanity. The companion book The Brain is Amazon's #1 Best Seller on neuroscience. We will have copies of The Brain for sale at the talk.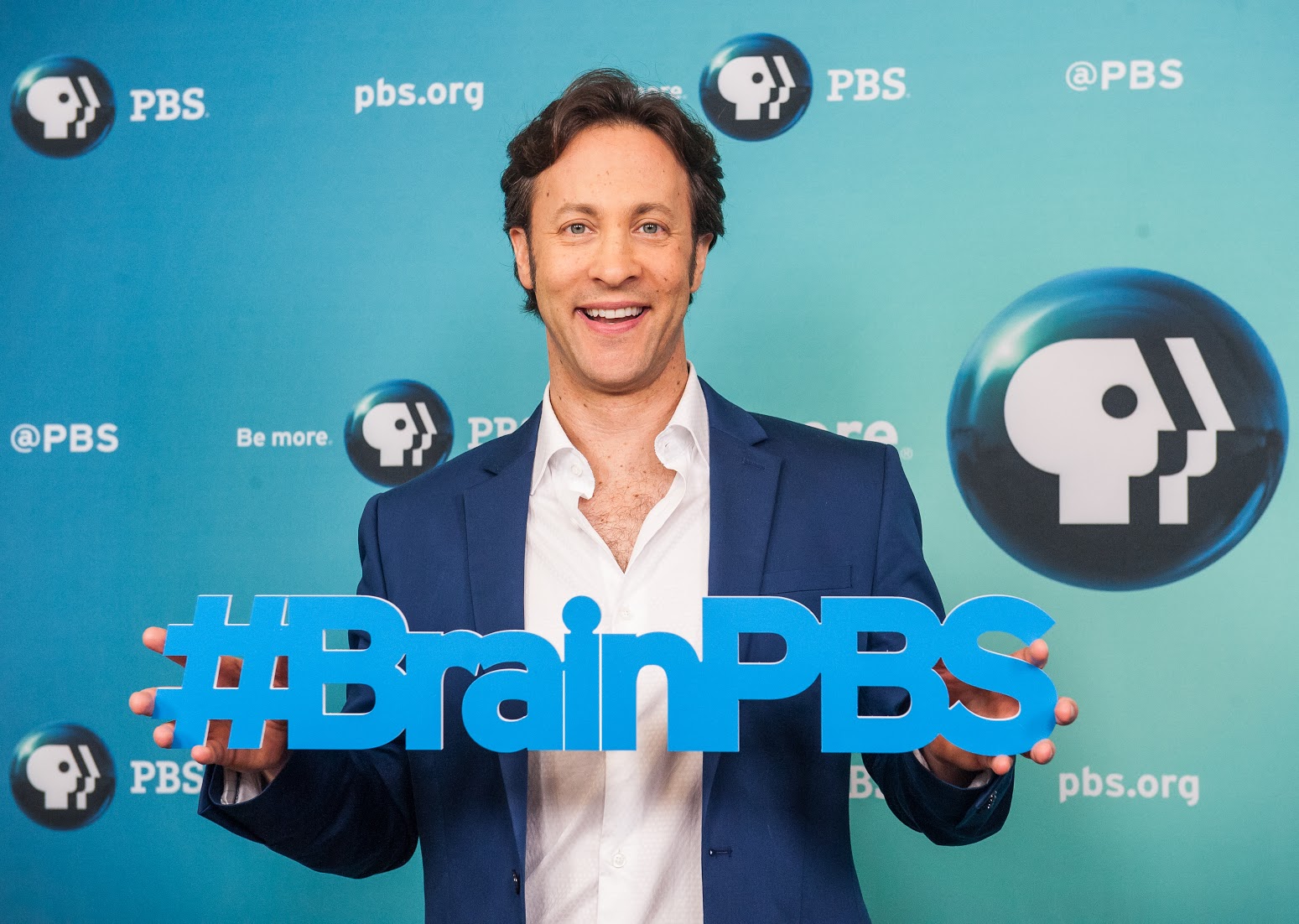 "David Eagleman's wide-ranging roundup of the current state of knowledge about the brain is concise, accessible and often very surprising. It's a strange new world inside your head."
— Brian Eno (musician, artist, Long Now co-founder)


"On every page there is a revelation so fantastic as to make one gasp."
— Stephen Fry (comedian, author, TV host)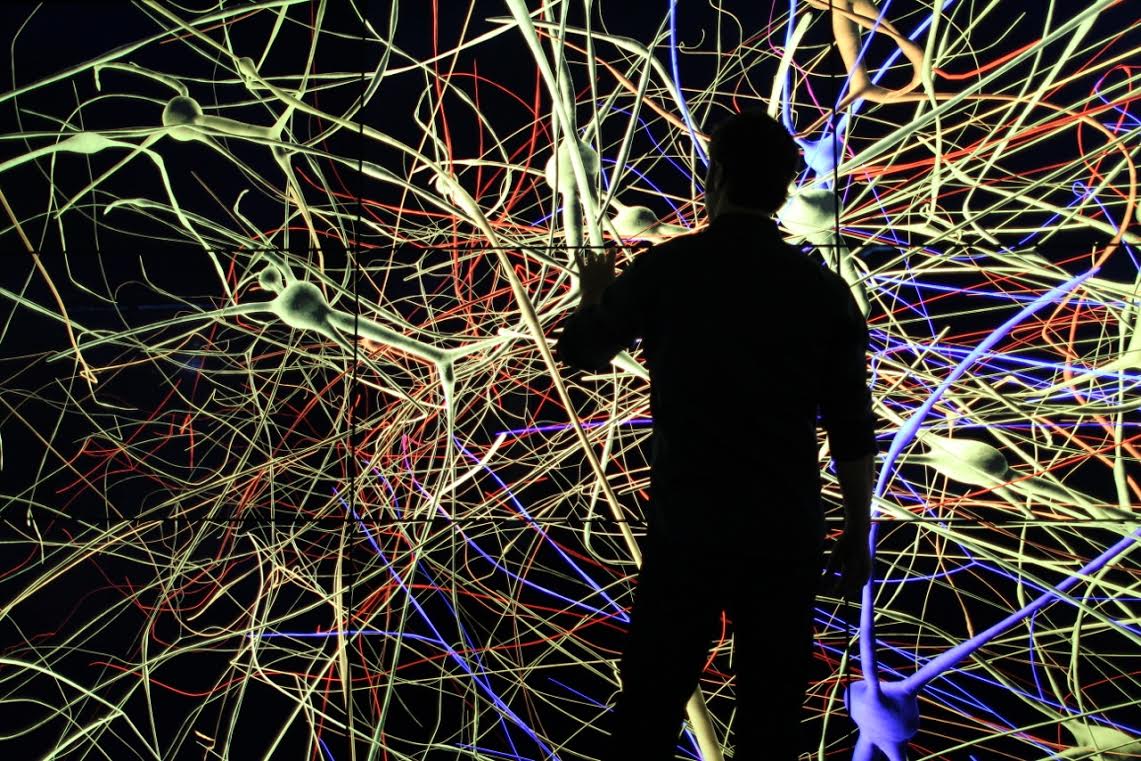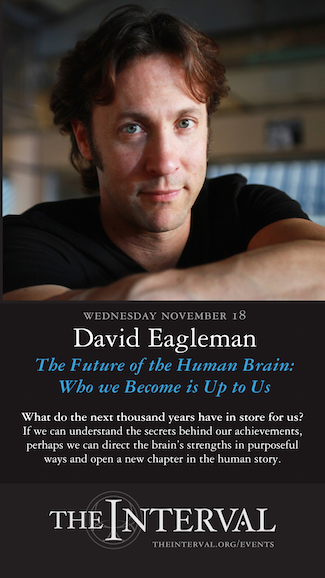 David Eagleman is a neuroscientist, bestselling author, Guggenheim Fellow, and the writer / presenter of the popular PBS television series The Brain. David holds appointments in Neuroscience and Psychiatry at Baylor College of Medicine studying time perception, synesthesia, and neurolaw.

His books include The Brain; Incognito; and Wednesday is Indigo Blue. His bestselling book of literary fiction, Sum, was named a Book of the Year by Barnes and Noble, New Scientist, and the Chicago Tribune. David writes for The Atlantic, New York Times, Discover, Slate, Wired, and New Scientist. He has appeared on NPR and BBC, and been profiled in the New Yorker.
David is on the Board of Directors of The Long Now Foundation and spoke in Long Now's Seminars About Long-term Thinking series in April 02010. This is his first appearance at The Interval.
Long Now members hear about Interval events first: become a member today
When & Where

The Interval at Long Now
Fort Mason Center
2 Marina Blvd
San Francisco, CA 94123


Wednesday, November 18, 2015 from 6:30 PM to 8:30 PM (PST)
Add to my calendar
Organizer
The Interval at Long Now
The Interval at Long Now is a bar, cafe and venue for talks and other gatherings located in historic Fort Mason Center on San Francisco's north shore within site of the Golden Gate Bridge and Alcatraz. The Interval serves delicious beverages in a room full of mechanical wonders and thousands of books.
We are open daily from 10AM to midnight. Events are typically on Tuesday nights a few times a month. Tickets usually go on sale 2 weeks prior to the event. Our talks tend to sell out quickly due to our limited capacity.
Long Now members can purchase tickets before the general public.
The Interval is home to The Long Now Foundation which is dedicated to long-term thinking through projects including building a 10,000-year Clock, the monthly Seminars About Long-term Thinking (SALT), The Rosetta Project, PanLex, and Revive & Restore.
David Eagleman at The Interval: The Future of the Human Brain