David Drake Speaks on the Missing Link between Crowdfunding and Business Angels at the 11th EBAN Winter University in Istanbul, Turkey

Thursday, January 17, 2013 at 7:00 PM

-

Friday, January 18, 2013 at 8:00 PM (EET)
Who's Going

Loading your connections...
3 of your friends are going.
Share it to get more people on board!
Share

Sara Haughty
San Francisco, California

Luke Picard
London, United Kingdom

Rick Vespucio
Florence, Italy
Event Details
To view David Drake's PREZI presentation used in this event, you may click on this link: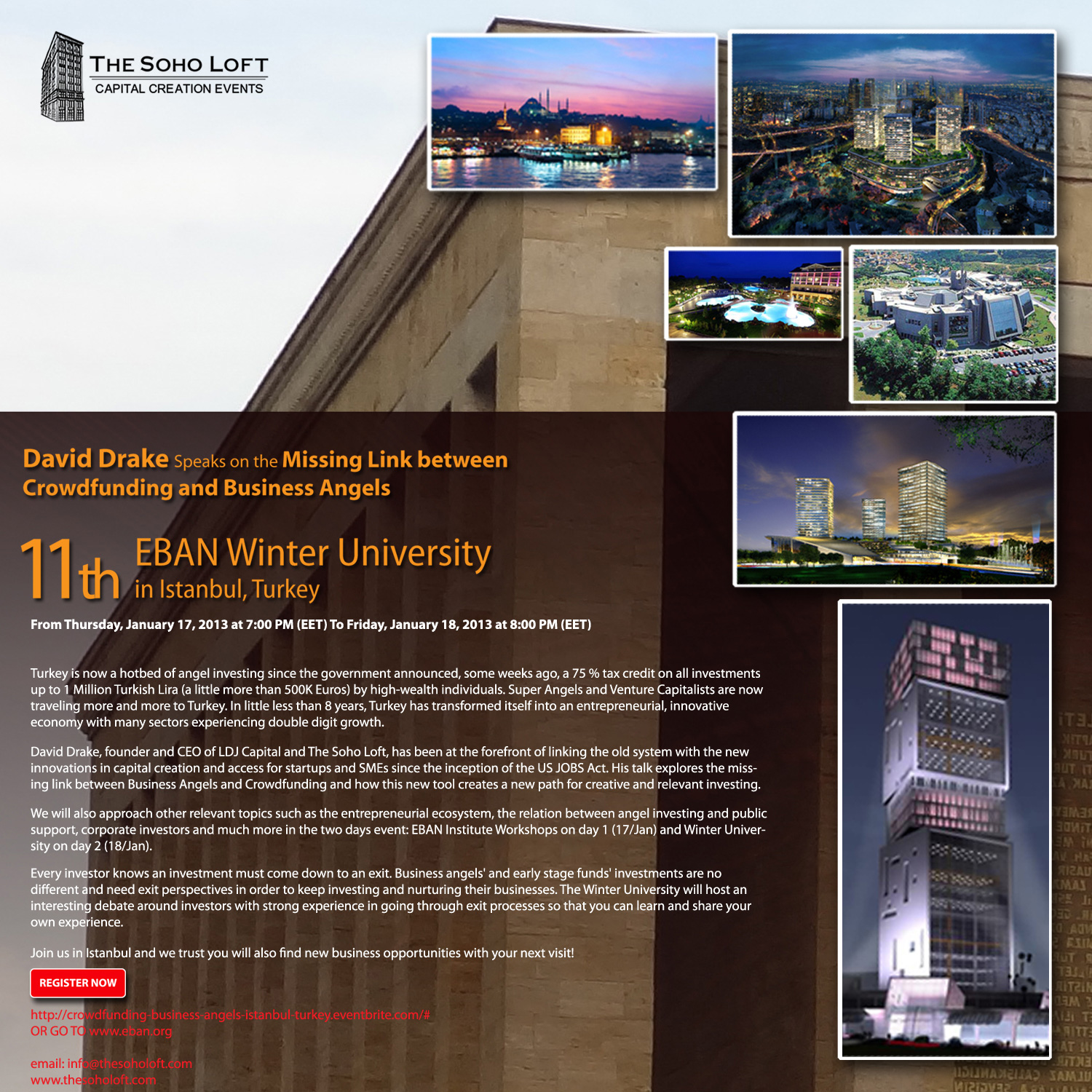 11th EBAN Winter University
 TO REGISTER FOR THIS EVENT - CLICK THIS LINK OR GO TO www.eban.org

Picture from the EBAN Congress 2012 held in Moscow, Russia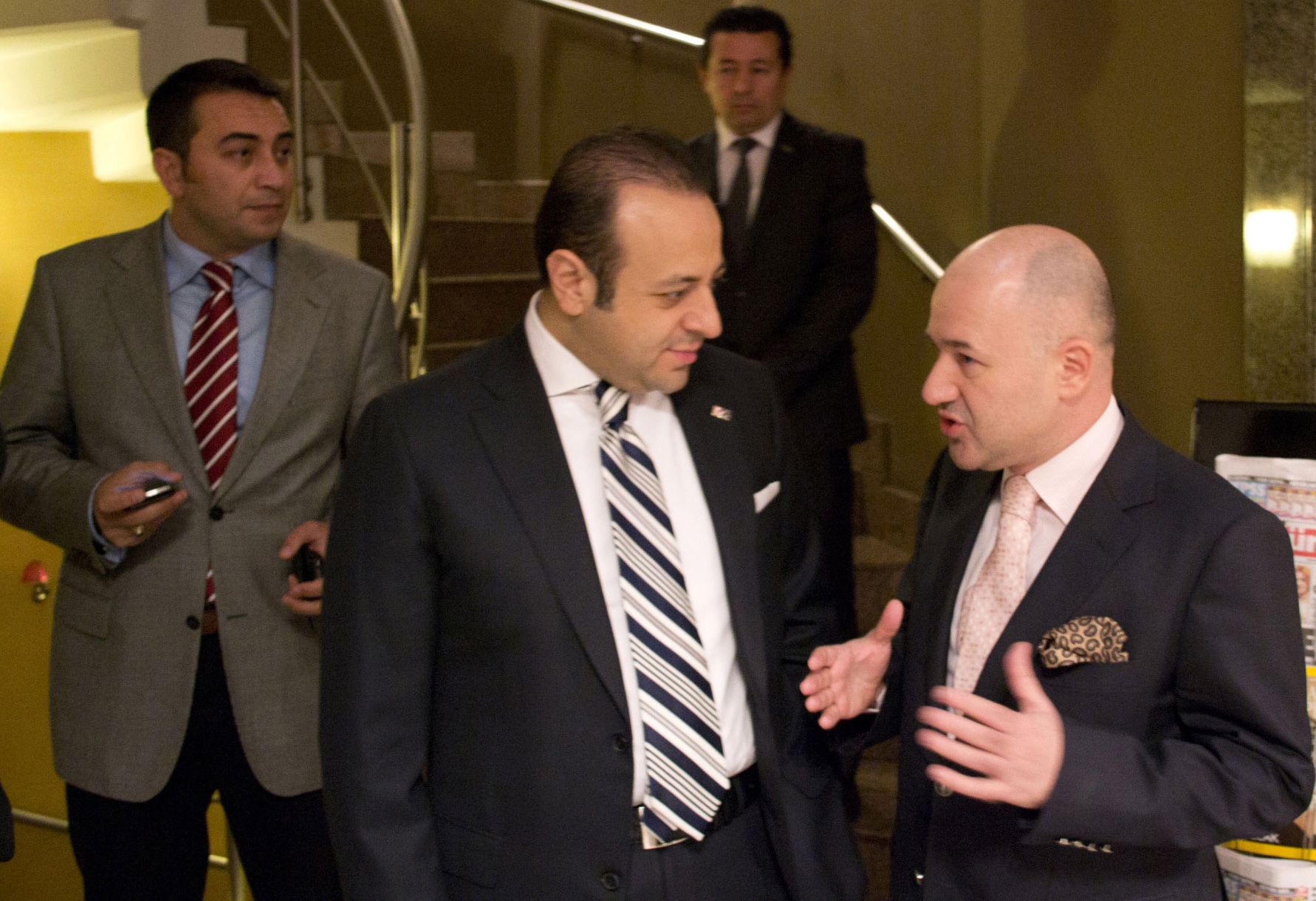 EU Affairs Minister of Turkey & President of of TBAA talking about new ways of finance for entrepreneurs such as Angel Investment and Crowdfunding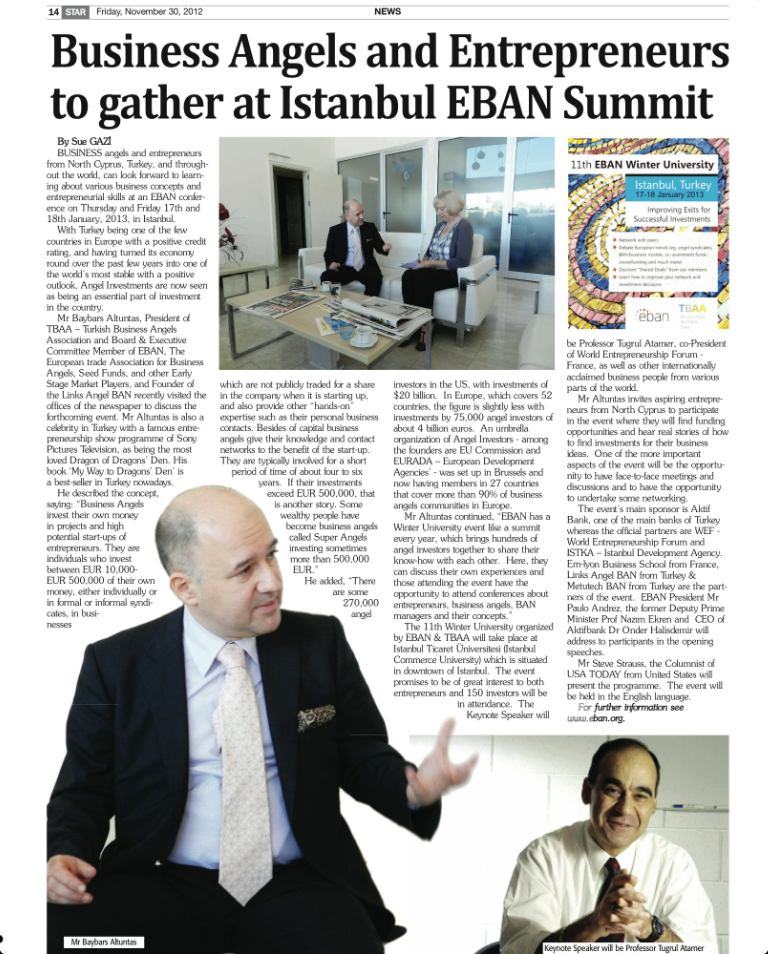 TO REGISTER FOR THIS EVENT - CLICK THIS LINK OR GO TO www.eban.org
EBAN winter summit brings business angels together in İstanbul
by Baybars Altuntaş 13 December 2012
With the world changing at a radical pace, economies will need more entrepreneurs than ever in all domains.
While the need to create new jobs is becoming more important in a volatile global economic atmosphere, it is equally important to ensure that the jobs are socially, economically and environmentally sustainable. To achieve this goal, an entrepreneurial ecosystem is the keyword of the 21st century.
With this in mind, the 11th Winter University summit held by the European Trade Association for Business Angels, Seed Funds and other Early Stage Market Players (EBAN), to be hosted in İstanbul on Jan. 17-18, will bring together social, business and institutional entrepreneurs, business angels, academics and policymakers, among other stakeholders, to focus on investor exit models for start-ups that reconcile wealth creation with social justice.
EBAN describes "business angels" as "private individuals who invest their own money in high potential start-ups in exchange for a share in the company and who also contribute their expertise in business management and their personal network of contacts."
Business angels are individuals who invest 10,000-500,000 euros, either individually or in syndicates that may be formal or informal, in new businesses which are not publicly traded. They also provide "hands-on" expertise. In return, they receive a share in the company at the start. The projects typically last from four to six years. Some wealthy people have become business angels called "Super Angels" investing more than 500,000 euros.
There are an estimated 270,000 angel investors in the US, with a total investment value of $20 billion. In 52 European countries, the relative figure is slightly less, with investments by 75,000 angel investors of about 4 billion euros. An umbrella organization of Angel Investors -- whose founders include the EU Commission and the Association of Regional Development Agencies (EURADA) -- was established in Brussels and now has members in 27 countries that cover more than 90 percent of the business angel communities in Europe.
EBAN holds a summit called Winter University every year which brings hundreds of angel investors together to share their know-how with each other. Here, they can discuss their experiences and those attending the event have the opportunity to attend conferences with and about entrepreneurs, business angels, business angel network (BAN) managers and their concepts.
The 11th Winter University organized by EBAN and the Business Angels Association of Turkey (TBAA) will take place at İstanbul Ticaret Üniversitesi (İstanbul Commerce University). The event promises to be of great interest to both entrepreneurs and the 150 investors expected to be in attendance. The keynote speaker will be Professor Tuğrul Atamer, co-president of the World Entrepreneurship Forum (WEF), as well as other internationally acclaimed business people from various parts of the world.
I invite aspiring entrepreneurs to participate in the event, where they will find funding opportunities and hear real stories of how to find investments for their business ideas. One of the more important aspects of the event will be the opportunity to have face-to-face meetings and discussions and to have the opportunity to do some networking.
The event's main sponsor is Aktif Bank, one of the main banks of Turkey, and the official partners are WEF and the İstanbul Development Agency (İSTKA), EMLYON Business School (formerly École de management de Lyon) from France, the Links Angel BAN from Turkey and the Metutech BAN from Turkey. EBAN President Paulo Andrez, former Deputy Prime Minister Nazım Ekren and Aktifbank CEO Dr. Önder Halisdemir will address the participants in the opening speeches. Mr. Steve Strauss, USA Today columnist and author of a best-selling entrepreneurship book, will host the program.
Here are some of the subjects to be discussed by the delegates from about 20 countries: What is the importance of business angels for the world entrepreneurial ecosystem? What's new in BAN activities? What are the current trends? What is the European exit market perspective for the next five years? How can business angel networks benefit from a win-win relationship with governments/European institutions? What are the different forms of investing/exiting together? What are the different business models for BANs? What are the co-investment models with public authorities? What is an asymmetric exit? What is the relationship of angel investment to youth entrepreneurship? What are the Super Angels' recipes for successful exits? What is the relationship between corporate venture and angel's exits?
The event will be conducted in English. For further information, visit www.eban.org.
---
*Baybars Altuntaş is a member of the EBAN Executive Committee and the president of TBAA.
TO REGISTER FOR THIS EVENT - CLICK THIS LINK OR GO TO www.eban.org
Contact person for the Winter University: Luis Galveias (luis.galveias@eban.org)
EBAN - The European Trade Association for Business Angels, Seed Funds, and other Early Stage Market Players
Rue Vautier 54 | 1050 Brussels | Belgium
T: +32 2 626 20 61
F: +32 2 626 20 69
www.eban.org
info@eban.org     
WU Programme
19:00 - Bus Transfer: Hotel - Dinner

20:00 - 23:00 - Cocktail & VIP Dinner

Cemile Sultan Korusu
Address: Kandilli Mahallesi Ömür Tepe Yokuşu Sok No : 6 Üsküdar - İstanbul

The cost to attend the VIP Dinner is not comprised in the Winter University rate. This item should be bought separately.

23:00 - Bus Transfer: Dinner - Hotel

18 January - Winter University Programme

8:00
Bus Transfer: Hotel - Venue (İstanbul Ticaret Üniversitesi İletişim Bilgileri)

8:00 - 9:00

Registration

9:00 - 9:30

Winter University animated by Steve Strauss, Columnist of USA TODAY & Author of the best-seller Entrepreneurship Book, US

Welcome and Opening Speeches

Baybars Altuntas, TBAA President

Onder Halisdemir, CEO Aktif bank

Nazım Ekren, Former Deputy Prime Minister of Turkey & Rector of Istanbul Commerce University

Dursun Ali Sahin, Governor of Giresun

Paulo Andrez, EBAN President

9:30 - 9:50

Importance of Business Angels for the World Entrepreneurial Ecosystem

Key Note Speaker: Tugrul Atamer, World Entrepreneurship Forum co-President

9:50 - 10:10

How I did 3 successful exits which where all announced between June 27th and July 2, 2012!

Dusan Stojanovik, True Global Ventures - France

10:10 – 10:20

What's new in BAN activities? Current trends

Benjamin Wattinne, Gust

10:20 – 10:35

The European exit market perspective for the next 5 years and future EIF initiatives

Matthias Ummenhofer, European Investment Fund

10:35 – 10:50

How Business Angel Networks can benefit from a win win relationship with governments/European institutions. Case study : Germany

Ute Guenther, BAND-Germany, EBAN Board

10:50 - 11:20

Coffee Break 

11:20 - 12:30

Parallel Sessions 

Room 1 : Syndicates : Different Forms of Investing/Exiting together

Moderator: Albert Colomer, ESBAN-Spain, EBAN Executive Committee

Michael Culligan, HBAN –Ireland

FiBAN – Finland

Room 2 : Different Business Models for  BANs

Moderator: Cagatay Culcuoglu, Anadolu Agency

Baybars Altuntas, President of Links Angel BAN - Turkey

Peter Braun, Mountain Club – Switzerland, EBAN Board Member

Room 3 : Co-Investment Models with Public Authorities. Asymmetric exits?

Moderator: Mehmet Onur Partal, Venture Capital & Angel lnvestment Group Leader, lstanbul Development Agency

Paulo Andrez, EBAN President

Konstantin Foken, NBAA - Russia, EBAN Board

Room 4: Angel investment and Youth entrepreneurship

Moderator: Kazim Yalcinoglu, Metutech BAN - Turkey

Mahmut N. Ozdemir, Koc University - Turkey

Mustafa Seref Akın, TBAA Training Director & Professor at Fatih University - Turkey

12:30 – 13:30

Lunch 

13:30 – 14:00

Shared Deals Competition Part I

 

14:00 – 14:45

Recipes of Super Angels for successful exits

Moderator: Candace Johnson, Sophia Business Angels – France, EBAN Board Member

Ari Korhonen, Business Angel - Finland, EBAN Vice-President

Emre Kurttepeli, President of Galata Business Angels - Turkey

14:45 - 15:00

Business Angels & Crowdfunding: the missing link

David Drake, Founding board member of the CrowdFunding Professional Association (CFPA) - USA

15:00 - 15:15

New EBAN Initiatives

Angel Investment Guides, Michael Culligan, HBAN –Ireland

Early Stage Investors Atlas, Luis Galveias, EBAN

15:15 - 15:45

Coffee Break

15:45 – 16:15

Shared Deals Competition Part II

 presented by 

Jeanette Andersson, CONNECT Skåne - Sweden

16:15 - 16:55

Corporate Venture and Angel's Exits

Moderator : Yusuf Karsi, Aktif Bank - Turkey

Baris Aksoy, Director at Intel Capital - USA

Ziya Boyacigiller, Business Angel, Founding Partner Maxim Integrated (NASDAQ: MXIM) - USA

16:55 - 17:00

Shared Deals competition results

Luis Galveias, EBAN

17:00 - 17:15

Closing Session

Baybars Altuntas, TBAA President

Paulo Andrez, EBAN President

17:20 - 17:50

Boat tour

Complimentary Boat Tour & Certificate Ceremony

(departure and arrival from and to the venue; dependent of weather conditions)

18:00

EBAN General Assembly

(

for EBAN Full Members only

)

1st Bus transfer: Venue - Hotel

19:00

2nd Bus transfer: Venue - Hotel
  TO REGISTER FOR THIS EVENT - CLICK THIS LINK OR GO TO www.eban.org
Adnan Akdemir
Board Member TBAA

Adnan, has founded AFM Cinemas in 1991 which became the leader cinema operator in its region. In 2000, his company completed the first Private Equity deal that was ever done in Turkey. In 2004, AFM has became the first Entertainment Company in Istanbul Stock Exchange. AFM also acquired Cineplex Odeon and grew rapidly in its region under Adnan' s leadership to reach 186 cinemas.  Adnan has stepped down to institutionalize AFM in 2004 and served as the President of the Board until exit. He sold the majority of AFM to Russia's largest private company Alfa Group in 2008, becoming the CEO of the acquirer Eurasia Cinemas.  Eurasia Cinemas in its third year managed to grow to 305 multiplex screens to become the leading cinema chain in Russia-Ukraine-Turkey region with interest to grow towards east.

Adnan exited his cinema ventures in 2011 to focus on family businesses. He currently serves in several family company boards in Tourism, Reit, Internet and Entertainment industries as well as local and national non-profit organizations.

Adnan holds 6th Dan in Shinjimasu Association, licensed for private planes since 1984 and boats since 1989, married with two children, received Red Cross/Red Crescent Gold Mercy Medal in 2011 for his life time contributions. 

 

Mustafa Seref Akin is associated professor at Fatih University, Istanbul, Turkey. He received his Ph.D. in Southern Illinois University (USA) in Economics. He taught in University of Missouri (USA), Maltepe University (Turkey), Ataturk Alato (Kyrgyzstan) and Suleyman Demirel (Kazakhstan). He currently teaches economics in Fatih University (Turkey).

His research interests are entrepreneurial economics, innovation, venture capital, intellectual properties, reputation capital, intangible assets, and economic policies for competitive economics. His current research focuses on the quality of education.

His research papers are published in Journal of Developing Areas, International Journal of Development, Technology and Investment, iBusiness. He wrote six books including 'Intangible Assets' and 'Economic and Fiscal Policies.'

He is active advisor to student business club. He assists organizations of conferences and seminar programs.

 

Baris Aksoy is a Director at Intel Capital focusing on consumer Internet, specifically gaming, mobile applications, social media, e-commerce, advertising, location based services, and various enabling technologies.

Prior to joining Intel Capital, Baris worked at University Venture Fund, an early stage venture capital firm, where he was involved in equity investments in the internet and digital media sectors. Earlier, Baris was an early employee of IPTV startup Calix (NYSE:CALX), where he held product management and development roles. During his tenure at Calix, he led stategy and development of products delivering IPTV consumer experience. Earlier in his career, Baris started and grew the West Coast sales office for Alcatel's semiconductor subsidiary, major DSL chipset manufacturer of that time.

Baris is a board observer for Caring.com, Crowdstar, Nokta Medya, and Sense Networks. Baris' other investments are Kno and Yume. Baris also invested in and managed exits for OpenFeint (acquired by Gree, Inc.)

Baris holds an MBA from the Wharton School of the University of Pennsylvania with a double major in Strategy and Finance. He earned his BSc in Electrical Engineering from Istanbul Technical University, Turkey. 

Member of EBAN Executive Committee

President of TBAA, Turkey

 

Founder of Deulcom lnternational, the first vocational training school of Turkey and named by the Economist - Turkey as one of the top 100 franchise companies of Turkey. Deulcom lnternational became one of the fastest growing trademark of Turkey and was prised by Eurowards.

 

Founder of UFRAD - Turkish Franchise Association. lntroduced lATA Educational System to Turkey. Elected as the Best Businessman - 2010. Was one of the 150 entrepreneurs invited by US President Barack Obama to the White House Presedential Summit in Washington DC. He was the only participant who was given a personal audience by the US President before his summit. After the US President's speech, CNN lnternational interviewed Baybars Altuntas live at its Washington studios the only delagate interviewed. One of the dragons of Dragons' Den - Turkey, entrepreneurship TV show. His book "My way to Dragons' Den" has been the best- seller in Turkey. LinksAngel BAN with his leadership is acting as a business angel platform supporting start-up businesses in Turkey.

 

President of TBAA - Business Angels Association - Turkey.

 

 

Jeanette has several years of operational sales & marketing experience in international automation industry and seven plus years experience in entrepreneur-ship and company development, e.g. as Managing Director at a VC-financed start-up. Active as VC-investment advisor since 2009 and investor since 2011.

Jeanette has a MSc in BA from University of Lund and an MBA from Henley Business School, UK

 

Paulo Andrez

 

Paulo Andrez is an angel investor. He is Vice-President of FNABA (Portuguese Business Angels Federation), President of Cascais Business Angels, Member of the Board of DNA Cascais (BIC). He chaired (2010-2012) the EBAN Research Committee, which produced the first EBAN Co-Investment and Tax Breaks reports, in cooperation with BDO.

 

Paulo Andrez was chairman of the World Business Angels Leaders Forum (Estoril, 2007) that decided to create the World Business Angel Association, and participated under FNABA scope in the design of the first Business Angel co-investment fund in Portugal. In 2010 he also participated in the design and implementation of the first Business Angels Tax Break in Portugal. Paulo Andrez has a background as serial entrepreneur and has created several companiesin areas like IT software, training, real estate and industrial resins.

 

In 2000 he participated as entrepreneur (seller) in the IPO in Euronext, of Novabase, the largest national IT provider in Portugal, with more than 1900 employees, working in 33 countries and from then he became Business Angel, helping entrepreneurs to achieve results. He is an IT Engineer and has a MBA from Nova University in Lisbon.

 

 
 

In addition to his role as Co-President at the World Entrepreneurship Forum, Pr. Tugrul Atamer is also the Vice President at EMLYON Business School. He holds a PhD in Strategic Management and HDR degree (qualification for PhD supervision) from the University of Grenoble.

After having held various department chair positions within EMLYON Business School, he was Dean of the Faculty and Vice-President for Faculty and Research (2002-2012). He was a visiting professor at the University of South Carolina (1995-1996) and has been on the Network Faculty at the University of Sabanci in Istanbul (since 2002).

He has designed and delivered numerous tailor made programs for top management, senior and high potential managers in European companies and in the USA where he has co-designed and delivered executive and management development programs for General Motors, Ingersoll Rand and Verizon.

He has carried out consultancy assignments with several international companies. His consulting experience includes facilitating top management teams in strategic planning process, developing and implementing international strategies and managing organizational change.

Dr. Atamer's research has been extensively published in leading French and international scientific and management journals, including Long Range Planning, Journal of World Business and Management International. In addition, he has published with Roland Calori two books in France "Strategic Analysis and Decision" and "Strategic Action and Transformation Management", of which the former was awarded the Economic News best management book of the year in 1993.

He is a founding member of French Strategic Management Society and ATLAS (Association for International Business) and has been on the editorial board of the Journal of World Business.
 

Peter E. Braun has 20 years of experience as a serial entrepreneur and in various senior and top management positions in the aerospace and automotive industries. He has successfully launched two industrial companies and two finance-related enterprises, and completed two IPOs, one in the United States and one in Germany. During his career, Peter gathered profound knowledge of the capital markets and the finance sector with activities in Germany, Switzerland, Luxembourg, Canada, USA and Asia. He is a much asked for coach for start-ups, a compelling speaker and a sought after senior advisor and board member. In his most recent activity as a Co-Founder and CEO of the Mountain Club AG, he created a peerless e-banking solution for business angel and private equity investments in collaboration with the strategic partner UBS AG.

Albert Colomer

Member of EBAN Executive Committee

President of BANC, Catalunya

 

Albert has been at the forefront of the angel investor movement in Spain. In 2002, he co-founded and became executive director of the Business Angel Network Catalunya BANC, the first Spanish angel network, which he led. Additionally in 2006 he co-founded ESBAN, a private foundation to raising awareness and promoting angel investment and Business Angels Networks in Spain. Since 2003, Albert is member of the Board of EBAN.

 

Albert has been appointed by the Parliament of Catalonia as member of the Advisory Board of the Catalan Institute of Finance, the public credit institution of the Government of Catalonia.

 

During his career, Albert has gathered a profound knowledge of the entrepreneurship skills. As a consultant, advisor, coach or business angel, His experience in entrepreneurial field, over 25 years, has helped thousands start-ups and entrepreneurs to born and grow. He is co-founder (1986) and executive director of CPAC (Fundació Privada per a la Promoció de l'Autoocupació de Catalunya), an independent charity with a mission to help people and organizations to be entrepreneurs.

 

Based in Istanbul, Cagatay M. Culcuoglu has more than 15 years of experience in finance, media, technology and investment industries. As Director of Marketing and advisor to CEO, Cagatay M. Culcuoglu is responsible for global sales, corporate strategy and communication at Anadolu Agency.

Prior to joining Anadolu Agency, Cagatay M. Culcuoglu, was Senior Vice President at Sabrient, where he focused on the planning, development, and execution of global products, including indexes and exchange-traded funds (ETFs). Culcuoglu was the Director and Global Head of Product Management and Technology Proposition for Thomson Reuters, developing business strategy, product management and proposition on $200 million wealth and investment management products. Preceding his time at Thomson Reuters, Culcuoglu worked at Merrill Lynch, KPMG and Dow Jones. Culcuoglu is an entrpreneur and advisor at Dualvison based in Virginia, USA. He earned his MBA from Penn State University, and has a Masters in Arts from the University of Maastricht, as well as a Bachelor of Science from Istanbul Technical University.

Michael Culligan
National Director of HBAN

Michael is an experienced international business development executive with direct business experience in the City of London, China, Japan, mainland Europe & North America across ICT, financial and education sectors.. He has developed specialist skills in the seed capital business angel arena. In his role as National Director of HBAN Michael looks forward to building sustainable business angel syndicates in partnership with all active angel networks on the island. This angel community, in co-operation with public finance and private seed VC funds, will fund an increasing number of innovative startups. Michael has an undergraduate degree in Applied Physics & Electronics and is a 1st class MBA graduate of the UCD Smurfit School where he has lectured business strategy on the MBA programme for a number of years.

 

He is graduated from the department of Economics of Bursa ITIA Academy (the Academy of Economics and Administrative Sciences), the Faculty of Economics in 1979. He began his career as an assistant in the same department. He completed his PhD thesis on the subject of "International Banking and the Turkish Case" on the Social Sciences Institute of Uludağ University in 1985.

He was promoted as the Associate Professor in the field of "Economics Theory" by the Council of Higher Education in 1989. In 1994 he was nominated as Professor by his study in "Economics of Sports" in Marmara University. Later on, by his study in the field of "Banking" he was appointed as Professor in the department of banking of Banking and Insurance Institute of Marmara University. Finally he was nominated as Professor in the Faculty of Trade, Banking and Finance Department of Istanbul Commerce University in 2011.

Through British Council scholarship in 1989-90, he was completed a project on "The Integration of the Turkish Banking with International Banking" as a research fellow in Manchester Business School, International Center for Banking and Financial Services.

He is also a certified public accountant and ratings expert. He is a member of the American Economic Association and the European Economic Association. His areas of expertise are books, research papers, articles, presentations and speeches.
He was elected as a Member of Parliament in Istanbul for the electoral periods of 22nd and 23rd. During his representation, Mr. Ekren was a member of the Planning and Budget Committee in the Parliament. Mr. Ekren also served as a State Minister and Deputy Prime Minister in charge of economic coordination during 60th Government of Republic of Turkey. Additionally, Mr. Ekren served as the president at the Parliamentary Research Commission established in October 2010 to investigate the problems of violence in sport and the problems of Sport Clubs for taking necessary measures.

Since 2011 Mr. Ekren has been working as the Rector of Istanbul Commerce University. 
 

Konstantin Fokin is a serial entrepreneur and investor. After completing his MBA studies at Cranfield University School of Management in 2003, Konstantin came back to Russia and cofounded the country's first business-angels network. In 2005-2006 Konstantin worked in the Russian Ministry for Economy where he was responsible for design and execution of a national SME support program which resulted in creation of dozens private/public regional VC funds and business incubators.
From 2007 to 2009 Konstantin ran one of the biggest technology parks in Moscow.
In 2009, he was appointed the Russian Tech Tour President and, together with a small team of volunteers, he organized the second visit of world leading VC investors in Russia. From 2009 Konstantin is President/CEO of a newly established Russian National business-angels association - NBAA. From 2012 Konstantin is Director General of Moscow's Innovation Development Centre.

Dr. Önder Halisdemir has been the CEO and member of the Board of Directors of Aktif Bank since 2007 and Chairman of E-Kent Teknoloji ve Ödeme Sistemleri Sanayi ve Ticaret A.Ş. since 2011. Throughout his career, he served in several departments, including the Audit Committee, Corporate Banking, Branch Banking and Retail Banking at a variety of banks. He continues to serve on the boards of the Financial Managers Foundation, the Real Estate Investment Trusts Association and Association of Risk Professionals, as well as some insurance companies. He holds a PhD in Banking.

Dr. Önder Halisdemir pioneered significant innovations launched by all institutions he led in Turkish banking industry, apart from quantitative developments. He built up end-to-end application management system, commonly known as "Cep Kredi" (Cell Credit), creatively carved up and framed by himself, put into implementation for the first time in Turkey, and this product has been given the "International Innovation Award" by the Banker Magazine. In parallel to his dedication to innovation and his openness to creative ideas, he acted as an opinion sponsor for many new products and services. Lately, Dr. Halisdemir has launched into Turkish banking sector such products as UPT (Universal Payment Transfer), KreAktif (instant credit evaluation system), first Bank Bond with a character of "commercial paper", and VDMK (Asset Backed Securities) issued by Aktif Bank for the first time in Turkey.

Dr. Halisdemir's efforts are highly appreciated both in Turkey and abroad. In 2011, he received the "Leader of the Year" award delivered by Payment System Magazine, one of the Turkey's most prestigious magazines in financial sector and "Best Manager" award delivered by Europe Business Assembly in 2012.

Candace Johnson is co-initiator of SES/ASTRA and SES Global, the world's pre-eminent satellite group. She is also founding President of Europe Online Investments S.A., the world's first internet-based online service and satellite broadband network, and founder of Loral Cyberstar-Teleport Europe, Europe's first independent private trans-border satellite communications network. Ms. Johnson is also founding President of the VATM, the Association of Private Telecom Operators in Germany and founding President of the Global Telecom Women's Network (GTWN).

Candace Johnson is also President of Johnson Paradigm Ventures (JPV) which is a principal founding shareholder with AXA, Caisse des Depots, Bayerische Landesbank, and the SPEF of Sophia Euro Lab, Europe's first trans-border early-stage investment company based in Sophia Antipolis. JPV is also a principal founding shareholder in London-based Ariadne Capital, "Architecting Europe.net", one of the earliest supporters and promoters of Skype, the global VoIP phenomenon. 

Candace is also a member of the Advisory Board of numerous European and US ventures as well as being a Member of the Board of Governors of EDHEC (France), the University of Haifa in Israel, Sabanci University in Istanbul Turkey, and a Senior Enterprise Fellow for the University of Essex. She has been a featured speaker in the OECD International Entrepreneurship Forums in Shanghai, Riga, and Cape Town.

She holds Masters Degrees with Honors from the Sorbonne and Stanford Universities, a Bachelors Degree from Vassar College and her high-school degree from Punahou.

A banking professional with 23 years of extensive experience accumulated through working in a variety of positions from Specialist to Assistant General Manager in highly reputable organizations including Demirbank, Demir Leasing, Demir Kazakhstan Bank and KazInvestBank(Kazakhistan), and currently Aktif Bank. Deeply knowledge on Corporate and SME Banking, M&A Business, Trade Finance, Project Finance, with enriched perspective on Investment Banking is a brief scope of the experience in the career.

Establishing a new Private Equity and Venture Capital Business Line in Aktif Bank, increasing size of the loan portfolio by using the Hybrid loans (Revenue Sharing Model, Convertible Loan to Shares, etc.) under the principle Financing model are the general scope of his responsibilities. Besides searching the potential SME companies to create valuable investment portfolio under the Private Equity Company, he received strong support from the bank to initiate a venture capital fund either to invest directly or provide the Hybrid funds to VC funds and entrepreneurs.

Ari Korhonen

 

Ari Korhonen is an angel investor and the founder of Lagoon Capital. He has been a successful technology entrepreneur and a business angel for over 25 years. He developed his company Komartek into an international success story. Komartek was bought in 2004 by WM-data (presently Logica). His position in WM-data was Vice President.

 

As an angel investor Ari has made 20 investments during the last five years – these include DealDash, Finnish Web Payments, WOT, SkySQL, Twid, ThirdPresence, Miradore, Helpten, XMLdation, CitySocialising and 360 Cities. Among these companies was also Severa from which he recently made exit.

 

Ari was nominated by EBAN as European Business Angel of the Year in 2009. He was elected as FiBAN Vice Chairman of the Board in 2010 and EBAN board member in 2012. Ari has been featured in several business magazines and blogs. He holds a Master of Science degree in engineering from Lappeenranta University of Technology.

 

Dr. Mahmut N. Ozdemir is assistant professor at Koç University, Istanbul, Turkey. He received his PhD from Rotterdam School of Management, Erasmus University, the Netherlands. He holds double MSc degrees in Management and Industrial Engineering from Sabanci University, Istanbul and a BS degree in Industrial Engineering from Bilkent University, Ankara, where he graduated with high honors. He currently teaches entrepreneurship and strategic management courses at undergraduate and graduate levels at Koc University. His research interest lies at the intersection of strategic management, innovation management and entrepreneurship. In particular, his research focuses on the governance of strategic R&D alliances between startups and incumbents. His research papers are under review at top peer-review strategic management journals. During his stay in the Netherlands, he developed several managerial tools that can be used for the governance and management of strategic alliances. 

Born on January 19th, 1982 in Malatya, Turkey, Mehmet Onur Partal is an expert in Investment Support Office of Istanbul Development Agency. He has been managing the coordination of Venture Capital and Angel Investment Working Group of 26 Development Agencies in collaboration with the Ministry of Development. Additionally, producing policies on regional development aspects, economic transformation of cities, investment support and promotion activities and sector-based economic analysis are among his duties in the Agency.

In 2009, Mehmet Onur Partal had been nominated as a delegate of Turkey in the Annual Meeting of the Boards of Governors of the World Bank and the IMF; then, achieved to become one of the youngest delegates in the organization, which was held in Istanbul, Turkey. He was one of the main contributors to the books "Istanbul Fact Sheet 2012" and "Investment in Istanbul and the Obstacles against Investment" released by Istanbul Development Agency; and "Guidelines on Local Government Borrowing and Recent Developments in NALAS Countries" released by NALAS.

Partal graduated from Kadir Has University with the highest GPA in Business Administration Department, then awarded with the world-renowned prestigious Fulbright scholarship for a master's degree in Economics Department of Syracuse University. He is currently enrolled in a PhD program in Economics. 

Dusan Stojanovic is a full-time business Angel in France, Sweden and Croatia investing in Internet/M-commerce/Software sectors in France/Sweden/Germany/US/China. A European with a Swedish passport, Dusan worked between 1995 - 2005 primarily at GE Capital and Monabanq.com Internet Bank (France) within e-payments/e-commerce and his own ventures before becoming a business angel in 2005. Dusan has studied at Gothenburg School of Economics, Sweden. He then went on with GE training by finalising the GE FMP (Financial Management Programme) 2 year programme. He speaks 6 languages (French, English, Swedish, Serbo-Croat, German and Czech). He is today one of the rare full-time cross-border business angels in Europe with a solid track record of investiments and exits, 3 of which announced in the same week of 2012.

 

Steve Strauss
Columnist of USA TODAY & Author of the best-seller Entrepreneurship Book, US

Steven D. Strauss is US leading small business expert. An internationally recognized lawyer, columnist, and speaker, Steve is also an author of 15 books. Steve's highly syndicated business column, Ask an Expert, appears weekly at USATODAY.com. He is also the small business columnist for Microsoft, and AT&T who calls him "America's Small Business Expert."

A highly sought after commentator and media guest, Steve has been featured on CNN, CNBC, Bloomberg Television, The O'Reilly Factor, and the BBC. He has been a regular guest on MSNBC's small business show, Your Business. Steve has been seen in many magazines and newspapers, including Time, Inc., Entrepreneur, New York, The Los Angeles Times, The Chicago Tribune, The New York Daily News, and scores of others.

Steve regularly speaks to groups the world over regarding business matters, including a recent visit to the United Nations. He has also recently acted as the small business spokesperson for Bank of America, Humana Insurance, and Capitol One, among others. Steve has given speeches for many companies and organizations, including HP, Staples, the United States embassies in Jordan, Korea, Japan, and Mongolia, the United States State Department, the Small Business Administration, and Bausch & Lomb.

Finally, Steve is the president of The Strauss Group, Inc: Strauss Law Firm, Strauss Seminar Co., and Strauss Syndication. He graduated from UCLA, the Claremont Graduate School, the Coro Foundation, and the McGeorge School of Law.

Matthias Ummenhofer, European Investment Fund (EIF), is leading EIF's Venture Capital operations (EUR 3.5bn committed into ~ 230 VC funds and Business Angels). Besides managing EIF's VC team he is focussing on business development and shaping EIF's strategy in the early stage technology market and innovation and entrepreneurship financing.

Prior to joining EIF, Matthias worked at European Investment Bank's (EIB) where the advised a member of Executive Board and was involved in project financing transactions in the infrastructure sector. He has also worked in France as a consultant in the transportation and logistics sector and founded the research unit "Logistics & Environment" at the University of Aix-Marseille II. He was Director for the "Environmental Application Division" of the Society of Logistics Engineers (Hyattsville, USA).

He holds a B.S. in Technical Economics from the University of Karlsruhe, a M.S. in International Finance from the University of Aix-Marseille II, a DEA in Transport Economics and Logistics Management and a Ph.D. in Business Administration from the same University.

Benjamin Wattinne
Director, Business Development Europe, Gust

Benjamin is in charge of the day-to-day operations of the company in Europe. Before coming to Gust, Benjamin has founded his first company "New communication", specialized in the consulting and the distribution of mobile terminals. He has also worked for Paris Business Angels, a well-known angels network in France and Europe.
As a young angel investor, Benjamin is a member of PBA and has already invested in two companies.
Benjamin holds a Master in Management of Innovation from the Chamber of Commerce of Paris, Novancia, and is member/lecturer of the chair devoted to Entrepreneurship HEC, ESCP Europe, Advancia and ESIEE Management
 

Kazim Yalcinoglu
Chairman of Mirya Group of Companies /Senior Lecturer/Serial Entrepreneur/Technology Investor

Professional experience:
- Chairman of Mirya Group of Companies
- Senior Lecturer at Middle East Technical University School of Management
- Chairman of Middle East Technical University Entrepreneurship & Innovation Platform
- Chairman of Antalya Kaleiçi Foundation
- Serial Entrepreneur, Technology Investor, Mentor
- Member of the Technology Transfer Board of METU Science Park
- Executive Board Member – Turkish Athletics Federation
- Executive Enlarged Board Member-METUTECH-BAN (METUTECH-Business Angels Network)

Education:
- Graduate of Boston University Bsc BA-Finance
- Boston University BA-International Relations
- London School of Economics –Msc-European Economy

Have questions about David Drake Speaks on the Missing Link between Crowdfunding and Business Angels at the 11th EBAN Winter University in Istanbul, Turkey?
Contact The Soho Loft Media Group
When & Where

İstanbul Ticaret Üniversitesi İletişim Bilgileri, Istanbul, Turkey

Istanbul, Istanbul 34400
Turkey

Thursday, January 17, 2013 at 7:00 PM

-

Friday, January 18, 2013 at 8:00 PM (EET)
Add to my calendar
Organizer
The Soho Loft Media Group
THE SOHO LOFT Media Group (www.thesoholoft.com)
The Soho Loft Media Group is a global financial media company with 3 divisions:
THE SOHO LOFT CONFERENCES organizes up to 200+ investor-focused global summits, talks and events annually.
TIMES IMPACT PUBLICATIONS produces relevant content on investing and entrepreneurship that are published and syndicated in  100+ leading online publications and growing.
VICTORIA GLOBAL Corporate Communications specializes in client Investor Relations, Public Relations, Branding and Social Media Marketing.
The Soho Loft Media Group is your global partner for your investment and business startup and growth strategies.
For additional information, please visit us at www.thesoholoft.com 
or email Donna@LDJCapital.com
David Drake Speaks on the Missing Link between Crowdfunding and Business Angels at the 11th EBAN Winter University in Istanbul, Turkey